Belchers Marsh Info:
Difficulty: Easy.
Setting: Urban marsh, pond, gravel paths.
Facilities: Benches, garbage cans, dog bag dispensers.
Signage: Educational info panels, maps, and signs.
Features: An easy, #Accessible trail for all.

Great

look-off

in the middle of the marsh, an ideal spot for birdwatching.

Biodiversity:

Mallard Duck

| 

Blue Heron

| Bracken | More…
Tags: #Bird-Watching, #Bus-Access, #Lookoff, #Pond, #Wetlands.
---

---
Belchers Marsh Park
    Belchers Marsh, located off of Parkland Drive in Clayton Park, is a great place to take the dog or the whole family for a  Sunday stroll.  The walking is easy thanks to the flat, well-maintained gravel paths.  To do a full loop of the Marsh is about 1.5km.  The adjacent Mainland North Linear Parkway connects the area to other nearby parks, playgrounds, and other attractions.  Nearby "Little Belcher's Pond" provides a scaled-down, but no less peaceful nook with similar wetland scenery.
     Though in the heart of a neighbourhood dominated by apartment buildings and private residences, it's home to more than people.  The marsh is a haven for ducks, waterfowl, bald eagles, hawks, osprey, cranes, and birds aplenty.  You should, however, refrain from feeding them because in winter they don't seem to want to leave.
Urban Bird Watching
    This part of Halifax also hosts a unique show every evening shortly before sunset as a large murder of crows makes their way to their traditional roosting grounds near the Bedford Highway.  Recent development has destroyed much of this roost through the complete deforestation of the area.
     Places like Belchers Marsh are becoming increasingly more important as one of few bird sanctuaries left in the city.  Birds are partial to the area, as evidenced by a nearby neighbourhood known as "bird land", in part, because of street names like "Dove Street", "Nightingale Drive" and "Kingfisher Crescent".
     In addition to being a top-notch #bird-watching spot, the amount of biodiversity packed into this little park makes it a great place to spot something unusual for such an urban area.  From otters to osprey, each visit holds something new.  Its marshland flora changes with the seasons, much of it detailed in the very informative signage along the way.  You can also read about the area's over 200-year history when it was owned by Andrew Belcher, son of  Johnathan Belcher who was the first Chief Justice of Nova Scotia's Supreme Court.
Belchers Marsh Sightseeing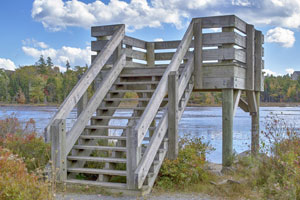 There is a well-constructed lookoff in the middle of the pond that provides a great vantage point.  Free dog bag dispensers and monitored garbage cans ensure the area is well kept by responsible visitors.  These great aspects of the park are, in part, thanks to volunteers with the Halifax Northwest Trails Association (become a member to support their work).
     This neighbourhood park is an ideal place to spend anywhere from 5 minutes to a couple of hours taking in the peaceful scenery, seeing what feathered visitors drop by.  There are benches to sit on and interpretive panels to read.  Learn about the history of the area and the marsh's notable natural features near the park's main entrance.
     For years there was an iconic model fishing boat floating in the middle of the pond, created by the now-retired superintendent of the nearby Woodbury Condos. That tradition has been continued with the creation of the new "Misty Marsh" boat.  A group of volunteers from The Woodbury launch the boat every spring to mark their annual spring cleanup.
     In Autumn, the park takes on a warm glow of contrasting colours, reflected by the water.  It's an easily accessible place to get capture the colours of the season, as many birds stop by to prepare for their winter migration.  In winter, the marsh is often used for skating and pond hockey, where locals clear areas for children to enjoy.  Walking the trail in Winter can be difficult in the snow and ice as it does not have #winter-maintenance.
     During any season, Belcher's Marsh is a great place for anyone looking for a quick, casual walk to escape the sidewalks and busyness of urban life.  This small urban bastion for God's creatures is an ideal place for some soothing nature therapy.  The #wetlands habitat, full of biodiversity sprouting from the soil, swimming in the water, and soaring above, makes for some urban zen.
---
SHOP.HALIFAXTRAILS.ca: Bird Guides | Gear | Sale

---

This error message is only visible to WordPress admins
Error: Hashtag limit of 30 unique hashtags per week has been reached.
---
More Like Belchers Marsh:
#Bird-Watching, #Bus-Access, #Easy, #Lookoff, #Pond, #Wetlands.