---
---
#Bird-Watching  #Bus-Access  #Lookoff  #Pond  #Wetlands
---
Difficulty: Easy.
Setting: Urban marsh, pond, gravel paths.
Facilities: Benches, garbage cans, dog bag dispensers.
Signage: Interpretive panels, maps, and signs.
---
Ideal for an easy stroll.

Great

look-off

 in the middle of the marsh.

A haven for birds and waterfowl of all kinds.

---
A Quaint Neighbourhood Park
    Belchers Marsh, located off of Parkland Drive in Clayton Park, is a great place to take the dog or the whole family for a  Sunday stroll.  The walking is easy thanks to the flat, well-maintained gravel paths.  To do a full loop of the Marsh is about 1.5km.  The adjacent Mainland North Linear Parkway connects the area to other nearby attractions.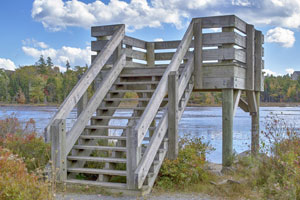 Though in the heart of a residential neighbourhood dominated by apartment buildings and residences it's home to more than people.  The marsh is a haven for ducks, waterfowl, bald eagles, hawks, osprey, cranes, and birds aplenty.  You should, however, refrain from feeding them because in winter they don't seem to want to leave.
Urban Bird Watching
     This part of Halifax also hosts a unique show every evening shortly before sunset as a large murder of crows make their way to their traditional roosting grounds near the Bedford Highway.  Recent development has destroyed much of this roost through the complete deforestation of the area.  Places like Belchers Marsh are becoming increasingly more important as one of few bird sanctuaries left in the city.  Birds are partial to the area, as evidenced by a nearby neighbourhood known as "bird land", in part, because of street names like "Dove Street", "Nightingale Drive" and "Kingfisher Crescent".
Shop.HalifaxTrails.ca: Deals On The Best Local Bird Guide Books.
     As well as a top-notch #bird-watching spot, the area also has lots of great marshland flora, much of which is detailed in the very informative signage along the way.  You can also read about the area's over 200-year history when it was owned by Johnathan Belcher.
A Pillar Of The Community
     There is a well-constructed lookoff in the middle of the pond that provides a great vantage point.  These great aspects of the park are, in part, thanks to volunteers with the Halifax Northwest Trails Association (become a member to support their work).
     The Pond is used for pond hockey in winter, where locals clear areas for their kids to play.  Walking the trail in Winter can be difficult in the snow as it does not have winter maintenance.  It is a great place for anyone looking for a casual walk within city limits with a chance to see birds, plants, and animals you aren't accustomed to seeing elsewhere in an urban environment. 
---
Belcher's Marsh Habitat:
Mallard Duck | Blue Heron | Bracken | …more
---
---
Similar Parks:
#Bird-Watching  #Bus-Access  #Lookoff  #Pond  #Wetlands
---
C $24.70
C $24.95
in stock
1 new from C $24.70
4 used from C $12.95
as of August 20, 2019 8:49 pm
Amazon.ca
Free shipping
---
My Free Guides Are A Labour Of Love.  Help Me Spread It:
Supporters:
(#2) Top Supporter: Oliver Doepner.
(#2) Top Supporter: Pat Sims-Eastwood.
(#1) Top Supporter: Steve Morley.
---