Nichols Lake Trail Info:
---


SUBSCRIBE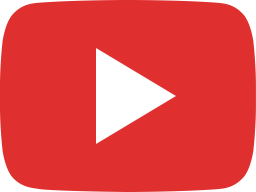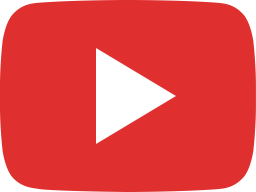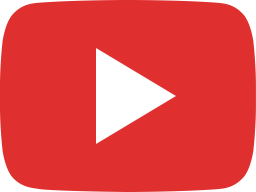 ---
Nichols Lake Trails
     Starting from the Prospect Road Community Centre, a 2-meter wide 1.6km rough gravel trail leads to Nichols Lake and Nichols Falls.  This trail is in varying stages of construction, and as such, you should use caution and obey signs as crews may be working on certain areas.  There are no maps, trail markers, or signage, so you do have to pay attention to where you're going.
     Another entry point is via the Sunrise Park Inter-Faith Cemetery.  This trail is considerably more rugged, muddy, hilly & has some side paths that you'll want to avoid, as they'll take you off to who knows where.  It's an easy-to-follow trail through scenic forests in distinctly different stages of growth, leading in a direct line down to the falls.  It's a 1km (roughly a 30 minute) hike from the cemetery to the falls.  Be courteous near the cemetery by being respectfully quiet as you come and go.  There are no garbage cans or maintenance of any kind along these trails, so Leave No Trace and pack out what you pack in.
Diverse Scenery
   The first destination off of this trail is a small sand beach on Nichols Lake, and Nichols Run (a scenic stream connecting Nichols Lake and McDonald Lake).  Nichols Run was great for #bird-watching and made for a scenic photography stop in my early June visit.  Mosquitos can be bothersome in this area so prepare accordingly.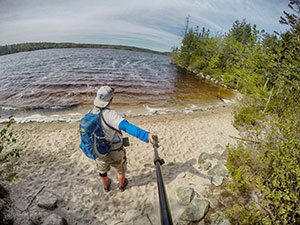 The next stop is a small sand beach on Nichols Lake.   The pristine lake is great for swimming, especially from this sand beach area.  A peaceful, quiet place but for the call of the Loons and Osprey.  An improvised  spot to sit at one end of the beach makes for a good place to enjoy the view.
     The last and most scenic stop on the gravel trail is Nichols Falls.  1.6km from the Community Centre, or 1km from the Sunrise Park Inter-Faith Cemetery, the falls are a great place for photography or just peaceful enjoyment.  While it may barely qualify as a waterfall in some people's minds (it's not a 10-foot tall cliff with a cascading torrent) it is certainly picturesque, thoroughly enjoyable, and worth the hike. You can explore (off-trail) upstream of the falls, or downstream towards Nichols Lake, especially useful if the falls are busy with fellow visitors.
A Work In Progress
      While the main trail is a wide, well-built gravel trail, there are numerous side trails (more narrow, and rugged) that allow you to do a loop or explore other areas (see map for details).  These side trails can sometimes lead nowhere or branch off onto deer trails, so you don't want to take too many turns and risk getting lost.
     The trail leading from the cemetery is one of these more rugged narrow trails but is easily hiked.  It's a well-traveled, fairly direct line to the falls.  There was a downed tree or two that were easily walked around during my latest visit.  If you park at the cemetery, make sure you respect the area (drive slow, leave room, be respectfully quiet, etc.).
     These trails are ideal for a quick and easy getaway without venturing far from the city.  Keep in mind the main trail is large rugged stone gravel so it doesn't yet accommodate strollers or road bikes.  I highly advise stopping at the conveniently located Multi-Cup Cafe (right next to the cemetery entrance) for a well-earned post-hike ice cream cone.  (Not a paid promotion, but I will gladly accept free coffee and ice cream).
SHOP.HALIFAXTRAILS.CA: Gear | Books | Sale

---

This error message is only visible to WordPress admins
Error: Hashtag limit of 30 unique hashtags per week has been reached.
Error: Hashtag limit of 30 unique hashtags per week has been reached.
Error: Hashtag limit of 30 unique hashtags per week has been reached.
---
More Like Nichols Lake Trail:
#Beach, #Hiking.  #Lake, #Moderate. #Short, #Swimming, #Waterfall,