Point Pleasant Park Info:
---
Point Pleasant Park
     Point Pleasant Park, a beloved Halifax cornerstone encompasses 185 acres in the city's South End.  The #1 spot for Haligonians to walk the dog, go for a jog, or a bike ride (Weekends & holidays only, on a specific route, see map) for generations.  The park is easily accessible for all with scenic, diverse historic, natural beauty.  This #family-friendly municipal day-use park is also an ideal place for a picnic.
History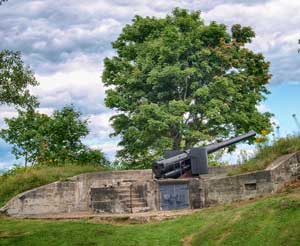 One of the region's best #historic sites, the park began as a fortress due to its strategic location in the Halifax Harbour defence network.  Remnants of the harbour defence fortifications also exist on McNabs Island and York Redoubt.
     Its military use began in the mid-1700s and ended after the First World War, but the remnants of old fortifications.  Much of the stone used in its fortifications come from  "King's Quarry" which was operational from the late 1700s until the 1950s.  Located directly across the Northwest Arm in the Purcell's Cove Backlands, this quarry supplied Halifax with materials for most of its iconic buildings including the Halifax Citadel, Town Clock & Grand Parade.  This quarry used what was the oldest industrial railway in Canada to offload at Purcell's Cove, where it was then shipped where required.
     The Point Pleasant Battery, Fort Ogilvie, the Northwest Arm Battery, Cambridge Battery, and the oldest Martello Tower in North America; the Prince Of Wales Tower are scattered through the park in varying stages of disrepair.  Recently, a petition has begun to save Point Pleasant Battery from creeping coastal erosion & purposeful demolition.
     Memorials of great historical significance also dot the park and pay tribute to the importance of Halifax's Naval Past.  For more info on Halifax's military heritage, I highly recommend checking out the Halifax Military Heritage Society and supporting its mission to promote and preserve Halifax's military heritage.
Duels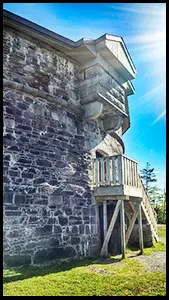 Long before the outdoor theater, Point Pleasant Parks original Shakespeare By The Sea, involved the settling of prominent feuds with real-life duels.  On September 13th, 1809 a duel took place here between two prominent Halifax lawyers, James Stewart, and Samuel Archibald. The duel was fought over a legal dispute, and both men were injured, with Archibald receiving a severe wound to the arm.
     Another duel involved one of Nova Scotia's most famous historical figures; journalist, politician, and poet, Joseph Howe.  After ruffling the feathers of the local aristocracy, Howe found himself in court, charged with libel.  He acted as his own lawyer, in front of judge Brenton Haliburton whom he had criticized many times prior.  In a rousing speech full of scorn for a corrupt legal system, spectators cheered and jurors were brought to tears.  The judge ordered the jury to return a guilty verdict.  After 10 minutes of deliberation, the jury found Howe innocent.
     Judge Haliburton's son John later challenged Howe to a duel.  Near where you are standing right now on March 14, 1840, the two squared off.  John fired first and missed.  Howe then discharged his pistol in the air, ending the feud without bloodshed.  Howe would go on to become a powerful political force, where he was instrumental in helping Nova Scotia become the first British colony to win responsible government in 1848.
Black Rock Beach
    The park's "Black Rock Beach" was infamous as the site of pirate Edward Jordan's hanging in 1809, the first pirate to be hanged in Canada. Jordan was sentenced to death for his botched attempt to take back his repossessed fishing vessel, resulting in the murder of its crew.  His body was tarred & displayed in an iron cage at the rock outcropping at black rock beach for months afterward as a warning to all ships entering the harbour.
     The beach enjoys a much more peaceful existence today.  With great views of the mouth of Halifax Harbour and the NorthWest Arm, there are plenty of places to sit and enjoy the serenity.  A place to play in the sand, go for a swim, or as a launch point for #paddling busy Halifax Harbour or to Sir Sandford Fleming Park on the Northwest Arm.
Off-Leash Dog Walking & Cycling Trails
    The park has lots of areas available for #off-leash dog walking with the exception of Sailors Memorial Way where no dogs are allowed after 10 am and Cambridge Drive where dogs must be on a leash at all times. Dogs must also be on leashes in the parking lots.  Sailors Memorial Way & Cambridge Drive trails have these restrictions as they're the most highly trafficked trails in the park.  These areas are clearly marked stating current rules, which may be subject to change from the time of this writing so pay attention to the signage. The park has plenty of garbage cans and dog bag dispensers, so there's no excuse not to pick up after your dog.
     Posted dog walking rules state: "Dogs must have current municipal tags. Must be on leash unless signs indicate otherwise. You must carry a leash. Dog must come when called. Must keep your dog in sight. You will be held responsible for any damages or injuries caused by a dog in your care. Dogs must not interfere with other park users. Aggressive dogs, female dogs in heat, and puppies under three months old are not permitted in off-leash areas. You must pick up your dog's waste immediately."
     Cyclists are permitted to use all main roads & pathways during regular weekdays.  During weekends & holidays, you can only ride your bike along Sailors Memorial Way & Cambridge Drive (the route marked in yellow on my map).  This 2km cycling route is marked by "Bike Route" signage at key intersections to ensure you stay on the correct path. Though these roads are wide, they are also heavily trafficked on weekends and holidays so use extreme caution, and have a bicycle bell to alert others before passing.
Family Friendly
     Looking for a fun, #family-friendly outdoor adventure in Point Pleasant Park?  Try "I Spy" to travel back in time and become a spy for the French Adventure Spy Agency.  The step-by-step instructions for this 4.3 km (return) trail adventure and a route map can be downloaded at earthadventures.ca.  The approximate time to complete the adventure is 2 hours, 30 minutes.
     The wide compacted crusher-dust main trails are patrolled for safety and have plenty of room for the large crowds who visit during peak times.  The wooded trails are alive with a biodiverse array of natural beauty and are home to a large population of friendly squirrels.  There are plenty of benches and picnic tables throughout the park, so you don't have to travel far to find a spot to sit, enjoy and hang out with the wildlife.
Shakespeare By The Sea – Park Place Theatre
     One of the park's most popular attractions is Shakespeare By The Sea, where they use Cambridge Battery as an open-air stage for live theater. The largest outdoor summer theater festival east of Montreal, it features original works as well as traditional classics from its William Shakespeare namesake. From July 1st to Labour Day in September you can take in a performance rain or shine thanks to an 82-seat black-box indoor venue called The Park Place Theatre.  This venue also serves as a home to some off-season projects as well as a rental facility available for outside groups.
     The theatre aims to be accessible to all by offering accessible accommodation including wheelchair/stroller aisle seats and even a golf cart to help transport people with limited mobility.  These arrangements can be made by contacting them ahead of time.  The performances are in a relaxed, casual atmosphere with minimal lights and sound.  Chairs and blankets are available for a 5-dollar rental when you arrive.  They operate on a pay-what-you-can model, but if you want to reserve seats, you can check their website for ticket options by clicking here.  For a performance schedule and more information visit their website by clicking here.
Outdoor Wedding & Events Planning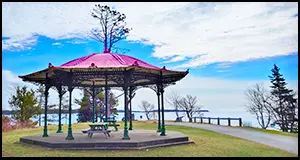 Halifax's love for Point Pleasant Park has spanned centuries, and what better place for Haligonians to declare their love for one another than to have an outdoor wedding in the park. It's long been a popular place to exchange vows, which you can book for various locations throughout the park.
     There are 7 bookable locations including; Quarry Pond, Cedar Walk Summer House, Point Pleasant Summer House, the field adjacent to Point Pleasant Battery, fort Ogilvie, Prince of Wales Tower & Purcells Landing.  Receptions are not allowed in the park as there are no reception facilities.
     BBQs are only allowed at locations between Sailor's Memorial Way (trail) and the shoreline. Open-fire or charcoal-style BBQs are not permitted. For rules, regulations & applications for events you'd like to hold at the park, visit this page.
The Heart Of Halifax
     The park can be fairly crowded at peak times, but in general, it is a calm experience.  Whether you want to take in a play at  Shakespeare by the sea, take the family for a Sunday stroll, or shed some pounds with some scenic exercise this is the place to be in Halifax.
     The true heart of the city resides in Point Pleasant Park and it continues beating from season to season, generation after generation through natural and man-made disasters.  For many generations of Haligonians, this park has instilled a life-long appreciation for the outdoors.  From playing on the forts to competing in distance running and orienteering events in the park, most Haligonians have long-lasting memories from Point Pleasant Park, making it one of Halifax's most valued properties.
     Despite its priceless value, it also happens to be the best rental deal in the city.  Costing one shilling per year, with its lease recently extended until 2865, the British-owned park will be here for many more generations (sea-level rise notwithstanding).
---
SHOP.HALIFAXTRAILS.CA: Books | Gear | On Sale

---

This error message is only visible to WordPress admins
Error: Hashtag limit of 30 unique hashtags per week has been reached.
Error: Hashtag limit of 30 unique hashtags per week has been reached.
Error: Hashtag limit of 30 unique hashtags per week has been reached.
Error: Hashtag limit of 30 unique hashtags per week has been reached.
Error: Hashtag limit of 30 unique hashtags per week has been reached.
Error: Hashtag limit of 30 unique hashtags per week has been reached.
---