St. Margaret's Bay Trail Info:
Section from Island View Dr. to Station Rd. CLOSED due to flood damage. Use caution on the rest of the trail as repairs will be rough but passable. Please SUPPORT SMBARTA volunteers.
Facilities:  Access to parking, parks, and beaches.
Signage: Map and info at trailheads, minimal signage.
Features: 32km stretch of the 123km Rum Runners Trail.  Access to public parks and beaches along the route.
Biodiversity:

Northern Gannet

|

Acadian

Forest

 | Harbour Seal | More…
Tags: #Beach, #Biking, #Bridge, #Coastal, #Peninsula, #Rails-To-Trails, #RumRunnersTrail, #Swimming.
---

---
The St. Margarets Bay Trail
     The St. Margarets Bay Trail is a 32km stretch of the province's #rails-to-trails and part of a 123km route known as the #Rum Runner's Trail that connects Halifax to Lunenburg.  This section connects the area of Hubley to Hubbards.  A former railway, these "rails-to-trails" routes are a great way to explore the province by bicycle.  Its railway origins mean there are no steep climbs and plenty of straight stretches.  You'll experience an unmatched feeling of zen when you shift into low gear and cruise for a few kilometres along its coastal sections.
Multi-Use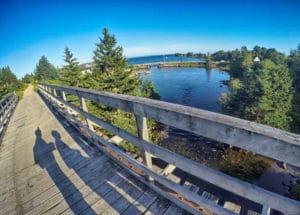 The St. Margarets Bay Trail is a true multi-use trail frequented by bicyclists (a bicycle bell is a must!), walkers, joggers, ATV and even people on horseback.  The trail can be busy, so obey the posted speed limit of 20km/h to avoid accidents.  Keep right except to pass, be sure to use your bell before passing and keep your ears tuned to the "ding's" of others.  Cyclists & ATV riders are to yield to pedestrians and people on horseback.
     The surface can be a little uneven in sections due to ATV traffic and streams that periodically wash over the trail, but it's nothing that most bikes, strollers or wheelchairs can't handle.  (Become a member of the St. Margaret's Bay Trails Association to contribute to their maintenance and improvement efforts).
    There is a small parking area on the side of St. Margarets Bay Road marking where the BLT Trail ends and the SMB Trail begins.  Other parking areas are at various points along the trail (check map).  Along with good access points, the trail also has lots of spots to stop to check out the scenery or just have a quick break.
    If you're looking for a fun #family-friendly outdoor adventure to complete with family and friends along the St. Margaret's Bay Trail,  try "Brother Nature's Riddles" to outsmart the trickster Brother Nature.  The step-by-step instructions for this 2.3 km (return) trail adventure and a route map can be downloaded at earthadventures.ca.  The approximate time to complete the adventure is 2 hours.
Scenic Stops
    Jerry Lawrence Provincial Park, accessible directly from the trail, is the first ideal stopping place with covered picnic areas complete with charcoal pits and picnic tables galore.  The Bike & Bean is another popular stopping spot to grab food and drinks, as well as to check out their bike shop.  The next good stop is at the Bay Lookout Park which offers a great view of the bay and has various picnic areas.
     Further along, you'll reach 2 beaches.  The first is Cleveland Beach Provincial Park, which is a small but scenic public sand beach.  On a nice summer day, expect the parking lot to be very busy.  3km further is Queensland Beach which is one of Halifax's most popular destinations for beachgoers.  The last stopping place along the SMB Trail is beautiful Hubbards.  This small coastal community has great places to eat, drink, and entertain.  It's a perfect place to find somewhere to stay overnight.
St. Margarets Bay Views
    The trail has a few hilly sections but nothing daunting.  It winds its way adjacent to St. Margarets Bay Road throughout offering some great views from elevated positions above the road.  Many rivers and streams run from the hilly slopes into the bay and you can explore them at various points off of the trail.  Some great views can be had when crossing the few old elevated railway bridges along the trail.  This is a great section of the rail trails that run throughout the province with its invigorating coastal climate and views.  It can be cool and windy compared to the inland sections of the trail so be prepared for quick changes in weather.
---
SHOP.HALIFAXTRAILS.CA: Books | Gear | On Sale

---

This error message is only visible to WordPress admins
Error: No posts found.
---
More Like St. Margaret's Bay Trail:
#Beach, #Biking, #Bridge, #Coastal, #Moderate, #Peninsula, #Rails-To-Trails, #RumRunnersTrail, #Swimming.