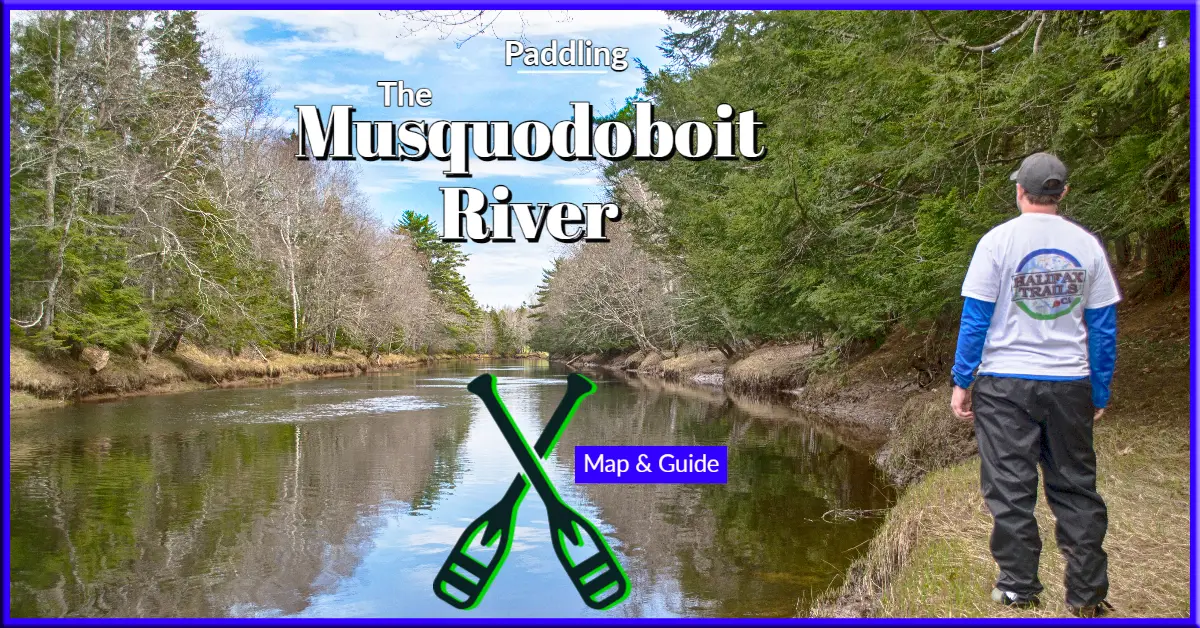 ---
---

SUBSCRIBE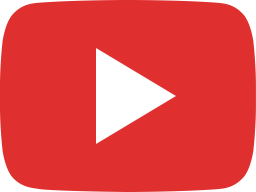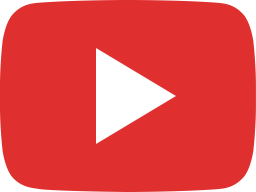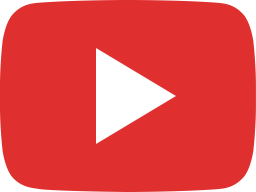 ---
Musquodoboit River Paddling Guide
Access Points
     The Musquodoboit River has roughly 80km of paddling, starting in Upper Musquodoboit and ending in Musquodoboit Harbour.  There are plenty of access points, including 2 provincial parks.  Musquodoboit Valley Park and Elderbank Waterway Park (both open May 20 –  Oct 10) provide good access points to put in or take out and include parking, toilets, and picnic areas.  Musquodoboit Valley Park is a picnic park for day-use only and there is no dedicated spot specifically to put in or take out, whereas Elderbank Waterway Park provides quick access and convenient parking.
     A route between these two parks encompasses a 20km span of the river.  Other access points are mostly where road bridges cross the river, and the only other ideal parking spot is towards the end of the river, known as Crawford's Bridge, where you can pull right up to the river off of highway 357.  Take note that this spot on the river across from Musquodoboit Valley Memorial Hospital is owned by Nova Scotia Power and they do not allow people to park there.
     When calculating your route, you can use my overall average moving speed of 4.5 kilometers per hour to give yourself a ballpark idea of how long any given route length will take.  Starting anywhere upstream of Musquodoboit Valley Memorial Park should only be done if you know water levels are high.
Peacefully Wild
     The river is lined with huge old-growth trees whose intricate root systems are on full display along the river's edge. A variety of soft and hardwoods keep the scenery fresh as each section has its own character.  Some parts of the river are adjacent to open fields dotted with flowering trees, others are lush with tall grass and shrubs.  Much of it is lined by old-growth giants, each with a character all their own.  Some you'll duck under, some you'll strain your neck to admire, and others you'll wonder if it's their last day standing before they erode into the river.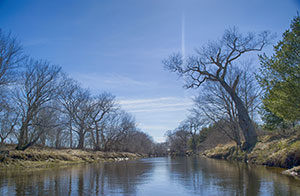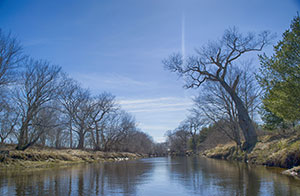 Another thing that will stand out is the abundance of wildlife. You simply don't encounter this much wildlife in most places in Nova Scotia.  Similar to Kejimkujik National Park, the St. Mary's River, and an exclusive handful of other wilderness areas, you are entering a truly wild domain. This is a domain rich in biodiversity with nearly 1000 different species documented. Fish, beavers, turtles, eagles, hawks, geese, owls and deer to name a few.
    You're more than likely to have a memorable encounter as I have on all of my trips.  I've had a bald eagle send me a message by dropping a branch in front of my canoe as it swooped low overhead.  Barred owls appeared after dark to investigate the campsite and have fun at my expense by startling me awake with some well-orchestrated hooting.  I saw a momma duck flailing in the water to divert attention from ducklings hidden on the riverbank, had Canada Geese loudly announce my presence, and had beavers voice their displeasure with a loud tail slap.
Leave No Trace Campsites
      There are various overnight camping spots.  The campsite I used (between Elderbank and Meagher's Grant) was an ideal place to park canoes and set up numerous tents.  A fire pit and some gathered branches were there upon our arrival, and a nearby outhouse (minus the house) was a big bonus. None of these are official campsites and are not serviced at all, so you must follow strict Leave-No-Trace principles. If you pack it in, pack it out because it's no one's job to clean up after you.
     You should opt for a camping stove for cooking meals to minimize your impact. Chopping down trees or limbs is a huge no-no. If you do make a fire, check the current burning restrictions and use only scavenged deadfall which you may want to gather along the way.  You'll want to filter or boil any water you use from the river as there is plenty of runoff from nearby farms.
     Ticks love the dark, moist grassy areas so check yourself and your gear periodically to avoid bringing them into your tent. Flies can be bad in certain spots if there's no breeze. On trips like this, I always pack a tick-remover & a full bug jacket so that worst-case bug scenarios don't ruin my camping experience.  Keep food and garbage in tightly sealed bags & containers, preferably hung up away from your tent so as not to welcome bears & other after-dark scavengers with keen senses of smell.
Trip Planning
     The lower parts of the river are full of waterfalls and white water rapids, so you'll want to make extra sure you don't go down that far.  The majority of the rest of the river is calm, smooth & slow where I averaged a lazy speed of 4.5km/h.  In dry conditions, some short stretches can be low enough to have to get out and carry. The river winds its way through some remote areas where small accidents can become a big problem. Always pack survival basics & make someone aware of your plans. Especially in Spring, you'll want to be prepared for flies and ticks (read my tick avoidance guide here). In summer be prepared for stagnant heat, lack of shade & low water conditions.
     Formerly there was a local service, Meaghers Grant Canoe Rentals, that rented canoes and/or acted as a shuttle service to drop you off & pick you up.  This service is sadly no longer in operation due to the recent passing of Dave, the owner. His passion, knowledge & enthusiasm for this special area is impossible to replace, but let's hope someone ventures to carry on his legacy.
     I highly recommend this trip to people of any paddling ability (from my Springtime experiences).  Experienced wilderness adventurers can opt for a full-length 2-3 day paddling adventure. Casual paddlers can choose between a number of different put-in and take-out points for short day trips.
     You can also add a 3.6km (2hr) hike to the end of your paddle with nearby access to Musquodoboit Trailway's "Gibraltar Rock". There's a fantastic view of the Musquodoboit River from atop the first lookoff.  The Musquodoboit Trailway has an extensive, challenging backcountry hiking trail system accessible off of a "rails-to-trails" spine trail which is great for biking.
Special Thanks
     The Nature Conservancy of Canada has been doing extensive work protecting land around this natural treasure and it's thanks to them that parts of this trip are possible.  You can thank them by donating to support their ongoing protection of many of Nova Scotia's most important wild spaces, and respect the work they have done here by practicing strict Leave No Trace outdoor ethics.
---
---
Similar To The Musquodoboit River:
#Paddling, #Backcountry, #Bird-Watching, #Old-Growth, #Fishing, #River
---

Paddling | Camping | GPS Devices | On Sale