A personal project encouraging appreciation & exploration of Nova Scotia's greatest assets since 2009.
---
---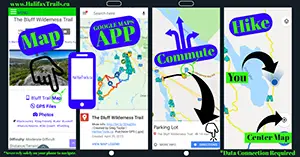 •Click the MAP tab at the top of every page to browse by location.  •Browse by Category or #Tag (above), each will have its own corresponding map of destinations. •At the bottom of every page are more "Browse" & "Search" tools.  Click here to read my full "how-to" guide to make the most of all the free resources I have to offer.
     I offer these maps, guides & virtual tours free of charge to help everyone explore our great outdoors.  In return, I ask 3 things: 1) Pack out everything you take in, plus any litter you can safely pick up. 2) Don't set down used dog poop bags only to forget them on your way out, & assume there won't be any garbage cans at all.  Use an empty peanut butter jar for used poop bag storage & get a holder for your leash.  3) Please support volunteer groups who work on your favourite trails & support HalifaxTrails.ca so I can keep this project going.
---
Videos:

Martinique Beach Provincial Park

Please enable JavaScript
---
---


---