Shearwater Flyer Trail Info:
---
Facilities: Parking.
Signage: Map at trailhead, interpretive panels & trail distance markers.
Features: 8.5km (30mins by bike, one way).  Connects Shearwater to Bissett Road & the popular Salt Marsh Trail. Well maintained, flat, former railway, extending up the Eastern Shore.
Habitat: Snapping Turtle | Osprey | Blue Flag Iris | More…
---

---
The Shearwater Flyer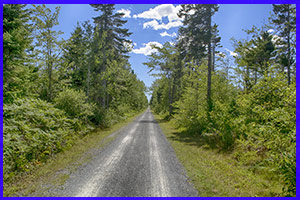 The aptly named Shearwater Flyer trail is a tip of the hat to CFB Shearwater.  Formerly a busy military airfield, and one of the oldest in Canada, its reduced use is now as a heliport for 12 Wing Shearwater.  Providing crucial search and rescue operations and maritime helicopter support, it's still a busy place with helicopters coming and going regularly. Once part of the Musquodoboit Railway route, this section of rails-to-trails is part of a larger network of multi-use, active transportation trails leading to Musquodoboit & beyond as part of the nationwide Trans Canada Trail.
     Formerly built and maintained by volunteers with the Cole Harbour Parks & Trails Association, recently (2023), they had to reluctantly withdraw their services due to ongoing damage by motorized vehicles. The work they put into the trail remains in the form of information panels, bridges & kilometer markers. The CHPTA continue their great work on the hugely popular Salt Marsh Trail and Cole Harbour/Lawrencetown Heritage Park adjacent to the Shearwater Flyer trail along Bisset Rd.
Rails-To-Trails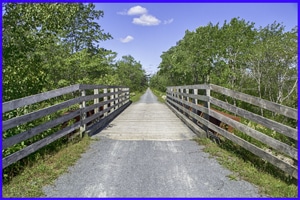 Part of the extensive network of #rails-to-trails that extend throughout much of the province, these trails provide a perfect platform for biking, jogging, snowshoeing, cross country skiing & walking (albeit daunting on foot due to the long distances).  As former railway routes, these trails are wide and flat, making them perfect as active transportation routes.  Rather than biking along busy roads, crowded bike lanes or sidewalks, these rails-to-trails routes are always the most enjoyable way to get from 'A to B'.
     With a well-maintained compacted crusher dust base, this trail is good for most hybrid bikes.  Road bikes with narrow tires will struggle on most rails-to-trails as occasional potholes and loose gravel can drastically affect your ride stability.  The Shearwater Flyer is as good as it gets as far as un-paved trails go and rugged strollers and wheelchairs should be able to comfortably travel along the entire trail.
     Keep in mind that these trails can be busy with a mixed array of trail users including dog walkers, families, joggers & cyclists.  Use good trail etiquette by keeping to the right, passing on the left, and alerting people to your presence before you pass (a bicycle bell is a must-have for our rails-to-trails).
Points Of Interest
     Some rails-to-trails are more scenic than others, the Shearwater Flyer lands on the less scenic end of the scale, but that's not to say its not enjoyable.  Being adjacent to the endlessly scenic Salt Marsh Trail makes for an especially unfair comparison.  There are plenty of stretches where you can zone out and appreciate your natural surroundings.  Especially on a warm day, this less-busy trail is a great place to get some exercise whether peddling or on foot.
     Starting from the trailhead parking area on Swordfish Dr. and the Joint Taskforce Afghanistan Memorial in Shearwater, the trail starts in a busy, urban setting but quickly heads into a more natural environment.  There are regularly spaced benches, roughly every kilometer to take a breather.  Small footbridges span some of the trail's marshy areas.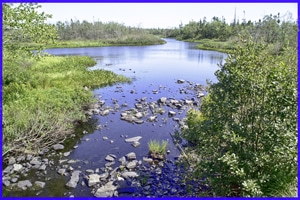 A couple of kilometers onward, you'll encounter a wetland area that's great for #birdwatching.  During my last visit, an Osprey circled low overhead, while flocks of shorebirds passed through on their way to the Salt Marsh.  A conveniently placed interpretive panel explains the wetland's biodiversity in more detail.  Shortly after the wetland area, you'll come to busy Caldwell Road to be crossed with caution.  Another parking lot for the trail can be found a short distance down the road.
     2.5km from Caldwell Road, you'll come to the most scenic part of the trail, the Morris Lake bridge.  The Cow Bay River feeds this small lake, which is busy with ducks and other waterfowl.  Just beyond the halfway point of the trail, it's a conveniently located stopping point.
     700m beyond Morris Lake, you'll come to another scenic wetland area with a bench and interpretive panel.  The remaining 2km to the Bissett Road parking lot has an additional 2 benches, set in a more wooded and sheltered than the rest of the trail.
Planning Your Route
     With 3 main parking areas, you can start at the Shearwater end (less crowded), the Bissett Road end (most crowded), or near the midway point on Caldwell Road (less crowded).  Most people continue on to the 8.7km Salt Marsh Trail, and some even further along the 7km Atlantic View Trail.  All of these trails are well worthwhile, provided you're up for the long distances and up-and-back nature of linear trails.
     When I go long distances on the rails-to-trails I go with a buddy who drops a car off at the endpoint, while we take another car to the starting point.  If you don't live in the area, this involves some complicated driving logistics just to go for a bike ride, but it's well worth it in order to cover more ground without having to backtrack.  As part of a 25km (one way) route including the Shearwater Flyer, Salt Marsh, and Atlantic View Trails, the Shearwater Flyer is a great place to start or end.

Preparation Tips
     The trail can be quite breezy throughout, even in its more sheltered sections.  Bringing an extra layer and a windbreaker is well advised, especially if you intend to head further towards the Salt Marsh Trail where cool coastal breezes are the norm.  Flies can be bad in the wetland sections, so make sure to pack protection during warmer months, especially in Spring.  Don't venture off the trail, especially into the tall grass in order to avoid ticks as well as to not disturb sensitive areas.  Binoculars and local bird guide books are especially useful for this area as it is full of great #birdwatching locations.
     When biking the trail, keep in mind there are posted speed limits for a reason. This trail is shared with a variety of trail users, both human and otherwise. Stick to the right-hand side, and alert others before you pass with a 'ding' of a bicycle bell.  If you're on foot, keep your ears tuned for said dings.  Helmets are the law, and lights & bells are highly recommended for everyone.  The trail crosses busy Caldwell Rd, and a couple of other roadways. Use plenty of caution at these crossings, and be sure to have dogs & children close at hand.
---
SHOP.HALIFAXTRAILS.CA: Gear | Books | On Sale

---

This error message is only visible to WordPress admins
Error: Hashtag limit of 30 unique hashtags per week has been reached.
Error: Hashtag limit of 30 unique hashtags per week has been reached.
Error: Hashtag limit of 30 unique hashtags per week has been reached.
Error: Hashtag limit of 30 unique hashtags per week has been reached.
Error: Hashtag limit of 30 unique hashtags per week has been reached.
---
More Like The Shearwater Flyer:
#Bird-Watching, #Bridge, #Lake, #Bus-Access, #Moderate, #Lake, #Pond, #Rails-To-Trails, #Wetlands, #Wheelchair-Accessible.