Clam Harbour Beach Provincial Park Info:
Difficulty: Moderate (terrain).  View: hiking stats & elevation profile.
Facilities: Parking, washrooms, change rooms, large picnic areas, on-site surf rentals & lessons.
Signage: Minimal, adequate, sparse signage along the coastal hiking trail.
Features: 1.5km sand beach, supervised on weekends (July 1- Aug 30).  5km of coastal hiking with secluded beaches along the way.
Biodiversity: Broom Crowberry | Grey Seal | Atlantic Rock Crab | More…
---

---
Clam Harbour Beach Provincial Park
Beach
     The beach is, of course, the main attraction.  It's a great deal wider than most beaches.  Perfectly formed, soft sand, free of rocks and other objectionable barefoot terrain makes it a pleasure to stroll all 1.5 km's of it.  The beach is monitored by lifeguards on weekends from July 1 – August 30, offering peace of mind for families and surfers alike.
     Entering the beach from the boardwalk, you're immediately hit with an impactful vast, open ocean vista.  The kind of view that puts you in your place and makes you feel appropriately small.  The endless ocean before you, and sand stretching far to both sides.  The sound of the booming surf starts from the parking lot and builds to a crescendo as you enter the beach.
Surfing
     Clam Harbour is a beginner surfer's paradise with its shallow water and consistent, easy-moderate surf.  With plenty of room, and hardly ever a crowd, you'll have as much space as you want.  Lifeguards monitor the beach on weekends from July until the end August.  Halifax Surf School operates a satellite location here & at nearby Martinique Beach, with their home base at Lawrencetown Beach.  They offer rentals (surfboards & wetsuits) as well as lessons for all experience levels.
Sandcastle Competition
     One of the things Clam Harbour is most famous for is its sandcastle competition.  Thousands gather every August to compete and enjoy the festival-like atmosphere.  For a small fee (~10$, free for children) you can enter yourself into the contest.  Prizes are awarded to the best individual or team adult, youth, and children's sculptures.  Watching is free, and there are always plenty of family-friendly activities and entertainment like kite flying and surfing.
     There's no shortage of astounding artistry.  The huge beach is a canvas for unabashed creativity with a mosaic of temporary masterpieces that slowly disappear with the tide.  The competition attracts a fun-loving crowd and is truly one of the must-do summer events in Nova Scotia.
     Despite the crowds, the event is well-run and mitigates the overflowing parking lot with a free shuttle service from various stops along the road leading up to the beach.
Coastal Hiking Trail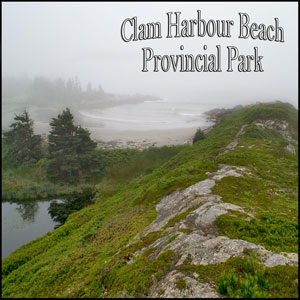 Similar to the Gaff Point hiking trail near Lunenburg, the Clam Harbour Coastal trail is on a peninsula at the far end of the beach.  Also, like the Gaff Point trail, you're going to want to plan it with the tides to avoid being crowded up onto the rocky areas at high tide. Low tide gives you easier walking terrain and more room to enjoy the beaches.
     After walking almost the full length of the beach, or around 600m from the entry boardwalk, you'll come to a small blue sign indicating the "coastal hiking trail".  The trail heads off into some grassy dunes into a small forested section. Even the first few meters of this trail are a visual feast of biodiversity.  Transitioning from sand, to rock, to lush greenery and salt-sprayed forest, you'll encounter a wide-ranging landscape from the get-go.
     200m into the trail, you'll come to a triangular point of land with a great view of the entire beach behind you.  Crossing the point, brings you to an oasis-like secluded beach, with some of the unique geology the Eastern Shore is blessed with. The beach is right out of a perfectly designed movie set but made more all the astonishing knowing this uncut gem is 100% wild.  If the tide is out, this is a place you could spend plenty of time taking in your surroundings.  You could be satisfied with your walk by just spending time here and turning back, but there's lots more to see as well.
     50m after leaving the first secluded beach, you'll cross another point of land where the trail presents you with a split.  A sharp left, up a rocky ridge covered by coastal flora, with a fantastic elevated view.  This particular trail is a dead end and is solely for the nice view (worth it).  Keeping straight on the main trail, you come to ANOTHER absolutely stunning secluded beach.  Everything I said about the previous secluded beach applies here.  At the end of this beach, you'll transition into a brushy area with a beach stone base. When I was there in late July looked like a colourful painting had come to life.  The beach stone trail sits atop a ridge next to, yet another beach. You'll quickly realize there is a repeating pattern of coastal splendour, each spot with its own charm.
Crossing the next point of land either through the forested trail, or skirting the angled rocky shoreline, the scenery gets more rocky, angular, and interesting geologically.  The next small cove has calmer waters, where I saw a seal pop up to say hi and see what we were up to.  A blue sign indicates the continuation of the trail through a short treed section.  When the trail opens up again, you're presented with a new, rocky coastline accentuated by angular wedges piercing into the ocean.  Most of the trail involves rock scampering with lots to explore, but take care to watch your footing.
     Near the end of the trail is the farthest point of the peninsula where the trail stays mostly inland. When it comes out along the shore again you'll come to a cave-like indent perpendicular to the striated rock. Cutting through the next small peninsula you near the end of the trail which comes after 75m of more coastline walking.  An angular jut of rock acts like a wall, and any discernable trail I could find ended.  From this point you should head back the same way you came, keeping in mind the tide has shifted since you started, draining or filling in the coves depending on how long you've been gone.
     All said and done, the trail was 5.5km starting and ending at the entrance boardwalk.  It took me 1 hour and 30 minutes of slow-paced hiking, but with another hour tacked onto that to enjoy it to the fullest.
Nearby Amenities & Attractions
     A 10-minute, 10km drive from Clam Harbour Beach, the closest stop for food, drink (and ice cream!) is Webber's Store. It's more than a convenience store, as it also offers a menu.  A few campgrounds lie within a 30-minute drive of the beach, including Norse Cove, Murphy's & Webber's each with distinct offerings, and all well-liked.  Surfing rental equipment and lessons by Halifax Surf School are available on-site her. Coastal Adventures, the area's go-to place for knowledgeable, well-equipped ocean kayaking rentals and guides is also within a 30-minute drive.
     Taylor Head Provincial Park is another Eastern Shore must-do.  A 40-minute drive north of Clam Harbour, but a place that deserves a full day to explore.  Offering 20km of coastline with hiking trails and beautiful beaches, it's similar to Clam Harbour, but with over 15km of trails.  A 40-minute drive south is Martinique Beach, the province's longest sand beach.  With consistently good conditions for surfing, an on-site surf shop, rentals & lessons, the beach is also lifeguard monitored in July and August.
    These parks and beaches bookend the 100 Wild Islands  A pristine, wild archipelago ripped straight from a Darwinian dream.  This area makes for some of the greatest ocean kayaking adventures North America has to offer.  The Nova Scotia Nature Trust has made it their goal to protect all 100 of the islands through private donations, while government drags its heels with public protection goals.

Owls Head Provincial Park
     Neighbouring Owls Head Provincial Park is best explored by ocean kayak as investments in trails, access points, & signage never came.  The residual neglect of the never-realized eastern shore coastal park system and lack of political vision have resulted in decades worth of squandered opportunity for the Eastern Shore. You'll see for yourself how this area seems ideally suited for green infrastructure investment and growing a sustainable, low-footprint, small-business-based ecotourism industry.  In a time of catastrophic biodiversity collapse and pressing climate emergency, this area known as "the Galapagos of the Atlantic" would be the ideal case study for how to benefit the economy, human health & health of the environment all at the same time. There is plenty of data to show it can be done.
    Only recently legally protected, it sits as the perfect example of compounding neglect.  Owls Head should be a part of a well-designed plan, consulted, deliberated & planned upon decades ago.  This chain of coastal parks would have collectively offered interconnecting hiking, biking, paddling & camping opportunities bookending the pristine, untouched 100 wild islands.  Owls head was identified as being a key piece to preserving this globally rare ecosystem that most countries would dream of having.
    Owls Head has recently become a hot-button issue across the province.  Nova Scotians have come accustomed to the "jobs jobs jobs" over-selling of a business asking for public money or public land.  What caused people to take special notice of this case, is the egregiously secret process that could set a chilling precedent for any public lands thought to have legal protections.  A very small percentage of the province's coastline is public and protected, Owls Head was portrayed to be part of that small percentage.  Rightly so, people took offence to it being secretly sold as scrap.  Check out the highly informative "Save Owls Head" Facebook group for a wealth of information on this subject. Update (Nov. 23, 2021) Owls Head has been spared, thanks to one of the most successful grassroots movements in the province's history.
Preparation Tips
     The Eastern Shore is well known for its fog, and it's safe to assume you may encounter some.  Bring extra layers as fog can cause the temperatures to drop rapidly.  The water temperature is typically not warm, so don't expect it to be tropical despite the beautiful turquoise tint.  A wetsuit is a must-have for surfing, while swimming is perfectly enjoyable depending on your cold tolerance and the ambient temperature.  The water is not deep as the especially wide beach drops off very gradually.
     During high tide, the water rises a great distance, covering much of the sand, while low tide exposes over 100m of sandy beach.  Consider the tide times when planning your hike, as high tide crowds the trail in spots, while low tide offers more areas to explore.  Wear good, sturdy hiking footwear (not your beach sandals).  The footing is extremely rugged as the unique geology has plenty of ankle-twisting potential.  Avoid getting too close to the surf along the trail.  Slippery rocks and unpredictable waves can combine for some very dangerous slips & falls.
     Near the bathrooms, in a picnic area is a water tap to rinse the sand off before getting in your car.  This huge picnic area has plenty of room for a family picnic or even a large family reunion.  There are lots of picnic tables (covered & uncovered), so pack your cooler with assured confidence that you'll have plenty of places to set up a proper picnic.  Keep in mind the park is strictly day-use.  The gate to the park is closed from dusk until dawn, and camping here is not allowed.
     Don't forget your sunscreen and bug spray, and always be mindful of ticks when hiking anywhere in Nova Scotia.  Exposed skin coming into contact with tall grass and brush increases your chances of getting them.  You should avoid going off-trail both to avoid ticks and to avoid disturbing the delicate, endangered ecosystem.  Hidden nests, camouflaged eggs & easily disturbed vegetation are highly susceptible to damage by heavy-footed off-trail forays.  Keep dogs on leash for the same reason, but also because pooch-puncturing porcupines also love areas like this.
---
SHOP.HALIFAXTRAILS.CA: Gear | Books | Sale

This error message is only visible to WordPress admins
Error: Hashtag limit of 30 unique hashtags per week has been reached.
Error: Hashtag limit of 30 unique hashtags per week has been reached.
Error: Hashtag limit of 30 unique hashtags per week has been reached.
Twitter feed is not available at the moment.
---
More Like Clam Harbour Beach:
#Beach, #Bird-Watching, #Coastal, #Family-Friendly, #Moderate, #Peninsula, #Picnic, #Short, #Swimming