Sandy Lake Park Info:
---

---
Sandy Lake Park
     Sandy Lake Park is an area encompassing a couple of hundred acres of land owned by Halifax Regional Municipality and has large areas contested and threatened by development.  Part of the Sackville River Watershed, Sandy Lake is an important ecosystem full of wildlife and sections of old-growth Acadian forest.  The aptly named lake with its sandy bottom is a unique oasis of untouched wilderness amongst a rapidly expanding suburban part of the Halifax Regional municipality.
Sandy Lake Beach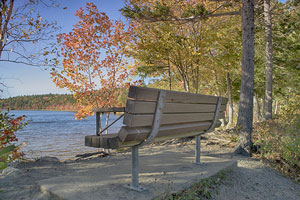 The main attraction of the park is the well-designed and maintained beach area.  The warm sandy beach is supervised by a lifeguard during the summer months, making it a great #family-friendly destination.  Accompanying facilities like change rooms and washrooms are in the large building adjacent to the beach.
     Next to the beach is a beach volleyball court, open grass field, picnic tables, and benches.  In Summer, it's one of the most popular #beaches in the area.  The park is especially scenic in Fall as the surrounding forest frames everything in a warm autumn glow.
Off-Leash Dog Walking
   The next most popular use of the park is #off-leash dog walking.  The trails are all off-leash, but the area in and around the beach is no dogs allowed from Spring-Fall.  The park is equipped with garbage cans and dog bag dispensers. Parking during the off-season is at the gate of the park.  The main parking lot is not accessible and requires 500m of extra walking.
Hiking Trails
  The park is also an excellent place to explore off the beaten path.  You can see some impressive old-growth trees in different parts of the park.  There are lots of paths leading in various directions (as far as Marsh Lake and Jack Lake).  If you choose to go off the beaten path, make sure you're prepared and have some navigation aid.  Nearby  Jack Lake hiking trail, and powerline trails make for a large system of unofficial paths and routes.
     Adjacent to the powerline trail is Marshy Lake.  This area was designated in 2021 a "Treasured Wetlands of Nova Scotia" site by Ducks Unlimited. Quoting a Facebook post announcing its designation: "The wetland that surrounds the lake is a healthy ecosystem that many reptiles and amphibians call home, including 3 different species of turtles! Atlantic Salmon and American Eel have also been found here. Not to mention the waterfowl, as well as other wildlife. Visiting Marsh Lake gives you the opportunity to be able to witness barred owls, mink, fox, deer, otters, loons, osprey and many more. The area also includes an old forest, with some trees being over 200 years old. These types of forests are not common in Nova Scotia, and are home to species that do not live in younger forests."

Fishing
     Fishing is another activity that this pristine urban lake is good for. The lake has smallmouth bass and brook trout. You can fish from the banks of the lake, or kayak/canoe with a short portage of 500m to the main beach area, along a compacted crusher dust trail. There's also a shorter route to the lake via 200m of rugged trails leading from the parking lot to the lake bank.  Fishing season begins on April 1 and goes until the end of September. You'll need a Nova Scotia fishing license, which you can apply for here and you can download a pdf of the Nova Scotia Angler's Handbook here.
Protect Sandy Lake
  The park was originally created with the help of the Bedford Lions Club donating $150, 000 and championed by ongoing stewardship of the Sandy Lake Conservation Association.  The association's website outlines a 50-year history of fighting to protect the Sandy Lake area.  Urgent protection efforts are ongoing to date thanks to the recently formed Sandy Lake Coalition.  Though some of this area is formally protected, much of the region that was identified for protection long ago is now under immediate threat of a hastily announced private development.  Please speak up to protect the entirety of what was promised for protection, learn more here.
---
SHOP.HALIFAXTRAILS.CA: Books | Gear | Sale

This error message is only visible to WordPress admins
Error: Hashtag limit of 30 unique hashtags per week has been reached.
Error: Hashtag limit of 30 unique hashtags per week has been reached.
Error: Hashtag limit of 30 unique hashtags per week has been reached.
Error: Hashtag limit of 30 unique hashtags per week has been reached.
---
Similar To Sandy Lake Park:
#Beach. #Bus-Accessible. #Dog-Friendly. #Easy, #Fishing, #Hiking. #Lake. #Off-Leash. #Old-Growth. #Park. #Picnic. #Short, #Swimming.