Taylor Head Provincial Park Info:
Facilities: Parking, outhouses, covered picnic areas, and benches.
Signage: Information kiosks, interpretive panels, map, and trail markers throughout.
Features: Over 20km of coastline with 15km of hiking trails.  Day-Use park with days worth of adventures.  Front Gate open Victoria Day (May) – Oct. 9 (Often extended into December thanks to volunteers). Accessible during the off-season by these access points.
Biodiversity:

Sand Volcano

| 

Arctic Tern

| 

Gooseberry

| More…
Tags: #Beach, #Bird-Watching, #Boardwalk, #Coastal, #Hiking, #Park, #Peninsula, #Picnic, #Swimming, #Wetlands.
---

---
Taylor Head Provincial Park – The Galapagos Of The Atlantic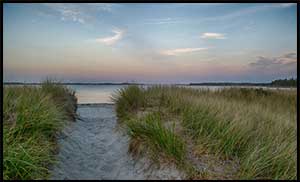 Taylor Head Provincial Park is a scenic hour-and-a-half drive from Halifax and is well worth the commute.  The park encompasses the entirety of a 6.5km peninsula which juts into the Atlantic Ocean amidst the spectacular 100 wild islands archipelago. There is plenty to explore along 15km of hiking trails.   The trails follow along with the vast, diverse coastline.  The coastlines vary from huge stretches of calm white sand beaches to rugged, rocks and cliffs pounded by surf from the open Atlantic Ocean.  Taylor Head has nearly every type of coastal beauty Nova Scotia has to offer packed into one peninsula.
     The park also has an interesting past, starting from its first recorded history as a settlement for British loyalists fleeing the American Revolution. Remnants of this settlement, as well as graves dating back to the early 1800s, are still there today.
Coastal Hiking Heaven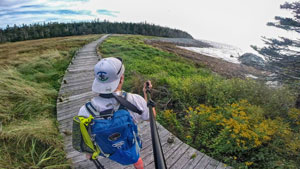 Taylor Head Provincial Park has plenty of different #coastal hiking routes to choose from.  The trails vary in length & difficulty and can be done separately or all together.  Near the entrance to the park is the Bull Beach trail which extends 4.5km from one parking lot to another. This is probably the least hiked trail due to logistics, but as with every trail, it's full of great scenery.  This part of the peninsula has white sand as far as the eye can see in some places.
     The next trail is the aptly named Beach Walk.  From the main parking lot, you're greeted with a covered picnic area with very informative interpretive panels and mailboxes stuffed with park maps and info.  A short boardwalk trail takes you to a calm, white-sand beach.  Continuing on to the right will take you along a piece of land that acts as a breakwater for the beach, and is home to flocks of seabirds.
     The two main trails, the Spry Bay Trail, and Headland Trail are stacked loops of about 4km (2 hours) each. My preference is to do these loops in a counterclockwise direction to start along the rugged, active surf, western shore.  Ending along the calm eastern shore and its white sand beach makes a great place to relax when you're done a satisfying hike.
     These trails follow through many different beautiful habitats.  Majestic stands of trees draped in old man's beard, a wetlands boardwalk, rugged cliffs, coastal barrens and sheltered coves make for a biodiverse array of scenery.
     The trails are rugged, natural, and soggy to varying degrees, so make sure to be prepared for its array of natural surfaces and rapidly changing weather patterns.  I always recommend sturdy, waterproof hiking boots and a pair of hiking gaiters for these types of #coastal trails.  Navigating the park is quite easy due to trail markings and maps throughout.
     Looking for a fun, outdoor adventure to complete with family and friends in Taylor Head Provincial Park?  Try "Alien Safari" to scout out this blue and green planet for strange life forms.  The step-by-step instructions for this 3 km (return) trail adventure and a route map can be downloaded at earthadventures.ca.  The approximate time to complete the adventure is 4 hours.
A Day At The Beach, Or A Day-Long Hike
     The park is full of wildlife.  Beyond bird-watching, you're also apt to see other creatures such as seals, skunks, or slow-moving porcupines leading the way down a trail.  With the prevalence of porcupines, and by rule, you should always keep dogs on leash.  The number of birds, mammals, and plants helps give the area its "Galapagos of the Atlantic" moniker.  With different scenic areas, trails, and beaches to choose from, there are many different trip options for this park.
     Worth the drive from Halifax regardless of whether it's for a #short stroll, a #long full-day hike, or just to chill on the #beach with a chair, cooler, and a good book.  All in all, this is one of the most beautiful places in Nova Scotia and part of one of the world's most spectacular protected coastal areas.  Help Friends of Taylor Head Society with the work they do to make this park as great as it is, by becoming a member.
---
SHOP.HALIFAXTRAILS.CA: Gear | Books | Sale

---

This error message is only visible to WordPress admins
Error: No posts found.
Error: Hashtag limit of 30 unique hashtags per week has been reached.
---
More Like Taylor Head Park:
#Beach, #Bird-Watching, #Boardwalk, #Coastal, #Difficult, #Hiking #Long, #Park, #Peninsula, #Picnic, #Swimming, #Wetlands.