Hemlock Ravine Park Info:
Difficulty: Easy to Moderate (hills).  Elevation profile.
Facilities: Parking lot, garbage cans.
Signage: Trail signage throughout (little-to-none on Ravine Trail), maps at entrances & key intersections.
---


SUBSCRIBE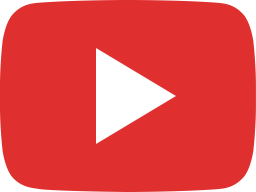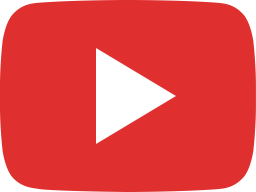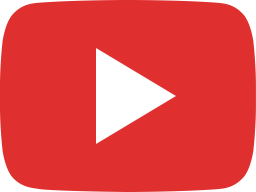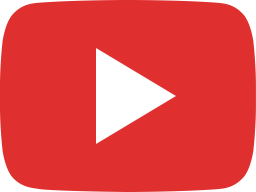 Hemlock Ravine Park
     Originally a country estate built in 1780 for Lieutenant Governor John Wentworth, Hemlock Ravine Park has a long history of being loved.  A #family-friendly park that's well maintained with regular signage, a few posted maps, benches, garbage cans & dog bag dispensers throughout.  Located just off of the Bedford Highway, this modest 200-acre park envelops you with plenty of calm, natural beauty despite its urban surroundings.   Though it's a beautiful place year-round, the park really comes alive in Autumn with a splendor of colour.  The parade of vibrant colour starts the moment you enter the parking lot.  The heart-shaped pond, framed by the autumn glow, becomes one of the prettiest scenes in Halifax.
Walking Trails
     The main trails are #wheelchair-accessible and (rugged) stroller-friendly with a compacted crusher dust surface similar to what you see in Point Pleasant Park.  Unlike Point Pleasant Park, however, Hemlock Ravine is a little more hilly. The main trails are 3 interconnected loops of around 1 km each, with a full exploration of all of the trails totaling around 5km (~2hrs).  The trails can become a little more confusing in person than they look on the map despite the sparsely placed maps and good trail signage.  You'll likely want to consult your own map to be able to stick to a certain route.
School Trail (530m)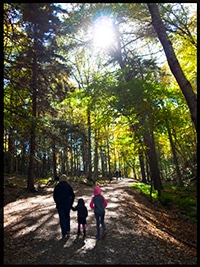 Connecting both park entrances at opposite ends of the park is the 530m linear "School Trail", the busiest in the park.  Appropriately named, this trail connects Grosvenor Wentworth school at one end, with the main Kent Avenue entrance at the opposite end.   A couple of trails on one side of the school trail connect to local neighbourhoods, while trails on the other side lead further into the park.
     The trail has a gradual uphill slope from pond until its end near the school.  The trailhead near the pond is surrounded on both sides by steep slopes which give you a hint of the larger ravine that lies much deeper into the park.  Near the school end of the trail, where it meets the Rockingham Loop trail, runs a camera-friendly babbling brook.
Rockingham Loop (1.2km)
     The largest loop in the park at 1.2km, the Rockingham Loop is a central hub that connects every part of the park.  The loop is bisected by the 300m Prince Edward Trail, which acts as a shortcut from doing the entire Rockingham Loop. With 8 different connections to various other trails, you'll have to pay attention to where you're going if you have a specific route in mind.  There are posted maps at each key intersection to keep you on track, but even so it can be a little disorienting to calibrate your intended route.  The trail is moderately hilly and can be slippery in icy winter conditions (I always recommend traction cleats for safe winter hiking).
     The Rockingham Loop weaves its way through scenic, mixed Acadian forest, offering plenty of natural scenery as you leave the noise of civilization behind.  Tall stands of trees mix with fallen dead ones, and fresh new growth as the trail leads you through the natural life cycle of the forest.
Wentworth Loop (800m)
     The Wentworth Loop is accessible via the Rockingham Loop, Governor's Loop & directly from Grosvenor Wentworth school.  This short trail brings you deeper into the wilderness and more isolated from noise as it is the lesser-traveled of the 3 loops. Unmistakable signs mark connections to the rest of the trails.
     A stand of towering hemlocks line one particularly impressive part of the trail.  Particularly scenic in autumn, the trail offers a 'follow the yellow-leafed road' type of ambiance.  Looking up, down, left or right, neck-straining scenery is all around.  The diverse scenery of the trail includes some sections lined by erratic rocky areas, and others full of a mixed array of trees, moss, and lichen.
Off-Leash Dog Trail – Governor's Loop (1km)
     This #dog-friendly park offers one designated trail for #off-leash dog walking.  The Governor's Loop trail has signs designating its off-leash use, but note that the rest of the park's trails are strictly on-leash.  Located in the heart of the park, this loop trail is far enough away from the busier parts of the park that you don't have to contend with crowds during peak times, but it is a busy trail in its own right due to the off-leash designation.  The park has poop-bag dispensers and garbage cans throughout to help keep it from becoming a littered mess, an all too common sight in many local parks and trails.  As a responsible hiker and dog owner, it's wise to carry a simple poop-bag holder or empty peanut butter jar for storage.
     The trail winds its way through a mixture of tall stands of old-growth, and patches of new-growth forest.  Past hurricanes Juan and Dorian took a heavy toll on the park's oldest trees, especially along this stretch of the park.  The open patches of new growth you see along this trail are evidence of the damage done in recent years. Numerous benches along the way allow you to take a minute to enjoy the peaceful scenery.
     At opposite ends of the loop are trailheads for 2 of the park's more interesting features.  One end is a map and bench next to an unassuming, narrow, rugged trail that leads to a view of the Bedford Basin.  On the opposite side of Governor's Loop Trail is another map and bench next to the entrance of another unassuming trail that leads down into the ravine.
Ravine Trail (800m)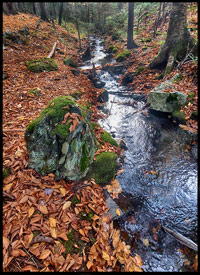 The Ravine Trail is linear, narrow, rugged, muddy, hilly and all-natural.  Walking the entire length eventually ends at the back end of the Prince's Lodge housing development.  The linear nature means you'll have to double back the way you came where the trail meets up with the Governor's Loop Trail.  This is often easier said than done.
     The trail is almost entirely unmarked and it can be difficult to pick up the part of the trail that connects back to Governor's Loop.  Scaling the ravine is a definite no-no and walking out to the apartment buildings at the end of the trail will put you far away from the Parking Lot off of Kent Avenue.
     Despite being the least maintained part of the park, I think the ravine is the most scenic destination.  Its steep-sloped sides offer an amphitheater-like atmosphere that provides great acoustics for the babbling brook running through its center.  What's left of the park's old-growth trees tower as high as the ravine, while evidence of other giants elegantly decomposes into their surroundings.
     The ravine is rich in biodiversity.  A great place to just stand and listen, this wildlife corridor features a chorus of birds and squirrels accompanying the trickling brook.  Regular visitors include deer, foxes and other animals you wouldn't normally expect to see in an urban park.  #Bird-watching enthusiasts will appreciate the array of birds that frequent this area, including woodpeckers, blue jays, and owls.
History
     Untouched by forestry and development throughout Halifax's history has made this park a defacto urban nature reserve for hundreds of years.  In 1780 Nova Scotia's Lieutenant Governor John Wentworth resided in a country estate on these grounds.  When Prince Edward, Duke of Kent arrived in Halifax in 1794 to command the garrison, Wentworth lent him and his French mistress, the estate.  Prince Edward heavily landscaped the grounds, turning it into a social center for the local elite with garden parties and concerts in the music rotunda.
     When Prince Edward and his mistress Julie St. Laurent departed Halifax in 1800, the grounds were turned back over to Governor Wentworth for a short-lived stint.  After the governor's departure, the grounds were left in disrepair but remained a popular picnic spot for locals.  By the 1950s all that remained of the original estate were a muddy pond, one decorative temple, and the round music rotunda that sits across the Bedford Highway to this day.  For a more in-depth history of the park, read my blog post: "Getting To Know Hemlock Ravine Park" and check out the Facebook group "Stories of Prince's Lodge Rotunda" for plenty of great info, photos & stories about the rotunda & the rest of the park.

Heart-Shaped Pond
     The park's iconic heart-shaped pond is today its most well-known feature.  The pond's original construction by Prince Edward was part of the extensive landscaping that also included a grotto.  The original pond significantly differed from the one you see today, both in size and shape.  The original pond was larger and oval-shaped.  It wasn't until Prince Edward's grandson, Prince Arthur arrived in Halifax that the pond was re-shaped into a heart.  Prince Arthur dedicated the pond to the 27 years that his grandfather, Prince Edward, and Julie St. Laurent spent together.  Recently, in 2016 after 200 years of degradation, the pond was drained and extensively rebuilt with a better retaining wall and proper drainage.
     Beloved in modern-day as it was in the 1700s, its natural beauty has been appreciated for centuries.  The heart-shaped pond now not only symbolizes the love between people but also people's love of nature.  Though little remains of the royal estate, a royal greeting still awaits at the pond.  A large group of ducks cordially greet new visitors, swimming up en masse in hopes of a handout.  Be forewarned that it's technically not legal to feed the ducks.  Artificial feeding encourages unnaturally large flocks which in turn create its own host of problems (some of which was dredged up in the extensive rebuild in 2016).
Hemlock Ravine Park Trip Tips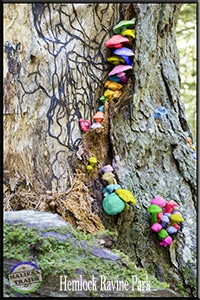 While most of the park is an easy, family-friendly walk, the Ravine Trail requires proper waterproof hiking footwear.  Of the many benches throughout the park, the only picnic table I can think of is next to the pond.  This lack of picnic tables makes it less than ideal for a family #picnic, especially amongst the hungry ducks.  If you're bringing a stroller, make sure it's rugged enough to be able to handle the compacted crusher dust (fine gravel) base.
     Biking the park is doable but during peak times it's often too busy for a safe, enjoyable cruise (bicycle bells are a must-have for all local trails).  In winter, the park is great for a quick #snowshoeing or #cross-country skiing outing after a fresh snowfall, but the trails can get packed down fairly quickly from their popular use.  When walking any of the local parks or trails in winter, its always a good idea to bring some traction spikes for easier walking, and to avoid injuries.
     A great place for nature photography, Hemlock Ravine Park is an ideal place to work on your skills.  As an amateur photographer myself, Hemlock Ravine has always been one of my favourite places to work on the fundamentals.  If you've recently caught the photography bug, check out my guide "Journey's Through Outdoor Photography" for some practical tips.  Check out my shop for a curated collection of photography equipment and some of my own work.
Nature & Biodiversity
     Click the links below to learn more about flora & fauna you'll see at Hemlock Ravine Park. To view a full list of all observations recorded on iNaturalist, click here.
---
SHOP.HALIFAXTRAILS.CA: Books | Gear | Sale
This error message is only visible to WordPress admins
Error: Hashtag limit of 30 unique hashtags per week has been reached.
Error: Hashtag limit of 30 unique hashtags per week has been reached.
Error: Hashtag limit of 30 unique hashtags per week has been reached.
Error: Hashtag limit of 30 unique hashtags per week has been reached.
Twitter feed is not available at the moment.
---
More Like Hemlock Ravine:
#Bird-Watching, #Biking, #Bus-Access, #Dog-Friendly, #Easy, #Family-Friendly, #Historic-Site, #Loop, #Moderate, #Off-Leash, #Old-Growth, #Park, #Pond, #Snowshoeing, #Wheelchair-Accessible.