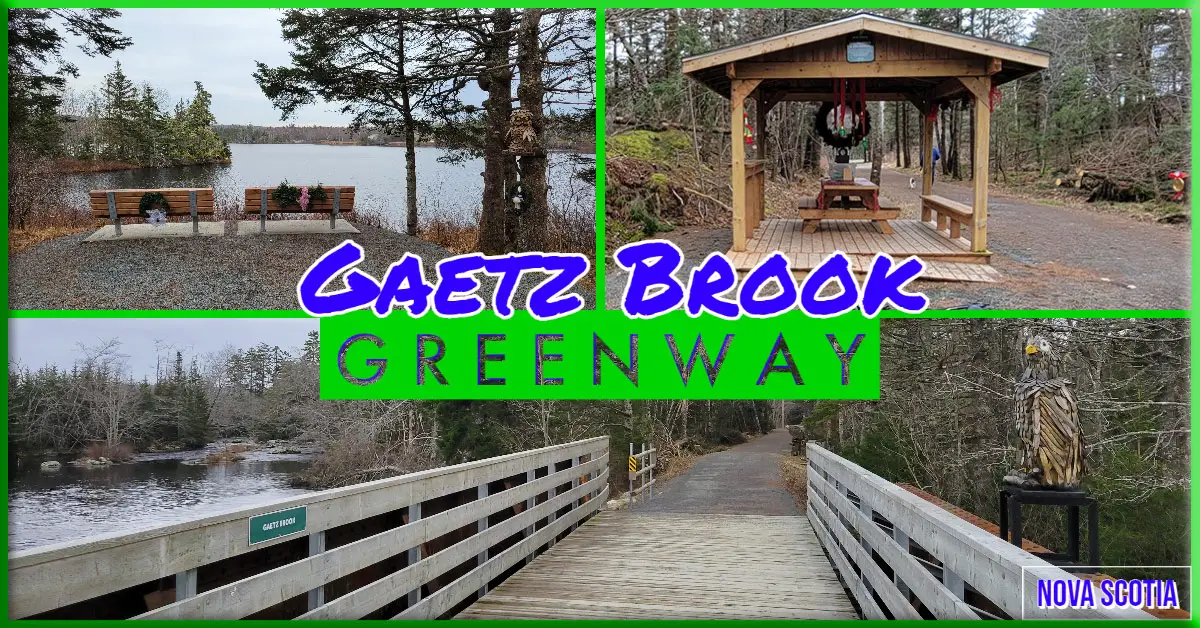 THIS GUIDE IS CURRENTLY UNDER CONSTRUCTION! Stay tuned.
---
---
Gaetz Brook Greenway
     The Gaetz Brook Greenway is a 7.4km (one-way) up-and-back, multi-use (non-motorized), compacted crusher dust trail. This greenway leads from East Chezzetcook, through Gaetz Brook ending near Musquodoboit Harbour.  These flat rails-to-trails harmoniously link small neighborhoods nestled in the enchanting, untouched coastal vistas of Nova Scotia's Eastern Shore. The natural scenery combined with the amount of love, work & creativity these communities have put into the trail makes it a masterpiece amidst nature's craft gallery which is the Eastern Shore.  If you love art, community, pristine natural beauty & authenticity then you owe this trail & Nova Scotia's entire Eastern Shore a visit.
Parking & Access
     The main parking area is at the trailhead off of Debras Way in East Chezzetcook.  This dedicated parking lot has room for about 15 cars and is located a short distance away from the trailhead. Conveniently located close to halfway through the trail is Royal Canadian Legion Branch 161 and an adjacent parking area for the trail (no need to take up space in the Legion's lot).  Less than 1km from the Legion is Gaetz Brook Junior High School where you can park when the school year is over (the end of June until the beginning of September). Unlike the Legion, the school does not have direct access to the trail. At the trail's end, is parking off of Stat Hill Road near the Junction of Highways 107 and 7, under 3km away from the community of Musquodoboit Harbour.
Trail Features
     Typical of most rails-to-trails in the province, the Gaetz Brook Greenway has a wide, compacted crusher dust base. Even by rails-to-trails standards, it's remarkably flat with little up/downhill grading. The trail is extremely well cared for and is in great condition thanks to the SATA Trails Society (join them, it's free & it helps).  Beyond the great condition of this recently completed trail, volunteers have put a ton of work into numerous benches, a covered picnic and play area, as well as public toilets to accommodate a variety of trail users.
     The trail has 2 converted railway bridges that cross the Chezzetcook River & a 200m causeway that stand as reminders of its railway past.  At the Legion access point, you can read about the area's cultural past, including the former railway on thoughtful interpretive signage.  Another earnestly written panel greets you at the East Chezzetcook trailhead.  Other panels teach visitors about the local natural habitat, from fish to flowers.
---

---

---

---
Similar To Gaetz Brook Greenway:
#Easy, #Moderate, #Bridge, #Family-Friendly, #Fishing, #Lake, #Picnic, #Rails-To-Trails, #River, #Wheelchair-Accessible.
---