Navigate This Site:
1) Browse the locations MAP at the top of the page.  Click map markers to zero in on a certain location.  Click the corresponding location's photo to view its guide.  2) In the top MENU, browse by CATEGORY or #TAG.  Each category and tag will have its own corresponding map of locations at the top.
Maps
     Each location has a link to a detailed map, intended for use on your phone's Google Maps App (iPhone & Android).  The Google Maps format is useful for turn-by-turn directions and as a real-time GPS reference on location (data connection required).  Click the graphic below for a basic overview: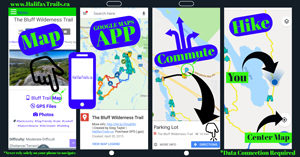 See this video tutorial for navigating with Google Maps.  Troubleshoot map links not opening with Google Maps App: iPhone | Android.  Download the Google Street View app to view this site's 360° photo links on iPhone.  Disclaimer:  Never rely solely on your phone for navigation & always carry a compass, printed map, extra battery & tell someone your plans.
360° Map Views:  See how to view various places on the map in full 360° in the graphic below:
     Note that these custom Google Maps require a cellular data connection.  If you are venturing into places with intermittent/no cellular signal, you should especially not rely on your phone.  Instead, use a dedicated GPS device along with a printed map and compass.  See this basic compass how-to video.  If you plan on venturing into wilderness areas, you should also consider investing in a personal locator beacon or satellite communicator.
---
GPS Maps & GPS Devices
     If you have a smartwatch or handheld GPS device, you can download GPS files for use in your device.  These downloads come with both .KML and .GPX file formats,  the most common formats, which work in almost any GPS device.  Each device will have a different process to load these files, but below are links to the most common ones.
Garmin Basecamp:  How to load, view and edit maps on your computer and transfer to your Garmin device.
Apple Watch:  Many GPS apps allow you to import KML files for offline GPS navigating, like this one.
Google Earth:  The Google Earth app and computer program is a powerful tool that allows you to easily edit any map.  View these simple instructions on how to import GPS files into Google Earth.  Google Earth & Google Maps both require a cellular data connection to load these custom maps.  They do not currently allow custom maps for offline use as of Oct. 2019.
Many other GPS capable devices, including some smartphone apps, are capable of importing GPS maps for offline (no cellular connection required) use.  For your particular device, just search with keywords (your device name) + "import" + "KML" (or GPX) + "import" + "offline".
---
 Ethics
     I offer these maps and guides for free because I believe everyone should have equal access to our great outdoor spaces.  I don't believe in keeping them secret for a select few.  I've always believed the more people getting into nature the better.
     I ask 3 things in return:  1) That you follow Leave No Trace principles & Burn Safe.  2) Leave with more trash than you came with.  3) Support local volunteer organizations mentioned in my guides, or any organization working locally to save and protect our biodiversity.
     This blog is the result of countless hours of work.  Free & unrestricted to the public.  Your appreciative support will help me continue to add, update & ensure it stays a free resource for all.
---
Feedback? I love it!