Castle Rock Trail Info:
Difficulty: Moderate (Distance, terrain, elevation). Elevation profile.
Facilities: 

Parking, garbage cans, picnic table & bike lock rack. 

Signage: Excellent.  Maps, info & markings throughout.
Features: 9.3km (~3hr) return trip on foot, including 6km along bicycle-friendly rails-to-trails.  Easy to navigate with 3 different trail options & difficulties to choose from.  Spectacular view perched atop large rock outcrop.
Biodiversity: Golden Heather | Snowshoe Hare | Wood Frog | More…
---


SUBSCRIBE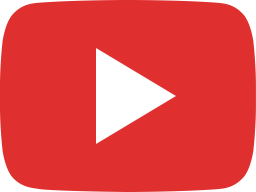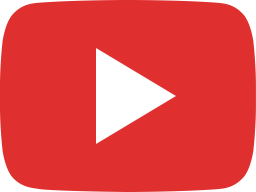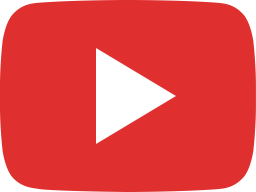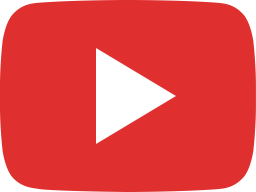 ---
Castle Rock Trail Guide
     This hike begins along the Aspotogan Trail where there is a small parking area directly off of the trail.  The first 3km of the hike is along the rails-to-trails providing a good opportunity to warm up before hitting full stride.  The trail crosses a couple of busy roads with blind curves so take caution when crossing, keeping children and pets close at hand.  After the second road crossing you'll come upon an info kiosk for the rails-to-trails.  A detailed map shows the entire Rum Runners Trail and all of its segmented trails.
     From here on you won't have to cross any roads as you continue along the rails-to-trails.  500m past the info kiosk is one of the most scenic parts of the hike and a place worth stopping to enjoy the view on the East River Bridge.  Another 500m along you'll pass underneath Highway 103.  "Barry's Brook Bridge #1" spans a flowing brook, followed 300m further with "Barry's Brook Bridge #2".
    Continuing another 650m (30 minutes from the parking lot) you'll reach Labrador Lake and a picnic table situated along the shoreline.  A perfect place to stop for a break on the way in, on the way out, or both.  During my visits to this area, it's been a great place for #bird-watching, including osprey on the hunt, with an audience of ravens.  Each visit has included some unusual vocalizations from the resident ravens.  These calls are amplified by the local topography, and add a wonderful ambiance to the peaceful surroundings.
     Just past the end of Labrador Lake is the trailhead for Castle Rock with a large info kiosk, detailed map & bike lock rack.  This is where you can decide your route.  Veering right will take you on the most rugged, narrow trail and challenging climb typical of most wilderness hiking trails.  Veering left will take you on a wide ATV path with a much more gradual climb.  All of the trails are well marked and easy to follow.
     On my trip I opted to do a full loop, ascending via the more difficult trail (3) and descending via the easiest trail (1).  I didn't do the half-kilometer, intermediate trail (2) but I would recommend doing it for a more varied mix of scenery.  Trail 1 begins on a wide ATV path but narrows 200m in as you start heading onto a narrow, wooded trail with rugged terrain and a steady climb.  The most scenic of the trails, it has a few camera-friendly views as you approach Castle Rock.  Trail 2 is a much easier, smoother, and more gradual climb.  If you plan on snowshoeing or mountain biking, this is the trail to choose.  The only difficult part is at the foot of Castle Rock where you will have to climb 50m along a rugged, steep trail until you reach the top.
Castle Rock
     At an elevation of 428m, Castle Rock offers breathtaking views of East River Bay and its array of islands with Big Tancook island 15km in the distance.  Especially scenic when breaks in clouds cast pillars of light upon the islands below, it is a gods eye view of one of the most scenic corners of the province.
     As is the nature of such an elevated and exposed feature, it can be very windy and significantly colder than its surroundings.  You'll want to bring some extra warm windproof layers to throw on to fully enjoy it.  For a break in the wind, you can take shelter on the backside of the rock along Trail 1, a spot I used to make a quick coffee with my backpacker's stove to drink while enjoying the view at the top.
     If you're making this hike with children or pets, you will have to keep an eye out while on top of Castle Rock as its steep rock face requires abundant caution.  A pair of binoculars or telephoto lens will let you get closer to the coastal scenery, but be cautious not to lose balance by looking through a viewfinder while near the rock's edge.  It's well worth bringing something to sit on to keep your butt off the unforgiving rock, so you can fully enjoy the view.
Trip Planning & Routes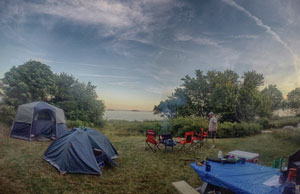 Castle Rock is a good side adventure to add to the Rum Runners Trail, stretching from Halifax to Lunenburg.  Ideal for long-distance bike trips, there are many different trips to choose from.  The easiest would be to bike the 6km up and back from the parking lot to Castle Rock trailhead, locking your bike, and hiking 2-3 km along the Castle Rock trails.
     I have biked from Halifax to Graves Island Provincial Park in Chester along the Rum Runners Trail and it's a fantastic day trip.  Packing light, I camped overnight at Graves Island before returning by being picked up by car.  I would recommend allowing the majority of the day to do that trip due to its distance and plethora of scenic stopping points.  At an average moving speed of 15km/hr, I wasn't pushing myself to make good time.  Using that 15km/hr avg speed as a ballpark figure, you can calculate your own route, as the rails-to-trails maintain minimal grades and differences in trail conditions throughout.
     Graves Island Provincial Park is an ideal home base for this trip.  Situated about 4km from downtown Chester and 6.5km from the Castle Rock trailhead, you can explore the surrounding area by bike.  The ultra-scenic island (actually a peninsula with a road attaching it to the mainland) offers a sea-level view of much of the same area as is visible from atop Castle Rock.  Its coastal beauty and convenient location make it one of the hardest provincial parks to reserve a camping spot due to its popularity.  With drive-in campsites as well as more secluded tenting sites, it's accommodating to all types of campers.  The tenting sites, while still close to each other, are buffered and feel more private than many similar camping parks.

Preparation Tips
     If you're hiking this trail in Winter, you'll want to wear some traction spikes, as the trail, especially the more challenging route, can have plenty of ice that can be especially challenging when ascending and descending.  In warmer months you'll want to be prepared for muddy trail conditions, ticks, and flies, especially in Spring.
    Packable clothing layers are your friend, especially on this hike.  The difference in temperature and wind conditions from the rail trail to the top of Castle Rock can be drastic. You won't want the view ruined by the chill of the unrelenting wind, so pack a windbreaker and an extra warm layer as a rule of thumb for this location especially.  As I said earlier, a stove for a hot drink, a cooler for a cold one, and something to sit on are ideal pieces of kit for full enjoyment.  Be sure to Leave No Trace, and safely bring out any trash you find.  The trail was kept nice and pristine during my last visit, let's keep it that way.
     If you're biking, don't forget a bike lock for the provided bike rack at the trailhead, and have a bicycle bell to safely and courteously pass others.  Also, be aware that bicycle helmets are required by law in Nova Scotia.  Biking the rails-to-trails is best done with an off-road capable or hybrid bike.  Dedicated road bikes will struggle with parts where the crusher dust isn't evenly packed due to ATV traffic.  Be cautious and mindful that ATVs share the trail, but it has almost always been my experience that ATV riders are responsible and cautious also.
---
SHOP.HALIFAXTRAILS.CA: Gear | Books | Sale

---

This error message is only visible to WordPress admins
Error: Hashtag limit of 30 unique hashtags per week has been reached.
Error: Hashtag limit of 30 unique hashtags per week has been reached.
Error: Hashtag limit of 30 unique hashtags per week has been reached.
---
Similar To Castle Rock Trail:
#Bird-Watching, #Bridge, #Dog-Friendly, #Lake, #Look-Off, #Half-Day, #Moderate, #Mountain-Biking, #Picnic, #Old-Growth, #Rails-To-Trails, #River, #Snowshoeing.