Rum Runners Trail Info:
Difficulty: Difficult (distance).
Facilities: Parking lots, picnic tables, benches, public beaches & parks.
Signage: Minimal, info kiosks at each section's trailhead.
Features: 123km route connecting Halifax to Lunenburg.  Converted railway with compacted crusher dust base (except paved Chain Of Lakes Trail).  Scenic lookoff areas, benches & access to parks, beaches & hiking trails.
Habitat: Aspotogan Peninsula | Shearwater | Downy Woodpecker | More…
---

---
Rum Runners Trail Guide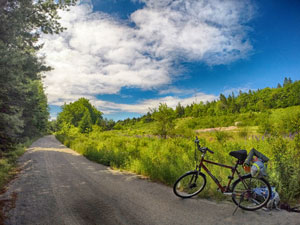 The Rum Runners Trail encompasses 7 different segments with their own attractions on, or accessible from the trail.  A fantastic way to travel from Halifax to Lunenburg or any points between without having to travel on roads or highways.  The #rails-to-trails are ideal #biking trails (for bikes that are capable of driving along hard-packed, fine gravel) due to their railroad past.  These old railways have no excessively steep climbs and fairly level grades throughout.
     The trail gets its name from the rich history of this area during the prohibition era.  Prohibition in Nova Scotia was enacted from 1921-1930 during which Nova Scotian bootleggers aka "Rum Runners" were a big supplier of the illegal market.   With its rich history of high-seas piracy, Nova Scotia wasn't just ideal geographically.  It had plenty of experienced smugglers who knew how to navigate the many sheltered, secluded bays and coves.  The coastlines with their close proximity to the railroad made it an ideal route for Rum Running.
     When calculating trip times for these trails, I use an average moving pace of around 14km per hour to get a ballpark idea.  I always allow plenty of extra time to take breaks and enjoy the sights along the way.  I stop to take lots of photos and videos for this site, so I almost double the moving time estimate to calculate my total trip time.  Many of the longer routes along this trail require you to take 2 cars if you don't want to double back.   Park one at the start and one at your final destination, or have someone pick you (and your bike) up.  To my knowledge, there are no shuttle services to this end.  Depending on the time of day, the sun can be directly in your face for long stretches so don't forget to bring sunglasses.
     The first section of the trail starts in Halifax.  The Chain Of Lakes Trail is the longest paved trail in Halifax and is a popular active transportation trail.  It is well-used and can be downright busy at times.  As the name suggests, it follows a chain of small lakes as it connects busy urban areas (Joseph Howe Drive – Bayers Lake & Lakeside Business & Industrial Parks.  A bicycle bell is a must for this trail and should be used for all of these trails.
     This trail connects the communities of Beechville, Lakeside, and Timberlea (B.L.T.).  Starting in the Lakeside Industrial Park, you'll soon come to a scenic waterfall area complete with benches to stop and enjoy.  Carrying on you'll cross scenic bridges and come to the popular Bluff Wilderness Trail, a great place for backcountry hiking.  With plenty of places to enjoy views, you don't have to travel far to find a great place to stop.
     The St. Margaret's Bay Trail starts near (and has access to) Jerry Lawrence Provincial Park.  From there you'll drive by some scenic brooks and rivers (accessible off-trail) on your way to Tantallon where you can stop for supplies, dine, or have a coffee at the "Bike and Bean", a former train station turned cafe'.  Continuing on you will eventually head towards the coast of beautiful St. Margaret's Bay where cool ocean breezes and coastal views await.  Day-use parks and public beaches are easily accessible from the trail.  This section comes to an end in picturesque Hubbards where you can stop again for supplies, stay and dine.
     The Aspotogan Trail starts as you exit Hubbards and head inland across the Aspotogan Peninsula.  The trail passes scenic brooks, rivers and a lakeside picnic area.  Stop at Meissner's Beach to take in some fresh coastal air via a short access trail.  Next, you can access East River Provincial Park (a day-use picnic park) by heading off-trail for 400m along the highway.  Towards the end of the trail, you'll come to the East River Bridge, perhaps the most scenic part of the trail.
The Chester Connector Trail (32km)
     Starting with a scenic brook and lakeside picnic area, the Chester Connector is a long stretch connecting to the famously beautiful community of Chester.  2km from the trailhead on highway 103 is a 3km looped hiking trail with a breathtaking panoramic view from Castle Rock.  This elevated rock outcrop stands like a natural citadel with views of the distant coastline.  Also accessible by a short diversion from the Chester Connector Trail, Graves Island Provincial Park has lots of great campsites to rest and enjoy the coastal beauty.  Continuing on you'll come to the town of Chester where there are plenty of options to stay, eat and shop.  The stretch past Chester is not one I have personal experience with so my knowledge ends there, but I rest assured it is plenty beautiful.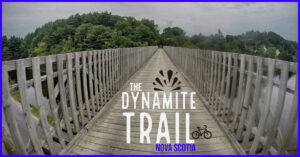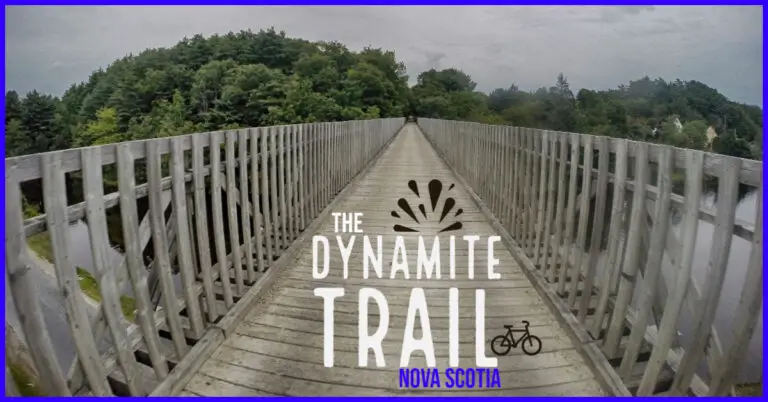 Connecting Martins River to Mahone Bay, the trail crosses scenic former railway bridges and wetland causeways on its way inland.  Wild, serene lakes offer relaxing breaks and #birdwatching opportunities.   Ending in historically beautiful Mahone Bay, for waterfront dining, shopping, and places to stay.
The Bay-To-Bay Trail (15km)
     Again, I haven't personally done this final section of the Rum Runners Trail.  Connecting the ultra-scenic communities of Mahone Bay and Lunenburg makes it great on its own.  The majority of the trail is inland until you are greeted at the end by picture-perfect Lunenburg.  The sights of Lunenburg, which grace many canvases, are a great way to end this adventure.
---
SHOP.HALIFAXTRAILS.CA | Biking | Camping | Sale

---

This error message is only visible to WordPress admins
Error: No posts found.
Error: Hashtag limit of 30 unique hashtags per week has been reached.
---