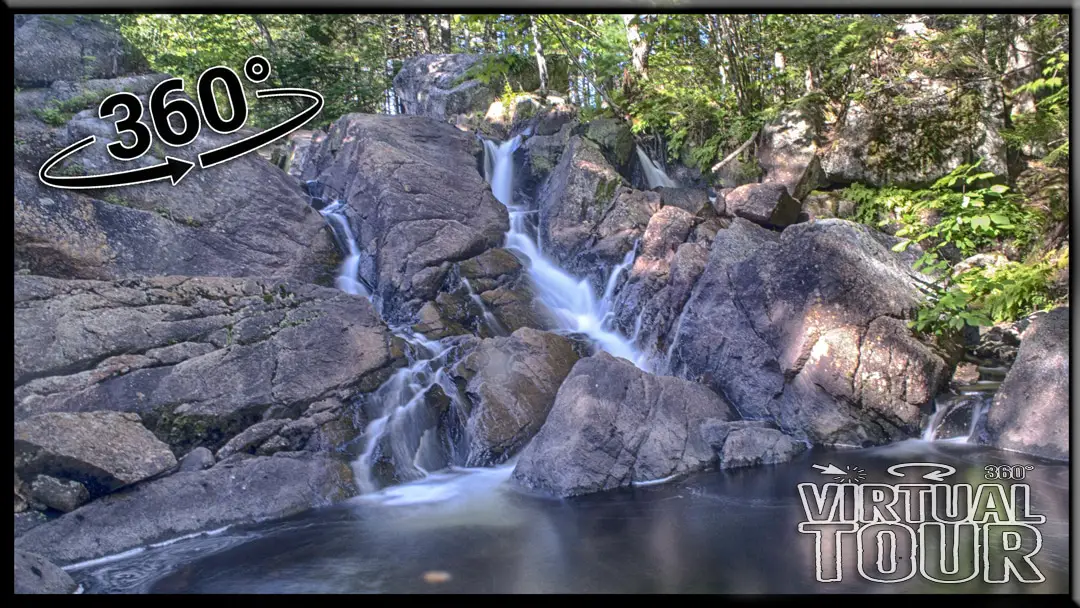 Pockwock Falls 360° Virtual Tour
Difficulty: #Moderate (Terrain/Navigation).
Setting: River, waterfall, watershed.
Facilities: None.
Signage: None.
Features: Part of a 1900ha wilderness area.  A #Short 3km (~1hr) return trip to a scenic #Waterfall.  Requires caution; live hunting traps and snares sometimes in the area.
---
Pockwock Falls Trail
     This trail, within city limits, is not only a great place to enjoy the splendor of a waterfall. There are also plenty of other areas to explore in the extensive wilderness area.  Home to large stands of old-growth forest, it has long been encroached upon by generations of forestry and other industry.  The huge Pockwock Wilderness Area is a watershed centering around Pockwock Lake, also known as the drinking water supply for the city of Halifax.
Trailhead Access & Parking
     Access is poor, with little-to-no parking.  Be considerate with where you park as the trailhead is off of a tight, blind corner.  Don't block the trailhead, give driveways room, pull well off to the side, and try to park on the same side as others so as not to narrow the road any further.  A long-standing dumping problem has contributed to friction with certain locals who have occasionally stooped to intimidation tactics to ward people off (contact police should you encounter anything).  Don't contribute to the problem by leaving anything behind, and always follow basic Leave No Trace principles.
A Trail Through Time
     The short hike to Pockwock Falls starts down a nondescript dirt road, followed by a sharp right turn into the woods, as you follow the river upstream for a short distance. The walk down the dirt road may seem boring, but when you put it in context, it's actually very interesting.  This road, called the Camptown Road used to be part of the Old Annapolis Road, constructed by the British in the 1800s as a route to Annapolis Royal, you're literally walking in the footsteps of history.
     The Old Annapolis Road was previously maintained and promoted with interpretive and directional signage by previous owner Bowater Mersey for #hiking, cross-country skiing, and forest education. The road can be busy with ATV traffic so keep your head up and move off to the side if you hear them.  Live bait traps are often laid in this area, so dogs should always be kept close at hand, on-leash.
Waterfalls of Nova Scotia: A Guide (Paperback)
14 new from C $22.30
7 used from C $36.69
Free shipping
as of May 9, 2021 12:26 am
Picture-Perfect Pockwock Falls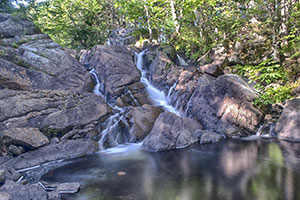 The falls are a focal point to the beautiful surroundings which are worth exploring.  The water volume can change drastically according to the weather and season, so it's likely to look different each time you visit.  The area is very photogenic and the falls are an ideal subject to practice your photography skills.  For good reason, this #short hike is the most popular #waterfall destination within the Halifax Regional Municipality.
Plenty To Explore
     Aside from the falls, there is plenty to explore in this area (all un-marked).  Following upstream eventually leads to its origins at Little Pockwock Lake and the large Pockwock Wilderness Area.  This area is adjacent to former clearcutting, but the protected wilderness area is one of the few places in the province with #old-growth stands of trees.  The diverse array of spruce, hemlock, maple, birch, and pine trees reflect what our native Acadian forest should look like had we not destroyed most of it.
     Near the falls there are also remains of an old dam, sawmills, and lumber camps which are a testament to the area's busy history.  I've only begun to scratch the surface of what this area has to offer, but Pockwock Falls was a great introduction.
My Pockwock Falls Photo Gallery
History
     The Hammonds Plains area is a history of forestry, timber & woodworking that spans centuries and cultures.  No matter which group inhabited the area, timber was always the key.  The Mi'Kmaq first nation discovered the valuable virgin timber long before European settlers arrived in the 1700s.  Winter encampments along Pockwock Lake provided a comfortable refuge with plentiful resources as they awaited a return to the Bedford Basin during warmer months.
     The 1749 British settlement of Halifax quickly laid claim to the area's namesake, lieutenant governor Sir Andrew Snape Hammond gave land grants to European settlers.  These settlers quickly set upon unsustainable forestry, setting up many lumber camps and mills along the area's lakes.  Mill foundations and other evidence of its timber industry past can still be found throughout the area.
     The inevitable de-forestation of the ample virgin forest, de-valued the land grants by the 1800s making the area a suitable homestead settlement. The war of 1812 became the source of the next chapter in Hammonds Plains history as 'freed' American slaves were promised land grants if they would take up arms against the United States.
     Around 500 people from a group known as the 'Chesapeake Blacks' soon settled this area.  The logged land provided a fresh start for the newcomers who faced huge challenges with the depleted land and broader society treating them as un-wanted outcasts.  Woodworking skills and a hard-nosed work ethic allowed them to make modest livings selling goods and services to the expanding settlement in Halifax.  Through it all, they successfully forged a strong community, one that has endured to this day.
•Camera Gear  •Guide Books  •On Sale

---
Pockwock Falls Habitat:
Red Spruce | Watershed | Waterfall Ecology | More…
---

Subscribe To My Channel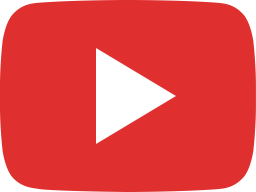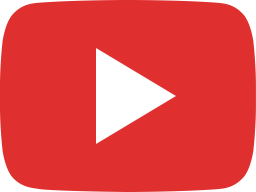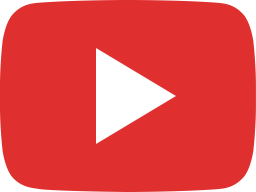 ---
#PockwockFalls    
Loading...
---
More Like Pockwock Falls:
#Waterfall  #Backcountry  #Hiking  #Nature-Reserve  #Old-Growth  #River   #Short
---