---
West Dover Provincial Park
     (Designated in 2015) West Dover Provincial Park's boundaries encompass 1030 hectares of land including popular hiking spot, Polly's Cove and to beyond Peggy's Cove.  Its inland portion includes more than a dozen lakes.  Its seaside area stretches over 7km of coastline.  The adjacent, separately designated Peggy's Cove Preservation Area is well known to tourists and locals alike for its raw beauty, but it's a tiny sample of the vast beauty West Dover Provincial Park has to offer.
Coastal Barren Beauty
     If you've done any #coastal hiking in Halifax, you'll be familiar with the landscape, known as "coastal barrens".   If you've visited these coastal habitats in warm months, however, you know that they are anything but barren.  These open areas are sparse with trees but dense with rare vegetation, lichen, and wildlife.  This report on the ecological importance of Owls Head on the Eastern Shore, digs into the details of what makes these coastal barrens of unique and why they should be protected.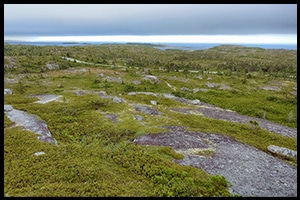 Commonly known as Heath or Heather, blankets of flowering shrubbery turn these rocky, barren windswept surfaces into an ocean of green during warm months.  One of the most common types is known as "Bunchberry".  Bunchberry is recognizable for its white flowers, which aren't actually flowers.  The four white petals making up the "flower" are actually leaves, the flowers themselves are bunched inside (something I know thanks to the trusty book "Trees And Shrubs Of The Maritimes").
     The landscape is especially colourful in Autumn as nature rolls out a literal red carpet, accented with vibrant yellows before its barren core is exposed for the winter months.  These blustery months offer plenty of stark, monochromatic beauty in their own right.  In Spring, the landscape re-awakens more slowly but no less dramatically than its non-coastal counterparts.
Glacial Erratic Masterpiece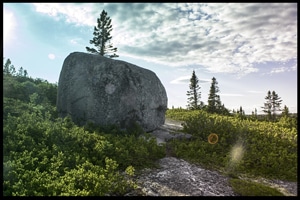 To me, the most striking aspect of the West Dover Provincial Park landscape is the large boulders strewn about like ancient megaliths.  One particular boulder has always stood out to me on every visit to the Peggy's Cove area.  Visible from Peggy's Cove Road, a large cube-shaped boulder sits particularly well placed atop one of the highest points of the area.  Visible from considerable distances, including Polly's Cove, it stands as a beacon akin to its famous lighthouse counterpart at Peggy's Cove.  I was particularly happy to discover that the trails lead directly to this boulder I had long imagined standing next to.  The view did not disappoint.
     These ancient boulders, known as "glacial erratics" were scoured, transported, and deposited by a glacier that covered Nova Scotia, retreating and melting roughly 12 000 years ago.  Like pieces leftover from a giant game of chess, they dot the landscape with aesthetic perfection.  When designated a provincial park, these erratics were cited as a particular example of the area's unique qualities.  You can't walk more than a few minutes without encountering an erratic that's irresistible to frame with a photo.
Hiking Trails
     Though the landscape is wide open with plenty of landmarks, it can be surprisingly difficult to navigate.  There are many crisscrossing trails that can turn it into a maze with some paths coming to abrupt ends, and others not easily visible.  One rock can look like another and you can quickly get off track if you're not paying attention.  As mentioned above, this area is full of unique and important habitats.  Something as simple as treading across lichen growing on a rock can have a big impact, so it's important to stay on well-established paths.  For a map and details on the coastal section of these lands, check out my Polly's Cove guide.
     For the purpose of this guide, I'm going to focus on one route in particular which runs adjacent to Long Lake.  Thus far, this is the only trail I have explored and GPS recorded.  Take note of the red line which completes the loop, but is a path I wasn't able to find doing a counter-clockwise loop.  I'll be updating as I explore more, doing a clockwise loop to see if I can follow the trail easier that way.  For now, stick to the blue line for a verified route.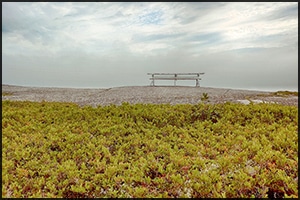 From the large, fishing net lined parking lot, the trailhead isn't marked but is easily identifiable. Immediately you'll encounter a few crisscrossing paths that sort themselves out as you head toward the lake (always best to stay on the most well-established ones).  Just over 200m from the parking lot you will reach a fork that leads to a rocky outcrop overlooking the lake, and eventually onto the shore of the lake.  This is the best access point for Long Lake and a great view.
     Just over 200m from the lake access point is a fork that leads further North along the lake, or West as a shortcut to reach the main lookoff area.  The shortcut trail will lead uphill for 300m until you reach a rocky plateau.  Atop the plateau is a bench with a spectacular view near the area's most iconic perched boulder.  The wind will pick up significantly as you reach the plateau, so be prepared.  With a spectacular view that includes unique perspectives of Polly's Cove and Peggy's cove in the distance, this lookoff is one of the most scenic places in this area that has no shortage of amazing scenery.  From here you can head down into a valley and continue exploring (unverified trails) or continue the loop for another 600m back to the parking lot.  As a thank-you for leaving no trace, you'll encounter this heart-shaped rock on your way back.
     Continuing North from the previously mentioned shortcut fork, adjacent to Long Lake, you'll reach another fork just under 1km away.  One way leads toward the lake and a steep rocky outcrop overlooking the North end of the lake.  Heading West will take you to a whale's back-shaped, very steep granite ridge topped with a large boulder.  From here, I couldn't find where the trail continued, so for now I can't offer more insights on how to continue from this point.  I turned around and circled back 1.5km to the parking lot.
     For experienced hikers, there's plenty more to discover.  No doubt, I've barely scratched the surface of all of the great places to explore.  Pay close attention to your navigation, don't create new, damaging paths & be aware that you will be venturing into a very remote area.  Fast-changing coastal weather and ankle-twisting, unforgiving terrain make it a place you don't want to take lightly.
My West Dover Provincial Park Photos
Preparation Tips
     As with all coastal hikes, come equipped for rapid changes in weather.  Sudden fog, wind, and temperature changes are the norm.  Extra layers including a windbreaker are a must, even when it's warm.  Foggy conditions significantly reduce visibility, making navigating more challenging.  With little shade, make sure to wear sunscreen even in hazy conditions.
     During cold months, windchill can make conditions intolerable if you're not prepared with proper winter gear.  Sturdy waterproof hiking boots are a must for the uneven terrain which can be extremely muddy during wet periods, especially in Spring.
Shop.HalifaxTrails.ca: •Hiking Gear  •Guide Books  •On Sale
     The majority of the shrubbery is knee to waist high, so wear pants or long socks to save your shins from scratches.  Leg gaiters are ideal for this terrain, as they protect your shins and save your boots from being filled with pebbles, twigs, and insects.
     The windy nature of this area usually means that bugs are kept in check, but in Spring and early Summer with no breeze, you can expect them in the low-lying boggy areas.  Avoiding ticks should always be a habit when hiking anywhere in Nova Scotia, and this terrain is no exception.  It's not a great hike for the dog for that reason, as they will brush up against much more of the terrain that ticks are known to enjoy.
Exploring The Peggy's Cove Region
     Most people never venture beyond the village of Peggy's Cove and its famous lighthouse, which is unfortunate because there are so many places equally beautiful.  You can easily spend an entire day exploring places nearby.  The Swissair disaster memorial is a solemnly beautiful stop just up the road from Peggy's Cove.  It provides a great view of Peggy's Cove without having to walk far from your car.
     Polly's Cove has become a very popular hiking destination with spectacular coastal views.  A place to spend a couple of hours of coastal hiking near Peggy's Cove.  West Dover Provincial Park encompasses Polly's Cove but extends inland on the opposite side of Peggy's Cove Road.  These destinations combine to fill a day's worth of exploring the area's wealth of scenery.
---
#WestDoverProvincialPark