Cape Split Hiking Trail Info:
Difficulty: Difficult (distance, periodic 4-5° sloping incline/declines).
Facilities: Parking lot, toilets.
Signage: Trail markers & info kiosk at the trailhead, well marked and signed throughout.
Features: 13.5km (4-5 hour return trip) of forested trails with spectacular coastal views. New "Scots Bay Trail" makes it a scenic, looped hike with many new lookoff points.  200ft, actively eroding cliffs offer amazing views, but require plenty of caution, especially with children and pets.
Habitat: 

Cryptocrystalline

|

Purple Trillium

| Double-Crested Cormorant | More…
Tags: #Bird-Watching, #Coastal, #Lookoff, #Peninsula, #Mountain-Biking, #Long, #Old-Growth, #Picnic.
---

---
Cape Split Hiking Trails
     Cape Split is located in Scots Bay in the Annapolis Valley (1hr 40min drive from downtown Halifax).  The 430 hectares of protected land encompasses the western portion of the Blomidon Peninsula and juts several kilometers into the Bay of Fundy.  This trail is one of the most visited trails in Nova Scotia, with more than 40 000 visitors per year.  Its popularity lies with its incredible #look-off on the tip of the peninsula, with a breathtaking coastal view.  The peninsula marks the meeting of the Minas Basin with the Bay of Fundy in the middle of the world's highest tidal system.  The water levels are always in flux, making the views ever-changing.  Cape Split Provincial Park is one of Nova Scotia's most popular hiking destinations, so plan to arrive early (before 9 am) to avoid crowds.
Minas Basin Trail & Scots Bay Trail
     The journey starts from a large parking area complete with picnic tables, washrooms, and a map of the trail. 1.5km into the hike you'll come to a fork where you'll decide whether to hike the peninsula clockwise via the new 7km Scots Bay Trail, or counter-clockwise via the 6.2km Minas Basin Trail. Though the topography is mostly flat, the trails have some deceptively steady uphill climbs and declines.  The trails are well-used, maintained, and marked so there are no worries about getting lost if you stick to the trail.
     Along with the construction of the new Scots Bay Trail, there are many new look-off points as well.  These look-offs are spaced roughly 1.5km apart throughout both trails.  New bridges and other trail improvements have also made these trails suitable for experienced mountain bikers. The trail can be muddy in areas after wet weather, so proper hiking boots are highly recommended.
A Scenic Destination & Journey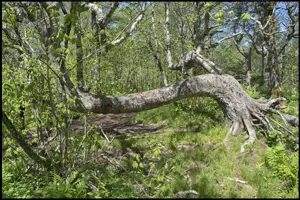 During the roughly 2 hour hike out to the point, you'll be treated to a beautiful array of flora and fauna, with the area being home to over 300 species of plants.  Keep your eyes peeled for some uniquely formed #old-growth trees, including some possible trail marker trees.  Your changing surroundings, the forest canopy, diverse array of wildflowers and plants will keep your head on a swivel throughout much of the hike.
     The peninsula is also great for #bird-watching for both songbirds in the forested sections and seabirds at the look-off.  Large colonies of seabirds gather at the tip of the Cape Split Lookoff year-round.  Brush up on your East Coast Seabirds and learn more about Nova Scotia's bird population in this collection of the best local bird guide books.
Epic Look-Off
     Once you reach the point of the peninsula you'll be treated to one of the best views in the province. The point of land breaks into multiple pieces that jut into the bay and cause white water to rush by with the tides.  The actively eroding peninsula has formed a few detached 'islands' inhabited by masses of shorebirds as they make pit-stops on their Bay of Fundy journeys.
     The lookoff point is where the Minas Basin meets the Bay of Fundy, home to the world's highest tides.  Timing your hike to coincide with high or low tide will give you different views, and it's time well spent watching the tides come in and out from this spot.  You'll want to keep an eye on how much daylight you have left, consider you are only halfway through the hike, and not play it close to having to hike in the dark.
     As you sit at the Cape Split lookoff, you may be treated to the moment the tides shift directions from flowing into the Minas Basin or back out into the ocean via the Bay of Fundy.  The dramatic shift in water flow covers, reveals or creates new focal points with each change.  You really get the feeling that you're sitting atop a very unique living, breathing ecosystem.
Culturally Significant – Mi'kmaq Legend Of Glooscap
     More than just a natural wonder, Cape Split is also culturally significant.  An archeological survey found 6 prehistoric sites, including one at Clam Cove dating over 2000 years old.  This specific area of Nova Scotia is very significant to native Mi'kmaq folklore as it was said to be the home of Glooscap.  Cape Split's spiritual significance is explained in the story, and it's not hard to see why this unique area would be the focal point.
     In short, the story tells of Glooscap's enemy, a giant beaver, constructing a huge dam across the Bay of Fundy, thus flooding the Annapolis Valley.  This disruption of the natural order was not tolerated and Glooscap, who sent bolts of lighting to break up the dam, the remnants of which, are at Cape Split and Five Islands on the other side of the Minas Basin.  Reading more into Glooscap before you visit Cape Split, provides an enchanting context for your hike.
     We could probably use a giant defence of the natural order now.  The entire Cape Split hike is a refreshing respite from the province's aesthetically stark nature woes.  The encompassing forest of Cape Split reminds you what the native Acadian Forest would have looked like before modern unsustainable clear-cutting, and single-species biodiversity destroying tree plantations, which have brought the province's natural order to its knees.
Hiking Preparation Tips
     This trail is a must-visit for anyone up for the technically easy, but physically demanding 4-hour return trip.  It's not the kind of hike you want to do if you're just starting to get into shape.  14km is a significant hike and requires preparation for both safety & enjoyment.  Bring plenty of water, and basic safety gear for this, and every hike.  Remember to be cautious around the actively eroding, very steep cliffs.  Dogs & people have fallen & there have been many rescue situations (hence the lookoff also being a helipad location).  Play it safe and keep a good distance from the edges.
     Throughout Nova Scotia, bugs are worst in late May through June.  In warm months, I always make sure I'm packing bug spray & a full bug jacket for worst-case scenarios.  For a curated list of good bug-defence gear, check out my recommended products here.  Ticks are now the norm throughout the province, and they're most active in early Spring & Fall.  Tick-removers are must-haves for your first aid kit, car & home.  Shop tick-defence gear here, and check out my detailed, practical guide on how to avoid ticks here.  Don't let any of these warnings stop you from doing any outdoor adventures.  The preparations I've mentioned are enough to keep you safe, sane & focused on enjoyment.
     During colder months, you'll want to make sure you are layered up properly.  During your hike, you'll heat up fast.  You'll want to avoid sweating in cold weather because the moment you stop, the sweat will feel like a coat of ice.  When stopping, your temperature will plummet, especially at the windy coastal look-offs.  Being able to quickly, easily add, and remove layers throughout is key.  You're well-advised to bring something extra warm to put on when you sit at the tip of the cape, as its open exposure can make it significantly colder and windier than the rest of your journey.  An ultralight sitting pad helps insulate you from the cold ground, as well as being a more comfortable seat.
Nearby Attractions
     When making the trip to Cape Split, you'll also want to consider checking out nearby Blomidon Provincial Park and the scenic, roadside Blomidon Lookoff (both marked on my map).  Blomidon Provincial Park has great hiking trails, direct coastal beach access and a large family-friendly campground, which makes it an ideal home base for a multi-day adventure.  For a map of just about every campground across in Nova Scotia, check out my blog post.
---
SHOP.HALIFAXTRAILS.CA: Gear | Books | Sale

This error message is only visible to WordPress admins
Error: Hashtag limit of 30 unique hashtags per week has been reached.
Error: Hashtag limit of 30 unique hashtags per week has been reached.
Error: Hashtag limit of 30 unique hashtags per week has been reached.
Error: Hashtag limit of 30 unique hashtags per week has been reached.
Error: Hashtag limit of 30 unique hashtags per week has been reached.
---
More Like Cape Split Hiking Trail:
#Bird-Watching, #Coastal, #Difficult, #Lookoff, #Peninsula, #Mountain-Biking, #Long, #Old-Growth, #Picnic, #Half-Day.