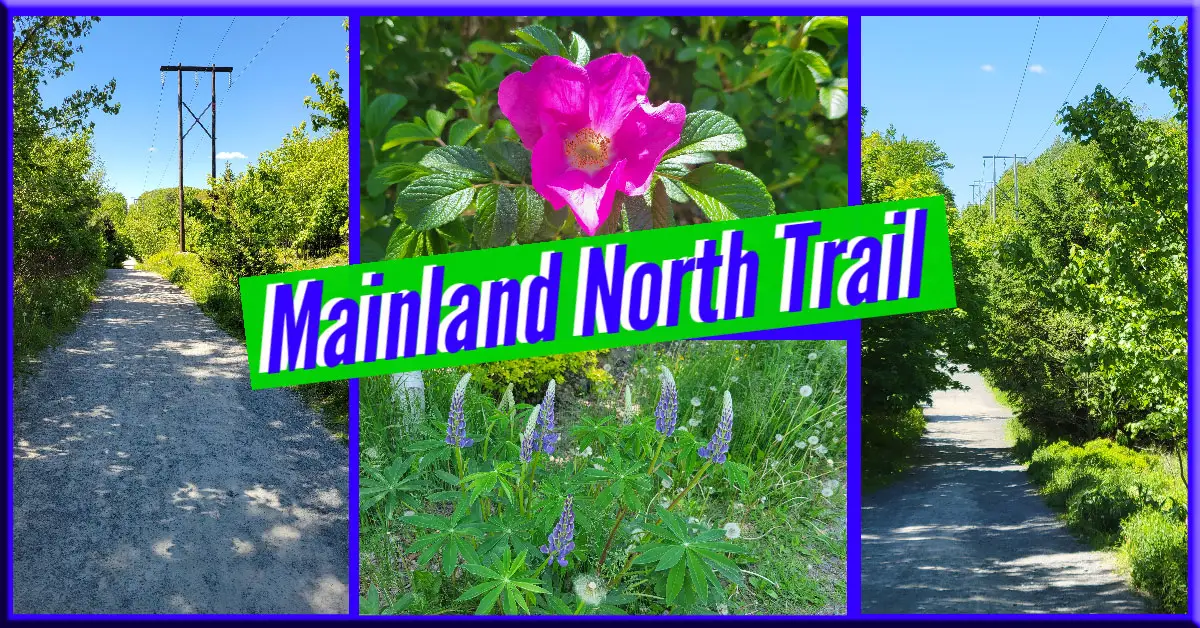 Halifax Mainland North Trail Info:
Difficulty: Easy  (some hills)
Facilities: Parking, benches, garbage cans.
Signage: Trail signs at most major intersections with distance info (in KM's).
Features: 4km linear, multi-use trail. Compacted crusher dust surface. Direct & nearby access to many different parks, playgrounds, trails & sports fields. Directly connected to Lacewood Terminal public transit station.
Biodiversity: American Goldfinch, Osprey, Rugosa Rose, more…
---
Mainland North Trail
      The Mainland North Trail aka the Powerline Trail aka the Mainland North Linear Parkway has been known by a few different names, settling on the Mainland North Trail as its official designation.  With the nondescript name and seemingly bland appeal of a powerline trail, this trail is more than just a way to travel from point A to point B.  The trail connects Washmill Lake Drive in Fairview, to Parkland Drive (near Kearney Lake Road) in Clayton Park, with easy access to everything in between.
Multi-Use
     This 4km trail is made of compacted crusher dust typical of most local municipal parks.  It's a highly trafficked trail especially before and after school.  The trail is busy with students from Park West, Halifax West, Fairview Heights & Fairview Junior High, all of which are on or very near the trail.  This high traffic volume means this trail degrades more quickly than most.  As you near the Parkland Drive end of the trail, the inclines and declines make for more washout areas where the trail can be carved out, pitted & unevenly surfaced.  Overall fine for most activities, you do have to take care along some sections when jogging, biking, pushing a stroller or a wheeled mobility aid.  Maintenance of this trail leaves a lot to be desired and does seem that it should just be paved like the Chain of Lakes Trail.
Stop & Smell The Roses
     As I mentioned previously, despite this trail being a seemingly uninspiring way to get from point A to point B, it offers much more than that if you slow down to notice.  Sure the trail is great for getting from place to place quickly and easily. It's also a popular choice for jogging and meeting your daily exercise goals with your activity tracker of choice.  But what can get lost amidst a brisk jog or hustling to your destination is the fact that this trail is lined with rich biodiversity from start to finish.
My Mainland North Trail Photos:
     In warm months there's a rich potpourri of smells from a wide range of flowering plants, including wild roses.  These wild roses are often used in traditional potpourri and are as pleasing to the nose as they are to the eye.  There are splashes of colour throughout the trail with Loupines & Ladyslippers in early Summer, summer meadows of ferns and wildflowers, and an Autumn rainbow of foliage. Along with the diversity of plants, there are just as many different trees and shrubs.  Birch, Beech, Pine, Spruce, Maple, Oak & even a Cherry tree are interspersed into this mixing bowl of flora.
Urban Wildlife
     This area of the city is also a bird haven.  Nearby Belcher's Marsh is a popular place for birdwatching, but you're likely to see an unusual bird or two on the Mainland North Trail as well.  Osprey like the commanding views atop the power poles, as hawks and even bald eagles periodically join their park patrol.  The nearby wetlands of both Belcher's Marsh and the Mainland Common Park are favourite gathering places for a variety of birds, and the Mainland North Trail is their transportation corridor of choice. If you're interested in identifying and learning more about our local birds, I've got all of the best local bird-watching books curated here, or you can stop by the nearby Keshan Goodman Library.
     In addition to birds, there are also lots of deer who frequent the area to munch on the buffet of bushes.  While it's cool to see them especially when they travel as a family, it's also somewhat depressing.  These deer are not afraid of people as the destruction of their former habitat forces them to wander the streets, mingling with people and more worryingly; traffic.  New developments have constrained them to small wooded areas nearby offering little refuge.
     This area of the city is also home to what I think is the most spectacular daily wildlife display in Halifax.  Shortly before dusk, thousands of crows fill the sky as they migrate from the outskirts to their nightly roost near Mount Saint Vincent University.  This routine is so reliable, that while hiking in the nearby Blue Mountain-Birch Cove Lakes Wilderness Area I know the mass 'cawing' of crows means it's time to leave before dark. Unfortunately, their roost hasn't been spared from bulldozers as recent developments have destroyed much of their habitat as well.
Outdoor Recreation Parkway
     The Mainland North Trail is directly connected to, or minutes away from numerous public recreation fields, playgrounds, and basketball and Tennis courts.  If one of them is busy, another one is only minutes away. Some are tucked out of the way like the Glenbourne Soccer Pitch, while others draw crowds like the Mainland Commons.  Along with sports fields, there are numerous playgrounds and neighbourhood parks along or nearby the trail.
     In addition to fields & playgrounds, the Mainland North Trail has direct access to the Mainland Common Park nature trails & off-leash dog park.  This park's mulch-lined "Loop Trail" is a pleasant 1km, mulch-base stroll with a bog lookoff to watch the comings and goings of this urban wetland.
     More biodiverse wetlands are at nearby Belcher's Marsh Park.  This urban wetland is great for bird watching from a bench, the lookoff, or from strolling the 1km loop around the pond.  Little Belcher's Pond as its name implies is a smaller version, a short jaunt away.
     Mary Clayton Memorial Park off of Willett Street is a short 400m nature trail accessible nearby. Another nearby trail is the 700m Geizer Hill Trail that starts near Halifax West Highschool and leads to Washmill Lake Drive near Bayers Lake Business Park.
     The Glenbourne Bike Park is a tucked-away gem located directly off of the Mainland North Trail.  The park consists of a dirt "pump track" that is great for practising mountain bike skills with its berms (banked turns), moguls and jumps.  This professionally built course is a hidden gem that's not generally well-known so chances are it won't be crowded.
Nearby places of interest:

---
---
More Like The Mainland North Trail: 
#Biking, #Bird-Watching, #Bus-Access, #Dog-Friendly, #Family-Friendly, #Picnic, #Playground, #Wheelchair-Accessible, #Winter-Maintenance
---
Shop.HalifaxTrails.ca: Fitness Trackers | Guide Books | On Sale