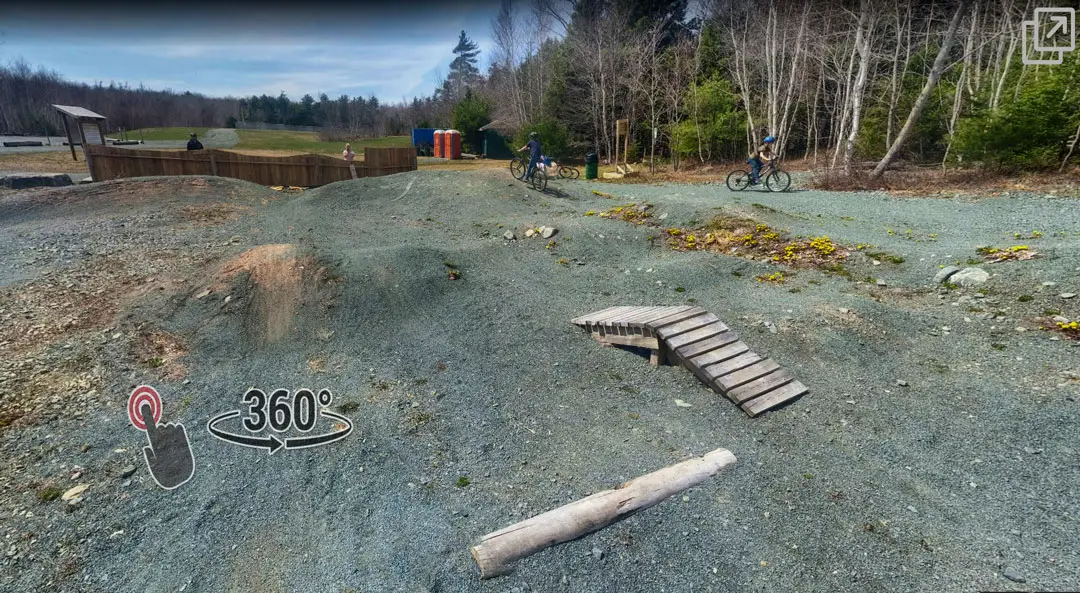 McDonald Sports Park 360° View
---
---
Difficulty: Easy-Moderate (Length, hills).
Facilities: Picnic Areas, Portable Toilets, Parking.
Signage: Maps & signage throughout.
Features: 6km of maintained trails for hiking, biking & groomed cross-country skiing.
---
McDonald Sports Park – Something For Everyone   
     McDonald sports park in Waverly is nestled along the shore of Lake Thomas. Along with the nearby Cheema Aquatic Club, the area is great for lots of outdoor activities including hiking, mountain biking, paddling, beach volleyball, baseball, snowshoeing and cross-country skiing. The diversity of outdoor activities packed into this park has something to offer to everyone.
     The main trail is a 6km loop with numerous cut-throughs, shortcuts and side paths to allow you to choose routes. The trails have picnic tables along the way, including a large covered picnic area overlooking the lake.  It is well marked and maintained throughout.  It is hilly in sections, including one that is recommended to walk your bike down.   The trails are popular with joggers, walkers, and bikers in summer.  In winter, the park is one of the best destinations in the city for cross-country skiing, as the trails are groomed courtesy of the Scotia XC Ski Club.
Outdoor Diversity
     Next to the large main parking area is a beach volleyball court, horseshoe pit, picnic area, baseball field, and a mountain bike skills course.  It truly is a sports park.  The mountain bike skills course and adjacent single track are great fun and a unique feature that isn't found in other parks.
     You'll see lots of different plants and animals along this trail that you don't normally see elsewhere as it has become a refuge for wildlife. A good portion of the 130 acres is #old-growth forest.  The various picnic tables along the way provide great places to stop and enjoy some solitude, or a place to investigate geocaches.
     Another important aspect of the park is paddling, with a canoe/kayak launch site and the Aquatic club on the grounds. The usually calm Lake Thomas is a great place to paddle and the small islands on the lake even have campsites and fire pits.
    The area is used by local groups such as Girl Guides, Boy Scouts, baseball leagues, cross-country skiing, biking and running clubs.  The front gate leading into the main parking lot is closed in the offseason (Oct-May) so keep in mind you have to park 500m farther away until the main parking area is opened for the season.
     Looking for a fun, outdoor adventure to complete with family and friends in McDonald Sports Park?  Try "Missing Identity" to complete a mission for the Lake Thomas Detective Agency.  Identify the creature who has been eating up a large number of local residents!  The step-by-step instructions for this 3 km (return) trail adventure and a route map can be downloaded at earthadventures.ca.  The approximate time to complete the adventure is 2 hours, 30 minutes.
---
McDonald Sports Park Habitat:
Lady Slipper | Downy Woodpecker | Osprey | More…
---
#McDonaldSportsPark
---