Polly's Cove Info:
---
Polly's Cove Guide
     Polly's Cove will encompass you with memorably striking scenery while filling your lungs with invigoratingly fresh coastal air.  By the time you leave, you'll wish you could bottle the experience to take home.  Immensely calming when its shoreline is booming with powerful surf, or when it's subdued, quiet, and veiled in fog alike.
     As with any #coastal hiking trail, the scenery and atmosphere change drastically with the weather.  Awe-inspiring year-round, there's always a new perspective with every visit.  During the warm months of June-October, the landscape is considerably more colourful with a carpet of green shrubs and wildflowers.  The colder months are not without their own uniquely stark, barren, monochromatic beauty.  Rich in biodiversity (tread lightly), it's a great place for coastal #bird-watching as its adjacent islands are home to many seabirds.  Check out my curated shop for the best local bird guidebooks.
Trailhead & Parking
     The trailhead is situated 2km away from the entrance to world-famous Peggy's Cove, just after West Dover on the left side of the road if coming via Prospect Road.  It is easy to miss since there are no signs, and the gravel parking areas are only big enough for a few cars (the province's budget for these eco-tourism gems is highly inadequate).  The only indication of the trailhead may be the other cars already parked there.
     If the main parking area is full, there is another one a little further down on the opposite side of the road (see the trail map).  If both are full, as a 'plan B', I recommend checking out West Dover Provincial Park's Long Lake trails a short distance down the road, with a much larger parking area.
Peggy's Cove For Explorers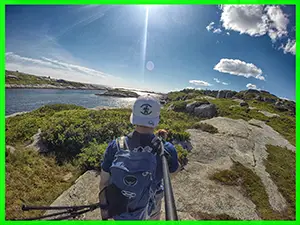 Most people head out to this way only to visit Peggy's Cove.  There are plenty of much less visited destinations within a short distance. On top of the Peggy's Cove preservation area, I recommend visiting the solemnly beautiful Swissair disaster memorial and the vast, wild West Dover Provincial Park for an all-encompassing day trip.
    The wilderness park stretches for over 1000 acres with Polly's Cove encompassing much of its coastline.  The best place to explore the rugged coastline of this area, Polly's Cove is full of expansive coastal views.  From various points, you'll have a unique perspective on famous Peggy's Point lighthouse and the village of Peggy's Cove in the distance.  Sunsets are especially beautiful here as they cast a soft glow over the landscape before setting with Peggy's Cove in the foreground.
     The landscape is dotted with huge glacial erratic, boulders deposited thousands of years ago by retreating glaciers.  Perched atop a high point, distantly inland, you may notice an especially distinct one, which you can visit up close with my previously mentioned West Dover Provincial Park guide.
     Polly's Cove is much less well-known than Peggy's Cove, so it's not as crowded with tourists.  Its "hidden gem" designation has been let out of the bag in recent years, so the parking areas can be full during peak times.  The coastal barrens landscape, full of monolithic granite makes for a fun hike with rock scampering and climbing opportunities.
     Looking for a fun, outdoor adventure to complete with family and friends in Polly's Cove?  Try "Rock Hounds" to become a Rock Hound and uncover the symbols, patterns, and gems that nature has hidden in stone.  The step-by-step instructions for this 2.2 km (return) trail adventure and a route map can be downloaded at earthadventures.ca.  The approximate time to complete the adventure is 1 hour, 30 minutes.

Rugged Hiking Trails
     While the trails are not overly difficult, they are not ideal for inexperienced hikers.  All trails are completely unmarked, narrow, and naturally rugged.  You will often find yourself jumping over mud, wading through the brush, or losing traction on the rocky terrain.  There are many trails that can turn into a maze, but the high-traffic main trails are usually easily distinguishable from wildlife paths and other off-trail no-go zones.  It's a good idea to periodically stop on high points to look at your route ahead so you can avoid getting off track.
     The main trail leading from the main parking lot will eventually come to a fork.  The right side will take you towards Peggy's Cove on a much less trafficked and less well-defined 4.5km loop around a small pond and boggy area ("Loop Trail" in yellow on the trail map). Heading left off of the main trail ("Basin Trail" in Blue on the trail map) will take you along a slightly easier (4km-return) route starting near the foundation of a former radar station and onto the amazing views at Barbara Basin and Burns Cove.
     With many different places to explore and ways to get there, free exploration is part of what makes Polly's Cove such a fun hike.  Keep in mind that this free exploration can be extremely damaging when done wrong due to the unmanaged nature of this wilderness area. Be sure to not make yet another path, avoid lesser-used ones, travel on hard surfaces, and stick to well-defined trails.  Out-of-control trail-braiding causes major ecosystem damage, altering its natural balance and threatening endangered plants and animals. Tread lightly, and thoughtfully.
Polly's Cove Trip Tips
      Portions of the trails can be very soggy, narrow, and lined with prickly brush. Solid, waterproof hiking boots are a must. Its muddy, brushy terrain is exactly what hiking gaiters are ideally suited for.  You'll want to opt for durable pants or knee-high socks to spare your legs from abuse.  The hike involves climbing uneven terrain, dangerously slippery rocks, and mud so you'll want footwear with a good, reliable grip.  Coastal weather conditions change rapidly with fog, precipitation, high winds and big temperature swings.  Even when setting out in favourable conditions, packing a waterproof windbreaker and extra insulating layer is always wise.  Expect breezy or windy conditions as the norm.
     Be advised that it's very easy to spend far more time than planned when visiting Polly's Cove, so leave yourself plenty of time to enjoy it.  With every visit, I end up traveling far slower than anticipated because I'm stopping every few paces to frame up my photography or just pausing to take it all in.  For full enjoyment of break time, I bring a sitting pad to spare my butt from the unforgiving, cold granite.  It's also not a bad place to sit and enjoy a good read on a quiet weekday.
     A very important thing to keep in mind is that this is an unmanaged wilderness area with no facilities, trail construction, maintenance, or garbage removal. It's vital to practice LEAVE NO TRACE principles in these unmanaged wilderness areas.  Please make it a habit to not walk past a piece of litter if you can safely pack it out with you.  As a recipient of the maps & information I offer everyone free of charge, please pay it back by helping remove litter on all of your outings so we can outnumber the selfish, inconsiderate minority.
Nature & Biodiversity
     Click the links below to learn more about the flora, fauna & landscape you'll encounter at Polly's Cove. To view all recorded observations on iNaturalist, click here.
---
SHOP.HALIFAXTRAILS.CA: Books | Gear | Sale
This error message is only visible to WordPress admins
Error: Hashtag limit of 30 unique hashtags per week has been reached.
Error: Hashtag limit of 30 unique hashtags per week has been reached.
Error: Hashtag limit of 30 unique hashtags per week has been reached.
Error: Hashtag limit of 30 unique hashtags per week has been reached.
---