Crowbar Lake Trail Info:
---


SUBSCRIBE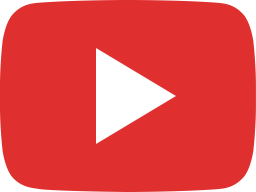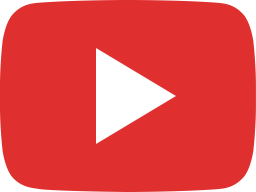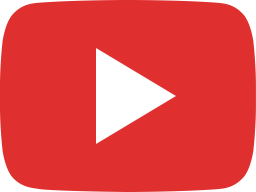 ---
Crowbar Lake Trails
     Part of the much larger Waverley – Salmon River Long Lake Wilderness Area, the Crowbar Lake hiking trail system has plenty of room to explore.  The entire trail system stretches over 18km, with 5 different trails including 4 separate loops.  The rugged wilderness trails make their way through an old-growth forest, granite barrens, lakes, streams, rivers, and wetlands. One feature you'll immediately notice is the gigantic granite boulders that dot the landscape.  The trail has interesting landscapes aplenty, and even the dense wooded sections are very scenic.
Not For The Inexperienced
     These trails are not for beginners or the ill-prepared.  Adding to the challenging terrain and #long distance hiking, cell phone coverage is spotty at best so you have to make sure you're well prepared.  The terrain is very hilly, and you'll rarely find yourself hiking on level ground.  With the climbs, come some great panoramic views.
     During my last visit, the Spriggs Brook trail was fairly well marked and easy to follow (I can't vouch for the further back loops as I've yet to do them).  Conditions can change, as the trails are rarely if ever maintained, so it is definitely easy to lose the trail and head off in the wrong direction.  The map I've included is meant as a general guide, and I haven't confirmed 100% accuracy on the further loops.  The area is very remote, so it's not the kind of place to take any chances.  Always tell someone your plans, pack a compass and basic survival gear (but you should already know these rules of thumb if you're attempting these types of trails).
Hiking Trails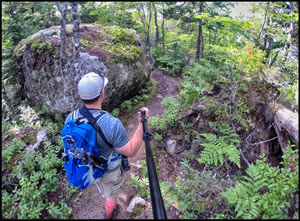 The trail system has various loops to choose from.  The first is a short, 2.5km near the parking lot called the "Porters Lake Loop".   A great way to get introduced to this landscape without heading too far back.  You'll be treated to a scenic pond, huge boulders and an elevated lookoff towards Porters Lake.   The trail is rugged and does make some elevated climbs.  Despite the short distance, the trail is more challenging than others of similar length, but can be still be accomplished in an hour or two.
     Extending from the first loop is the linear "Spriggs Brook Trail".  Winding through 5km of scenic wilderness which includes a wooden bridge across Spriggs Brook and a few scenic look-offs.  The trail brings you to Granite Lake where you should decide what to do next.  The Journey from the parking lot to Granite Lake and back is 2.5 hours of hiking (I would allow at least 3 to fully enjoy).  From this point, I can only offer info I've researched as I haven't done beyond Granite Lake yet.
    Looking for a fun, outdoor adventure to complete with family and friends in Crowbar Lake?  Try "Hidden Message" to become a Rollad and unscramble nature's hidden message.  The step-by-step instructions for this 2 km (return) trail adventure and a route map can be downloaded at earthadventures.ca.  The approximate time to complete the adventure is 2 hours, 30 minutes.
Further Afield – Remote Areas
     Carrying on from Granite Lake via Spriggs Brook Trail you'll begin the "West Lake Loop" trail.  As the name suggests, this trail is a 4.5km loop around West Lake.  From the parking lot and back, you should allow 7 hours or the majority of the day.  Beyond the lake scenery, this trail also has a large elevated outcrop dubbed the "Crow's Nest Look-off".
     The West Lake Loop trail connects at the Northwest and Southwest sides of the lake to the 5.5km "Salmon River Loop" trail.  This area has long been a favourite spot for anglers, despite (or because of) its remote location.  There are a few off-shoot trails at the south end of Otter Lake, dubbed "Lobster Loop" which form an additional 2km loop.  From this farthest back point, the closest escape access point is via River Rd. which is an un-maintained, rugged dirt road that runs through a patch of property that is not a part of the protected wilderness area.
Camping
     Camping is not encouraged, but legal.  There are no officially sanctioned sites.  "Leave no trace" principles must be followed to help preserve and protect this important wilderness area.  You should also refrain from open fires and use a stove or fire dish.  Be aware of the current forest fire index as areas nearby have been devastated in years past.
Crowbar Lake Trail Prep
     Basic preparations are a must.  Tell someone of your planned route and hiking time, pack a compass, printed map, first-aid kit and survival essentials.  You should also expect lots of flies in the Spring and early summer so be sure to pack some bug defense.  Always be aware of ticks when hiking in Nova Scotia.  Ticks can be active whenever temperatures stay slightly above freezing (an unfortunate new reality here).  The best source for the latest trail conditions is the Crowbar Lake Trails Facebook page (you must log in to a Facebook account to view it).
     The remoteness of this area means that help will not be close by.  I suggest a satellite communicator or emergency beacon for areas like this as an added safety insurance. Keep an eye on the time, know when sunset is, and don't play it close.  I always have a headlamp permanently packed regardless, but navigating in the dark is basically impossible especially on a trail you haven't done before.  Know your physical limitations, and realize that your trip back out will be significantly slower and more taxing than on your way in. with plenty of hills to climb.  This is the kind of trail its best to do with a buddy, so if you have an experienced hiking partner, bring them along.
Poor Cellular Reception
     This trail, more than most, is one you do not want to rely on your cell phone, as network coverage is extremely poor at best.
     Being aware of your surroundings and being experienced with wilderness navigation skills should be enough to navigate the most well-used trails.  Even if you are an experienced hiker, you definitely don't want to underestimate anything in this remote, rugged, and overgrown terrain.  The spotty cell coverage means you have to be sure you're proficient with a compass and bring a printed map even if you have a GPS device. You can download my crowbar lake trails GPS files here. I highly recommend purchasing a satellite communicator if you spend any amount of time exploring remote areas like this as an extra fallback.
Newly Managed By Volunteers
These trails are now managed by the newly formed "Crowbar Lake Wilderness Association" (CLWA).  They have already done a ton of work to bring the trails back into shape.  Please support the work of these volunteers by making a donation here.  You can check out their latest updates on their Facebook page.
---
SHOP.HALIFAXTRAILS.CA: Books | Gear | On Sale

---

This error message is only visible to WordPress admins
Error: No posts found.
Error: Hashtag limit of 30 unique hashtags per week has been reached.
---
More Like Crow Bar Lake Trail:
#Backcountry, #Difficult, #Lake, #Long-Distance, #Old-Growth.