Blomidon Provincial Park Info:
Facilities: Parking, camping, washrooms.
Signage: Adequate signage throughout.
Features: Over 10km of hiking trails with views of the Minas Basin.  Home to some of the world's highest tides.  Fully equipped provincial park campground (click for reservations).
Habitat:

Minas Basin

|

Slipper Limpits

 | Fairy Shrimp | More…
Tags: #Hiking, #Beach, #Camping, #Coastal, #Lookoff, #Old-Growth, #Park, #Picnic, #Playground, #Waterfall, #Wheelchair-Accessible.
---

---
Blomidon Provincial Park
     Near Kentville, Perched atop Cape Blomidon is 760-acre Blomidon Provincial Park.  Located on the Minas Basin, it is a great place to view the twice-daily world's highest tides.  The #coastal views along its steep red cliffs are made even more uniquely spectacular with each tide cycle.
     There are a few different trails to choose from.  The main, 5km "Joudrey Trail" follows along the cliffs with many look-offs along the way.  When done in combination with the Woodland Trail, it's a 3 or 4-hour loop that includes some moderately steep climbs.
Hiking Trails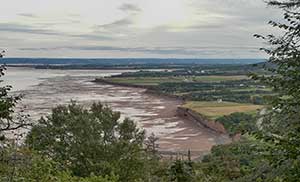 The 3.5km Borden Brook Trail connects the main camping areas to the lower parking lot.  It will take you across a small bridge and up a stairway to showcase a large waterfall.
     The 2km Woodland Trail connects the main camping area with the end of the Joudrey Trail.  It's a veritable bouquet of wildflowers, plants and old-growth forest.
     The trails are well marked and maintained save for some of the maps being a bit confusing ("you are here" with no X marks the spot).  They venture into densely wooded areas, lush with vegetation but are always easy to follow.  There are many look-offs, picnic areas, and restroom facilities throughout the trails.
     The large #wheelchair-accessible campground in the middle of the park is fully equipped with basic facilities.  As with many provincial park campgrounds, it has a washroom building, playground, water taps, fire pits, firewood, and picnic tables. There are different camping options to choose from, such as a group campground or individual campsites (reservations required).
Tidal Flats & Beach
     Be sure to find out the times for high and low tides during your visit.  Watching the tide come in is one of the most spectacular shows mother nature has to offer in Nova Scotia (and I dare say the world).  The scenic picnic area by the lower parking lot has an adjacent stairway to access the water.   Fortunately, the stairs have recently had a much-needed rebuild and hopefully will no longer be closed for safety issues.
     Low tide is a great opportunity for exploration along the vast expanse of soft clay that moments before was the ocean floor.  I highly recommend doing it barefoot for the amazing feeling on your feet (and to spare your footwear from mud).  The majestic cliffs of the surrounding area are best viewed from this vantage point at low tide.  Small waterfalls can be seen cascading down the cliffs as the beach expands and contracts hundreds of meters.  Be warned that the tide comes in extremely fast, so don't get caught straying too far out.
Plenty To Explore
     The nearby hike of spectacular Cape Split and Scots Bay day-use park provides other top-notch exploration opportunities in the area.  With so much to see, it's a great place to spend at least a couple of days.
---
Shop.HalifaxTrails.ca: Books | Camping | Hiking

---

This error message is only visible to WordPress admins
Error: Hashtag limit of 30 unique hashtags per week has been reached.
Error: Hashtag limit of 30 unique hashtags per week has been reached.
---
More Like Blomidon Provincial Park:
#Hiking, #Beach, #Camping, #Coastal, #Lookoff, #Old-Growth, #Park, #Picnic, #Playground, #Waterfall, #Wheelchair-Accessible.