Shubie Park Info:
Difficulty: Easy.
Facilities: Visitor's center, boat rentals, canteen, campground, benches, bathrooms.
Signage: Interpretive panels and trail signage throughout.
Features: Fully equipped campground.  Paddling destination with on-site rentals. Off-leash dog area.
---

---
Shubie Park
     Shubie Park has long been the Jewel of Dartmouth, revered by locals just as Point Pleasant Park is to peninsular Halifax.  Point Pleasant & Shubie are the city's 2 main go-to parks, for good reason.  The big difference is that Shubie park has more activities to offer than most local #parks.  A great place for a nature stroll, and #accessible to people of any ability, it's also a destination for paddling, biking, and camping.
Campground
     One of the big offerings is that Shubie features a fully serviced campground.  Shubie is also the only serviced #camping location in Halifax city limits.  It features 72 serviced sites including 1 yurt.  It features everything you would expect from a full-service campground, including a playground, tennis court, showers, laundry, and WiFi.
Shubie Canal Paddling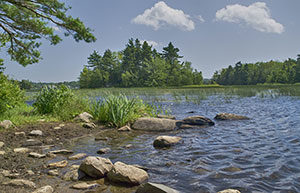 Canoe/Kayak rentals are available from May-October, with the boat launch area being very close to the main parking lot.  The new "EZ-dock" system makes it accessible for children and people with limited mobility.  The dock simplifies the process of getting in and out and makes launching your boat a breeze.
     You can easily paddle Lake Banook & Lake Micmac to the south of the park, and Lake Charles to the north.  For the more adventurous, you can make use of various portages to go further afield, all the way to the tidal waters of Cobequid Bay.  The entire route is done in a yearly event called "Canoe To The Sea".
Shubie Park Amenities
     In 2018 Halifax City Recreation began a program of free bike rentals, helping make it a great place for #biking.  Shubie Beach is one of the city's few supervised ones.  Lifeguards are on duty for July and August.
     Other amenities include the Fairbanks Centre, which hosts lots of informative information about the historic canal and is host to different events and meetings.   The seasonal Lockside Canteen and its outdoor patio make a great spot to stop and enjoy some great food & refreshments.
     The park is a heavily forested greenway which is bounded by Lake Charles to the north an Lake MicMac to the south.  Part of the historic Shubenacadie Canal passes through the park.  The history of the canal plays a huge role in the park, and in the interpretive trails.  Along the trails are regularly spaced interpretive panels.  They detail the importance of each area in the building and functioning of the canal system.

Historic Beauty
     The beauty of the park comes with a historic narrative dating as far back as 4000 years with the native Mi'kmaq people.  The interpretive trail focuses on the ambitious construction project which began in 1826.   The park is one of many #historic sites in the area.  A fantastic nature walk with an interesting history lesson and evidence of its past throughout.
     The trail system is extensive and not always well marked, but there are plenty of maps and different routes to take you to the same place.  Getting lost is difficult, but also enjoyable.  The main trailway connects on to the "The Great Trail" connecting Canada from coast to coast.
Creature Comforts
     Everywhere you go you are bound to see ducks, squirrels and other animals.  They are all very used to humans and will gladly approach you in hopes of a treat.  The well-loved squirrels even have their own houses, canteens, diners, cottages and romantic getaways along the trails.  Sometimes you may not see any, as they have been taken down in recent times to prevent the spread of trichmonosis.
     The park is a great place for practicing your photography skills, sitting quietly with a book, or any number of activities you would want to do to get away from the hustle and bustle of the city.  Shubie Park is the best all-purpose park in the HRM and offers something for everyone.
Family Fun
     Looking for a fun, outdoor adventure to complete with family and friends in Shubie Park? Try "Raccoon Robber Challenge" to become a raccoon and outsmart other creatures. The step-by-step instructions for this 0.9 km (return) trail adventure and a route map can be downloaded at earthadventures.ca. The approximate time to complete the adventure is 1 hour, 15 minutes.
Nature & Biodiversity
     Click the links below to learn more about the local flora and fauna you'll find in Shubie Park. For a list of all observations recorded in the park on iNaturalist, click here.
---
SHOP.HALIFAXTRAILS.CA: Books | Gear | Sale

This error message is only visible to WordPress admins
Error: Hashtag limit of 30 unique hashtags per week has been reached.
Error: Hashtag limit of 30 unique hashtags per week has been reached.
Error: Hashtag limit of 30 unique hashtags per week has been reached.
---
Similar To Shubie Park:
#Bird-Watching, #Camping, #Dog-Friendly, #Easy, #Historic-Site, #Off-Leash, #Paddling, #Park, #Picnic, #Playground, #Short, #Wheelchair-Accessible, #Winter-Maintenance.