Facilities: Parking, bathrooms, large picnic areas, on-site surf rentals & lessons.
Signage: Minimal.
Features: The province's longest sand beach (5km). Lifeguard supervised (July & August).
Biodiversity: Bar Clam | Red Fox | Piping Plovers | More…
---
Martinique Beach Provincial Park
     In Nova Scotia, it's hard for one beach to stand out amongst our embarrassment of sandy riches.  Martinique Beach is unique in this respect as it boasts a title held by no others. With 3.5km of white sand, this is the province's longest sand beach, maybe even Eastern Canada's longest sand beach. No matter what titles it lays claim to; the fact is it's big. So big in fact that walking from one end to the other without any breaks will run you upward of 45 minutes to an hour.  Chances are you'll take far longer than that as there's plenty of reason to stop and enjoy the scenery on both a micro & macro level.
     From watching humans surf, to watching birds fish there's always a reason to stop along any number of spots along the way.  Most people will stick to the section of the beach that is supervised by lifeguards and favoured by surfers and swimmers alike, so the farther you walk, the less crowded things get. A consistent theme throughout is the unspoiled, wild beauty that surrounds as far as the eye can see.
     Strolling the beach, you'll walk through differing sand patterns like an art gallery of abstract paintings by converging forces of nature. Keeping you constant company are windswept dunes full of rare shorebirds and a wild ecology left free to exist unspoiled. It's more than just a place to lay on the beach but it's well suited for that too.
Parking & Facilities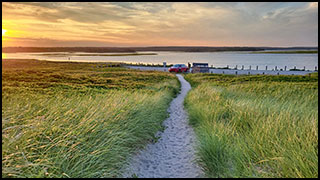 Martinique is one of the province's most well-known beaches, but at a 1-hour drive from Halifax, it's less crowded than some.  That being said, you will want to get there early in the morning (or later in the evening) if you want to get a spot in one of the parking lots on a hot summer weekend. According to my rough math, there is enough room for roughly 80 cars divided by 8 parking lots. The first lot is the largest, fitting around 20 cars with each successive lot fitting between 7 and 10 cars apiece.
     If one lot is full, you can progress to the next one until the end of the road where you can circle back around. Do not park anywhere along this turnaround area & don't be the person who takes up more room than necessary as space is extremely limited and things can fill up fast.
     Parking is no longer permitted on the access road. Vehicles parked illegally may get ticketed and/or towed. This new restriction was put in place to give room for emergency vehicles to get through.  Unfortunately, it makes the already sparse parking options even worse at one of the province's most popular beach destinations. Make sure to get there bright and early on a nice summer day to ensure a spot.
     The park has multiple change rooms and outhouse-style toilets, all of which are concentrated near the first 3 parking areas. There are also picnic tables and covered picnic areas adjacent to the first two parking areas and a beach boardwalk/picnic area in between the two.  There are no nearby facilities from parking lot 5 onward. Each parking lot has direct access to the beach, most via a short boardwalk.
On-Site Surf Rentals & Surfing Lessons
     The first 200m of the beach is a lifeguard supervised for the months of July & August.  Accordingly, this section of the beach is where most people swim and surf.  Halifax Surf School operates an outlet here and up the road at Clam Harbour Beach Provincial Park 7 days per week in the summer. From the Martinique Beach location, they sell and rent surfing gear as well as offering lessons and cottage rentals.
Weather & Water Temperature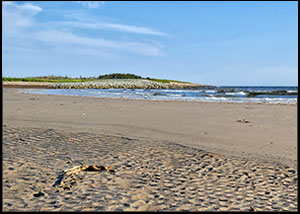 Nova Scotia's Eastern Shore is notoriously foggy. Even if things are bright and sunny elsewhere, once you get to the coast things can be enveloped in a thick bank of fog, often burning off as the day progresses.  Coastal temperatures are usually drastically lower than elsewhere, dropping as much as a season's worth without warning, so come prepared to adjust to quickly changing conditions.
     Ocean temperatures at Martinique peak in August at around 17°C (63°F), and hover near that mark for July & September, the 3 warmest months. October (12.6°C) is actually warmer than June (9.4°C) and in February & March, the two coldest months, temperatures drop to barely above the freezing mark. You can check the current water temperature here.
Tides & Surfing Conditions
     If you're going to walk the beach, you'll want to do it at low tide so you're not pressed up against the dunes. You can check out the current tide times here.  Make sure to take into account these tide times as it's not ideal to be at the far end of the beach and do an hour's worth of walking back at high tide with limited room.
     Surfing conditions at Martinique are usually good for people of all abilities & experience levels. Swells are very consistent between 1-2 meters throughout the summer months. Larger swells are typically from October onward and are only recommended for experienced cold weather surfers.  The most active surf is near the south end of the beach near the breakpoint between the large and small beach.  This area is a rocky reef (visible on the satellite map view) so you'll have to take special care to avoid getting too close.  Wind conditions in summer are consistently breezy at around 15km/h but conditions can be very gusty at 50km/h or more in turbulent weather.  You can check out the current surfing forecast here.

Trip Tips
     If you plan on walking the length of the beach there are a few things to consider.  First, consider the tide times so you aren't pinned against the dunes at high tide. Allow yourself 2 hours or more to go from one end to the other, and back.  Bugs can be bad in certain spots, so you'll want to consider your stopping points.  I stopped at the far end of the beach consistent breeze that masked the fact that mosquitos were having a field day.  This far end does have lots of stagnant water so it is probably one of the worst spots for bugs.  That being said, it is also an absolutely fantastic place for birdwatching.  I saw bald eagles and terns fishing the whole time I was there. I originally intended to walk out to the last visible point of land, but this field of slippery, ankle-twisting rocks was a bridge too far for me. This area can also get cut off during high tide so it's not an exploration I would recommend.
     Make sure to pack some sunscreen & bug defense to avoid paying the price when you get home.  A cooler and something to sit on are also staples of any good beach outing.  If you're going to walk the length of the beach, do it in proper hiking footwear to avoid the blisters you'll get from sandals or typical beach footwear.  Stick to the beach & avoid getting into the dunes and tall grass.  Threatened species like the Piping Plover nest in these delicate dunes so they are strictly off-limits, keep dogs on leash and children close at hand.
     If you want to stay at the beach, the Halifax Surf School has 3 rental cottages located on-site.  The nearest campgrounds are 40-minutes away with Porters Lake Provincial Park campground to the south, and a few private campgrounds to the North, past Clam Harbour Beach.
     For gas & supplies, the nearest spot is the community of Musquodoboit Harbour, a 20-minute drive from the beach.  Make sure to stop here on your way to the beach if you're low on gas or need supplies of any kind. There are some great small businesses in Musquodoboit Harbour for ice cream, fish-n-chips, coffee, and even a micro brewery.  Musquodoboit Harbour is also home to the fantastic Musquodoboit Trailway, ideal for biking & hiking.  Continuing North along the #7 highway, Clam Harbour Beach Provincial Park is a 40-minute drive away with an equally fantastic beach and similar amenities to Martinique Beach.
---
SHOP.HALIFAXTRAILS.CA: Gear | Books | Sale

This error message is only visible to WordPress admins
Error: Hashtag limit of 30 unique hashtags per week has been reached.
Error: Hashtag limit of 30 unique hashtags per week has been reached.
---
Similar To Martinique Beach:
 #Beach, #Bird-Watching, #Coastal, #Family-Friendly, #Picnic, #Swimming