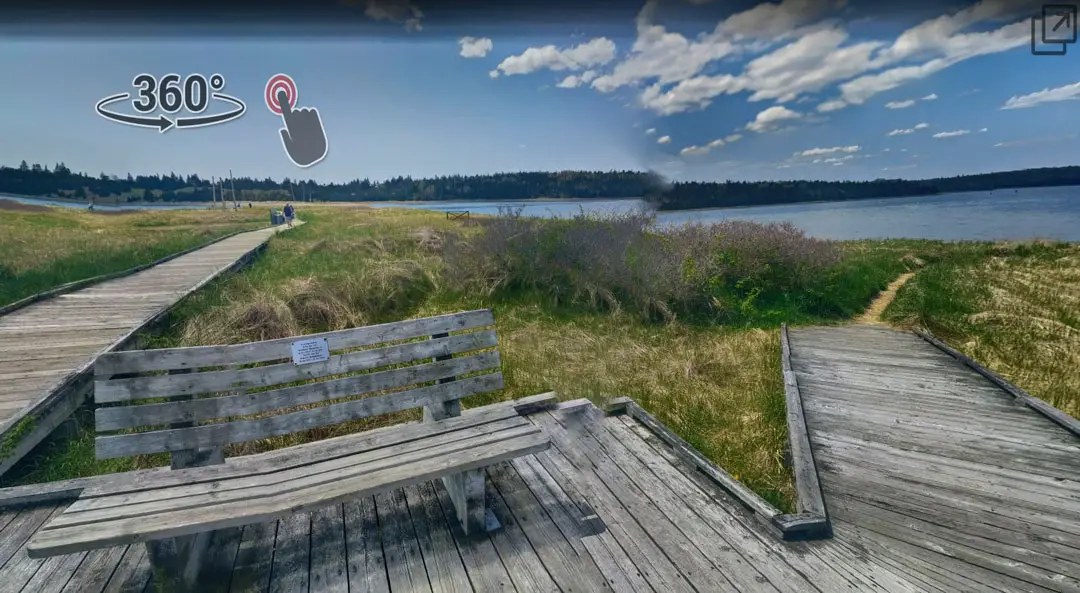 360° View
---
Difficulty: Easy.
Facilities: Parking, covered picnic areas, shops.
Signage: Adequate.
Features: 1.2km boardwalk loop with beach access points. A vibrant waterfront with unique shops & restaurants. Popular launch point to McNabs Island. Open Victoria Day (May) until mid-October.
Biodiversity:

Piping Plover

 |

Black

Guillemot

 | Beach Grass | …more
---
---
MacCormacks Beach Provincial Park
   Located next to Fisherman's Cove in Eastern Passage, MacCormack's Beach Provincial Park offers quintessential Nova Scotian scenery and culture.  The many colourful shops and restaurants reflect Nova Scotian seaside traditions, in art, food and beautiful scenery.  MacCormack's Beach Provincial Park offers a great example of unspoiled seaside nature which has helped create these traditions. A fisherman's memorial near the parking lot extols the virtues of the everyday fisherman who have helped shape Nova Scotia's economy and way of life.
    The 1.2km loop follows along a small sand dune-covered peninsula of land, lined with both rocky and sand-covered beach areas. The 1m wide wheelchair-accessible boardwalk starts from amongst the shops and restaurants and wraps around the park's peninsula.
Boardwalk With A View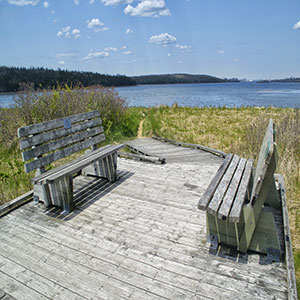 At the beginning of the loop is a sand beach area which is a clam digging hotspot during low tide.  As you progress around the boardwalk there are well-constructed benches and covered picnic tables along the way which offer great views of downtown Halifax, Lawlor's Island, and Devil's Island lighthouse, with the hustle and bustle of Fisherman's Cove in the foreground.  A large sandy beach at the point is a very popular spot in summer, but not safe for swimming due to hazardous currents and undertow in the channel between Lawlor Island.
    The boardwalk is designed to protect the delicate dune ecosystem by eliminating destructive foot traffic (make sure to stay on boardwalk and paths). The shore can be a great place for seashells and sea glass. but you have to compete with others to find the perfect specimens, as this area is very busy in summer.  Bikes are not allowed and all pets must be on a leash.  The sandy beaches are a fantastic little oasis that expands and contracts with the tides (tide times here).
Shop.HalifaxTrails.ca: Guide Books | Photography | Featured
    While the full loop only takes 30 minutes, you could easily spend a day in this area whether you're shopping, strolling, bird watching, fishing or spending a day at the beach. Especially worth a visit during Eastern Passage/Cow Bay summer carnival days, a yearly event in early August, which include sand castle building contests on the beach.
     This park can also be a launch point for suitable kayaks to make the short, open water crossing to McNabs Island. There are various paid charter boats that will take you to McNabs island, or out on a whale watching tour.  These charters operate directly out of Eastern Passage, for more info on these charters, read my McNabs Island Provincial Park guide.
#MacCormacksBeach   
There are not media published by you with the hashtag maccormacksbeach. Please choose a different hashtag or publish a picture with the hashtag chosen and try again.