Aspotogan Trail Info:
Facilities: Parking, picnic tables, benches.
Signage: Minimal, info kiosks at trailheads.
Features: Multi-Use #Rails-To-Trails with compacted crusher dust base.  A 13km section of the 123km Rum Runners Trail that connects Halifax to Lunenburg.  Access to Noonan Lake,  Meisner's Beach & Castle Rock hiking trail.  Lots of great river views.
Habitat: Aspotogan Peninsula | Shearwater | Downy Woodpecker | More…
Tags: #Beach, #Biking, #Bird-Watching, #Bridge, #Lake, #Rails-To-Trails, #River.
---
The Aspotogan Trail
     The Astpotogan Trail connects the communities of Hubbards and East River.  It is a 13km section of a larger trail that connects Halifax to Lunenburg, known as the Rum Runner's Trail.  This inland section often follows along water, whether a river, brook, lake or pond.  A former railway now converted to a multi-use trail popular for walking, biking, and ATV travel.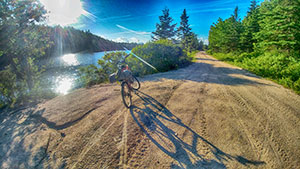 These converted #rails-to-trails are extensive throughout Nova Scotia and this particular route from Halifax to Lunenburg encompasses the Chain of Lakes Trail, B.L.T. Trail, St. Margaret's Bay Trail, Aspotogan Trail, Chester Connector Trail, and Dynamite Trail.
Superb Cycling
     This former railway has no especially steep inclines or declines making it ideal for biking.  The packed crusher dust base may not be well-suited to road bikes with thin tires but is packed enough to be easily done with hybrid or mountain bikes with their typically thicker tires.  It's well maintained with potholes and other anomalies kept to a minimum.
     The crusher dust can be unevenly packed in some sections due to ATV traffic.  ATVs share these trails, so you should always keep your head up, stop and move to the side to let them pass.  ATV drivers have always been respectful of the rules and etiquette from my experience on these trails.
     Signage is kept to a minimum with maps and other info posted on large information kiosks at the trailheads. Parking is limited to the trailheads and there are very few additional access points.
Scenery & Side Adventures
     There are scenic bridges along the trail, Fox Brook Bridge, Little East River Bridge, and (in my opinion) the most scenic part of the trail; the East River Bridge.  There's also a picnic area on Noonan Lake and other benches and picnic tables at a few other points.
     A few stopping points that can be accessed with short diversions from the trail.  A short access road leads off-trail to Meisner's Beach where you can take a dip or get a fresh breath of cool ocean air.  East River Provincial Park, a day-use picnic park, can be accessed by traveling 400m off-trail along Highway 3.  Perhaps best of all is the 2.5km hiking trail directly off of the rail trail that leads to Castle Rock.   At an elevation of 430m, it has spectacular views of East Chester and is well worth the side adventure.
     The 13km trail takes about an hour (one way) by bike, but I would allow at least 2 hours if you want to take your time and enjoy the scenic areas.  To plan your own combination of any route on the rails-to-trails by bicycle I suggest you use my average moving speed of 15km/h for a ballpark time figure.
---
SHOP.HALIFAXTRAILS.CA: Gear | Books | Sale

---

This error message is only visible to WordPress admins
Error: No posts found. No posts made to this hashtag within the last 24 hours.
---
More Like The Aspotogan Trail:
#Beach, #Biking, #Bird-Watching, #Bridge, #Easy, #Lake, #Moderate, #Rails-To-Trails, #River.