Dynamite Trail Info:
Use with CAUTION. Large washouts at 3 Trails Junction in Mahone Bay, Old Hwy 3 Intersection at Mahone Bay & Parking Lot at Clearland Rd. Several other smaller washouts. Please SUPPORT the Dynamite Trail Association volunteers as they work to repair the trail asap.
---

---
The Dynamite Trail
     Connecting the communities of Martins River & Mahone Bay, the Dynamite Trail is a very enjoyable way to explore Nova Scotia's beautiful South Shore.  The trail intersects the main Lighthouse Route Trunk 3 roadway at the Martins River parking lot and again near the St. Martins Anglican Church.  It also crosses a few backroads and private drives along the way, so use caution and heed the warning signs at each crossing.
     The Dynamite Trail is part of the 123km Rum Runners Trail that connects Halifax to Luneburg via an extensive #rails-to-trails route.  As a former railway, the trail is wide, relatively flat and the crusher dust base is suitable for most hybrid or mountain bikes.  Road bikes with narrow tires will struggle on this section as ATV's, which share the trail, create areas of loose gravel.  The trail is well maintained otherwise, with potholes and mud kept to a minimum thanks to maintenance by the Dynamite Trails Association.
Planning Your Route
     The Dynamite Trail is a small section of the much larger Rum Runners Trail.  This trail is absolutely ideal for exploring from Halifax to Lunenburg and all stops in between.  For ballpark time estimates, use an average moving speed of 14 km per hour and the addition of plenty of stopping time to enjoy the views while giving your butt a break.
     If you're just exploring a certain section, its ideal to have 2 cars or a way to get picked up at your end destination so you don't have to backtrack.  That being said, you can enjoyably bike the Dynamite Trail up and back in 2 hours or less.  There is plenty of scenery to enjoy twice or to visit on your way back if you're in the zone and don't want to interrupt your momentum.
Points Of Interest
     For the purpose of this guide, I'll be starting from Martins River, heading towards Mahone Bay.  From the parking area directly off of the main roadway (Lighthouse Route Trunk 3), you'll cover just over 1km of the Chester Connector Trail as it turns into the Dynamite Trail.
     Crossing the roadway immediately from the parking lot, in 500m you'll pass by a scenic marshy area full of bullrushes.  Less than 1km later comes one of the best views of the trail as you cross the Gold River Bridge. At over 50m in length and roughly 12m high, crossing this converted railway bridge feels like a particularly cinematic scene from a movie.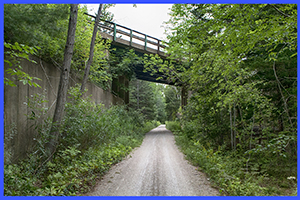 400m later you'll pass the St. Martins Anglican Church before cautiously crossing the main roadway a final time.  A 1.5km procession through a colonnade of pine trees leads to the Narrows Basin.  This sheltered ocean inlet is busy with recreational boats in summer.  The small bridge makes for a nice quick stop to take a deep breath of the fresh coastal breeze.
     You'll cross Oakland Road in another 600m, and come to a small, scenic inlet from Common Lake 400m past the road.  Just over 200m from here, you'll be treated to a very peaceful setting as a short causeway crosses a large wetland area on Common Lake.  I took a good 10 minutes here to soak in the scene while listening to the quiet orchestra of creatures (a good spot for #birdwatching).
     As you pass by Common Lake with a bench at the far end, you'll travel another 2km through a wooded section of trail until you cross Sleepy Hollow Road with its adjacent parking area.
     Almost immediately after crossing the road, you'll come to Oakland Lake.  The first access point is 600m beyond Sleepy Hollow Road, but there are others including a great spot with 2 benches 900m past Sleepy Hollow Road.  The lake is a must-stop destination, whether for a dip or just to listen to the ravens and osprey as they patrol the lake.  With no houses on its shores, it's 100% wild and serene.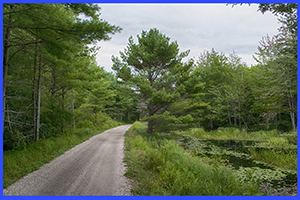 As you come to the end of Oakland Lake, you'll reach an unconventionally scenic underpass of the main Lighthouse Route Trunk 3 roadway.  800m beyond is another of the Dynamite Trail's main attractions.  A converted railway bridge spans 100m atop the steep-sloped banks of a river far below.  The enchanting treetop view is not for the faint of heart.
     Finishing off the route, you'll pass a small parking area off of Clearland Road 700m beyond the railway bridge.  An additional 650m brings you to a main parking lot off of Wye Street. From here the trail continues for 300m until you reach a fork.  Continuing straight, the trail becomes the 17km "Adventure Trail" to Bridgewater.  Taking a sharp left keeps you on the Rum Runners Trail and the 15km "Bay-To-Bay Trail" ending in Lunenburg.

Preparation Tips
     Though rails-to-trails by their very nature are largely flat, some sections do have stretches of inclines and declines.  This trail has its fair share of those stretches, requiring you to adjust a few gears (see the elevation profile here).  Be sure to warm up, stretch, hydrate, and do whatever you need to do to avoid cramping.  I highly recommend a hydration bladder for hands-free, hassle-free hydrating.
     As to all of the Rum Runners Trail & all multi-use trails, it's a must to have bicycle bell to pass people safely.  Bicycle fenders are great to deflect rogue pebbles and mud.  A rear-mounted bicycle rack mount is also great for "bikepacking", allowing you to easily carry a tent or extra cargo.  A phone mount for your handlebars is a great way to check the map and access your phone without having to dig into your bag or risk it slipping out of a pocket.  The handlebar phone mount you'll see in my photos is simple, lightweight, and secure (buy it here).   A bicycle helmet is the law, front and rear lights are must-haves for safety.
     Bring a packable, quick-dry towel if you intend to take a dip on any of your adventures.  Especially in cool weather, make sure to pack extra layers to adjust to fast-changing weather conditions.  Binoculars and local bird guide books are especially useful if you intend to enjoy some #birdwatching.
     I didn't notice a lot of garbage cans (or garbage) during my last visit, so pack out what you pack in, and leave no trace to keep things pristine.  If you appreciate this trail, be sure to support the Dynamite Trail Association and their ongoing work of improving & maintaining the trail.
---
SHOP.HALIFAXTRAILS.CA: Books | Gear | Sale