When the temperature rises there's no better place to be than Halifax, Nova Scotia with its plethora of picturesque parks, pristine lakes and preponderance of peaceful coastlines. In this article, I share my favourite hiking, biking, swimming and paddling day-trip destinations to beat the heat.
Map: Nova Scotia Paddling Locations, Beaches & Swimming Spots.
Characteristic Coastal Connectivity
(Click the upper left corner of the video to reveal entire playlist).
A 25-minute drive from downtown Halifax brings you to some pure, authentic Nova Scotian coastal beauty. A short, rugged 45-minute hike contains a day's worth of enjoyment.
Everyone loves the natural beauty of Duncan's Cove Nature Reserve, as evidenced by its consistent rank as the #1 most viewed page on HalifaxTrails.ca. The views here leave a lasting impression on your soul. 3-4 hours to hike the entire trail.
A Picture perfect postcard landscape. If you can't take a good picture here, there's something wrong with your camera.
The community of Prospect is the definition of a hidden gem. The sights along High Head Trail in Prospect's Bill Freedman Nature Reserve are a great way to experience it.
Voted as Halifax's best beach last year, Crystal Crescent is more than just an amazing beach. With an extensive 11km hiking trail network, the entire peninsula is there for your eyes to feast upon.
Enjoy the eclectic shops and restaurants of Fisherman's Wharf and work off the calories with a stroll along MacCormack Beach's boardwalk. Or just bring a beach chair and enjoy your ice cream cone and live the #EastCoastLifestyle.
People come from all around the world to tour Halifax's connection with the Titanic disaster, but most people including native Haligonians don't know about the equally devastating White Star Line disaster of the SS Atlantic. A museum/cafe', boardwalk and peaceful coastal views of Terence Bay make for a beautiful memorial.
Kilometers of beaches, including everyone's favourite the sandy and easily accessible kind. Rocky cliffs pounded by ocean surf, and coastal habitats abound within its 20km coastline. Nova Scotian coastal beauty summed up on one peninsula.
---
Peddle Power Proclivity
(Click the upper left corner of the video to reveal entire playlist).
Part of an extensive rails-to-trails multi-use trail system extending from Halifax to the South Shore and beyond. This section of the trail has riverside explorations, cool coastal breezes, picnic parks and popular public beaches (Queensland & Cleveland Beach).
Part of the same rails-to-trails system as the St. Margaret's Bay Trail, the B.L.T. section has a waterfall and access to the Bluff Trail and Cranberry Lake. Feel free to jump in.
Another rails-to-trails, multi-use trail, the unique salt marsh habitat is a haven to a plethora of birds. A cool breeze from the water makes the causeway a great place to enjoy the heat.
---
Sensational Swimming Sanctuaries
(Click the upper left corner of the video to reveal entire playlist).
Hidden gem alert! The lookoff at Susie's Lake is a spectacular place to go for a dip. It's hard to believe a 15-minute hike from behind an ugly business park will bring you to this view. A freeing experience that the clothing-optional crowd knows all too well.
Pristine lakes with no houses or development of any kind. Short, enjoyable hikes bring you to these urban oases. Part of Halifax's proposed Blue Mountain-Birch Cove Lakes Wilderness Park which would be North America's largest urban wilderness park. One visit and you'll agree that we need to add it to Halifax's resume' ASAP!
A picturesque waterfall and pristine lake inhabited only by Loons and Osprey. The small sandy beach is a great place to get away without having to venture very far.
Halifax's newest urban wilderness park encompasses this uninhabited lake. Part of the Purcell's Cove Backlands, an area popular with hikers and mountain bikers. Plenty of great spots to go for a dip.
With amenities at Kinsmen First Lake Beach and access to Second Lake, these trails make for an enjoyable lakeside stroll.
A supervised beach complete with change facilities, a beach volleyball court and picnic area. Sandy Lake is an ideal place to spend the day with the family.
---
Praiseworthy Paddling Propensity
With its new boat launch access, Long Lake is now one of the best places in the city to spend a day at the lake. The new Lakeview Trail is easily accessible for all, take a dip in the lake wherever you see fit, or paddle out to one of the islands, the park is your oyster.
A great place for a stroll around the frog pond, stair climbing to the top of the Dingle Tower, a family picnic near the playground, a swim at the beach or a place to say "I do". The public boat launch gives you free access to Halifax's beautiful Northwest Arm. A gift with a lasting impression donated to the people of Halifax from a man with a knack for lasting impressions on society.
This wide, easy flowing Class 2 river is ideal for paddlers of any ability (water levels notwithstanding). With a couple of day-use parks along the way, you can plan a thoroughly enjoyable paddle.
Rent a canoe, kayak or paddleboard on-site and explore the historic gem of Dartmouth. Also the only campground in the Halifax Regional Municipality.
---
These are just a few suggestions from my experience and I hope to add more to the list as the summer goes on. If you've got a favourite destination that isn't listed, let me know in the comments below where it is, why it's great and vote on the poll of where I should go next. If I've helped you to discover some of these gems, feel free to support my work so I can keep expanding and improving. Happy Trails!
A ridiculous amount of coffee is consumed while working on HalifaxTrails.ca. Add some fuel if you'd like to keep me going!
---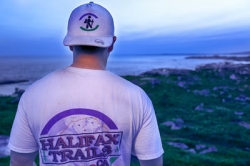 Proudly responsible for introducing thousands of people to Halifax's great outdoors.Amateur photographer, videographer, blogger and adventurer.