If Polar Bear Dips Aren't Your Thing, Take A Hike!
     Though our celebrations may be virtual this year, the end of 2022 is cause for celebration no matter how you choose to rid yourself of it.  The few years have forced us to look forward through a different lens, to better times with re-calibrated values and priorities.  Now valued more than ever, spending more time outside has put our environment at top of mind for many.  A great resolution this year would be to advocate for its protection and support others who do the same.
     There's no better way to start your re-calibrated new year than getting outdoors in some crisp, fresh air.  If you over-indulged on New Year's Eve, fear not.  These hikes have just the right exertion-to-enjoyment ratio and are the best all-natural cure for what ails ya.
     New Year's redemption can be found overlooking Charlie's lake.  A short, but rugged 1km hike from the parking lot at Maskwa Aquatic Club, leads to a spectacular place of rejuvenation.  Re-fill your lungs with certified fresh organic, gluten-free 2023 oxygen atop the steep rocky shoreline.  This amphitheater-like atmosphere would have had great acoustics for your epic Karaoke rendition of Sweet Caroline, but for now, it just amplifies the peace and quiet…and the ringing in your ears.  The only thing that could make this place any better would be if it served an all-day breakfast.
360° Virtual Tour:
     Post a pic at this scenic look-off and you're sure to shame everyone who's still in bed.  Inspire your social media followers with the drive, determination, skill, and effort it must have taken to explore this epic wilderness.  Sure it may be in Bayers Lake Business Park, and your activity tracker says it was only a 40-minute return trip, but we'll just leave those parts out.
     Enjoy the view while enjoying your still-warm Timmies while you sample one of Halifax's finest Blue Mountain-Birch Cove Lakes Wilderness views.  Be warned, even though it's a 20-minute hike to the look-off, it is un-marked and rugged.  It's not to be taken as lightly as your decision to have another drink was last night.
360° Virtual Tour:

    Stroll, hike, call it what you will but it's your best option to be seen doing "great, thanks!" (as your grimace turns into a smile).  Sure last night was a rough one, but you're still out getting fresh air, exercise, and seizing the new year! There are different routes to choose from, with plenty of benches along most of them, allowing you to take in the scenery while being scolded by your stomach.
     Always a place of good cheer, today you may be awarded a special wink and nod from fellow party revelers who also opted for nature over nurture for the first day of 2023.  The brisk salty air will cure what ails ya, or at least remind you that you're in the Maritimes, so lace up those hikers and give 'er!
360° Virtual Tour:
     If you want to get away, but just far enough that no one will notice that you look like an extra from "The Walking Dead",  revive your soul with a nature-cleanse at Long Lake Provincial Park.  You can continue in zombie mode along the 5km, easy-to-walk, Lakeview Trail, or enter via St. Margaret's bay road to do the "Pipeline Loop" or just stroll the shoreline to find a place to ponder all of the amazing things you will be accomplishing this year, once you get your voice back.
360° Virtual Tour:
     Sure it might be a little chilly and breezy, but we are in Nova Scotia and nothing rings in a fresh new year like some crisp ocean air.   The trail is rugged, but so was last night, so walk it off.  This outing is still easy enough that you don't have to worry about starring in a survival story when you realize your ambition doesn't match your current physiological state.  I won't tell anyone that your pics of these amazing coastal views didn't involve a long drive and hours of grueling hiking.

360° Virtual Tour:
---
Tag Your Posts!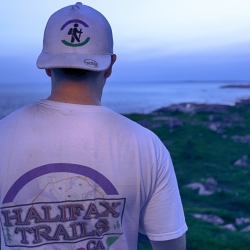 Latest posts by Greg Taylor
(see all)