For locals and visitors alike, one of Halifax's most attractive qualities is its proximity to nature—including dozens of lakes, stunning coastline, spectacular views, and hiking trails which connect it all. The best part is that if you're right in Halifax, you don't need to drive more than 30 minutes (and in many cases, as little as 10-15 minutes) to find yourself on a hiking trail that will immerse you in a wilderness setting. 
I've been a frequent hiker for about five years now, and the Halifax Trails website has been an invaluable resource—helping me discover some of my favourite trails in Halifax with specific, detailed information along with maps that don't exist anywhere else. I have my own website where I write primarily about exploring Nova Scotia, as well as some of my favourite Halifax hiking trails, and I reached out to Greg (who runs this website) to see if he'd be open to having me round up some of my favourite hiking trails that are featured on this site.

My hope is that this curated list can serve as a checklist for others who want to discover new hiking trails close to Halifax. Many of the other lists of Halifax hiking trails online feature trails that are often more than 30 minutes from the core, or overlook some of the really wonderful trails that are so close to downtown. This list features some of the best bang-for-your-buck hiking trails that you'll find within half an hour or less of the city, with options for different lengths and points of interest. Depending your mood—lake or coast—I've divided the list up accordingly so you can find a trail close to town that you're sure to fall in love with. Click each trail name for even more detailed information about the trail from the Halifax Trails site.
Halifax Hiking Trails with Woods & Lakes
These hiking trails go through the woods and all connect with different points of interest like lakes, streams, and in some cases, small waterfalls.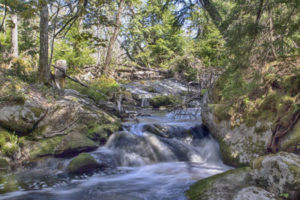 Distance: 1.6km one way

Difficulty: Easy-Moderate

Setting: Forest, Lake, Streams & Waterfall

Facilities: Parking

Signage: None



Nichol's Lake is a picturesque waterfall hike easily done in less than an hour. The meter wide 1.6km gravel trail leads to Nichols Lake—a pristine lake with a small sandy beach—as well as Nichols Falls.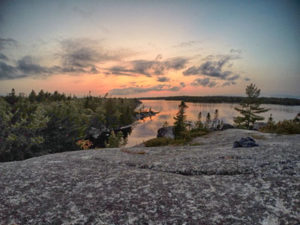 Distance: 3.1km

Difficulty: Moderate-Difficult (Navigation/Terrain)

Setting: Lake, granite outcrops, wooded trails

Facilities: None

Signage: None
Susies Lake hiking trail leads to a stunning look-off overlooking the lake and is also a wonderful spot to take in a sunset. You can also follow along the shoreline and swim in the lake when it's warm. Accessible behind Kent Building Supplies in Bayers Lake, the trails offer an authentic wilderness experience minutes from downtown. Note: Kent isn't fond of people using their parking lot so this isn't a recommendation to park there; if you look around you will find spots to park where you're not in the way of businesses and customers.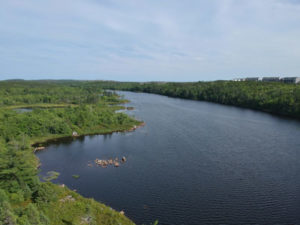 Distance: 4km loop

Difficulty: Moderate-Difficult (Navigation, Terrain, Distance)

Setting: Lake, granite barrens, streams, forest

Facilities: None

Signage: None
This unmarked 4km loop takes you around the lake for which the trail is named, including some lovely look-offs to the lake (as well as views of the city in the distance) and some areas where you'll follow right at the base of the lake. This trail is part of the proposed Backlands urban Wilderness Park thanks to help from the Nature Conservancy of Canada.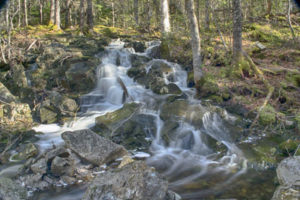 Distance: 5.2km loop

Difficulty: Moderate-Difficult (Terrain/Navigation)

Setting: Acadian Forest, streams, waterfall, lakes

Facilities: None

Signage: Sparse signage and maps
This is one of my favourite hiking trails in Halifax—it's a go-to for incredible bang-for-your-buck in terms of scenery and feeling like you're far from the city when you're just minutes away. In fact, Hobsons Lake (and Fox Lake, which is part of this trail) are my top Halifax hiking trails. Part of the Kearney Lake Trail system, the full 5.2km loop takes you past three lakes—first is Hobson's lake, which features a lakeside spot to take in the view, a small waterfall area, and a look-off; then Ash Lake, which features open rock face along the lake and is an excellent stopping point between the other two lakes; and finally, Fox Lake, which also features open rock to set up and hang out on, as well as a spectacular look-off to the lake. If you're just looking for a shorter hike, you can get to Hobson's Lake and back in 40 minutes.
Distance: 4km

Difficulty: Moderate (terrain, hills, navigation)

Setting: Woodlands, granite outcrops, lake

Facilities: None

Signage: Sparse signage and maps
Another part of the Kearney Lake Trail system, this challenging 4km trail takes you through rugged, hilly landscape and rewards you with spectacular views of the lake.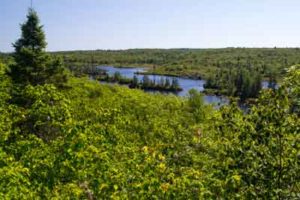 Distance: 9km return trip

Difficulty: Moderate-Difficult (Distance/Terrain)

Setting: Forest, Lakes, Granite Barrens

Facilities: Parking, bike rack and garbage cans at the trailhead

Signage: Info kiosk at trailhead, periodic maps, markings throughout
The Bluff Wilderness Trail is made up of a network of four stacked backcountry loops—each taking about four hours to hike and all of which are well-marked and maintained. Pot Lake Loop is the shortest of the four and takes you through the woods, to lakes, and features a panoramic look-off where you can see up to three lakes from a single viewpoint. Hiking the entire Pot Lake Loop takes about 3-4 hours.
Halifax Coastal Hiking Trails
If you're craving the smell of salt air and views of the ocean as far as the eye can see, look no further than these coastal hiking trails.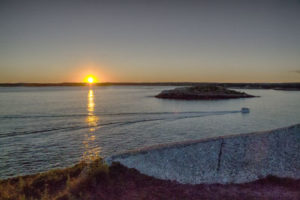 Distance: 5.5km

Difficulty: Moderate (Terrain/Distance)

Setting: Coastal Barrens

Facilities: None

Signage: Interpretive panels at the trailhead
This trail is among the best places in Halifax to catch a sunset and even features a bench early on in the hike for you to sit and take it in. Follow along the coast to admire views of the ocean and coastline, rolling granite outcrops, and a dozen little islands. The stretches of granite can make a wonderful spot to bring a picnic to and watch the waves and sun setting. Note that this area is part of a sensitive Nature Reserve, so be sure to tread lightly and stay on the trail.
Distance: 3.1km

Difficulty: Moderate-Difficult (Terrain/Distance)

Setting: Coastal barrens

Facilities: Minimal parking

Signage: None
Polly's Cove is an unmarked trail that meanders across coastal barrens. The views are spectacular, including a tourist-free view of Peggy's Cove in the distance as well as views to some of the smaller islands off the shore. This is another excellent spot to watch the sunset!
Distance: 11km loop

Difficulty: Moderate-Difficult (Length/Terrain)

Setting: Rocky Coastal Barrens, Sand Beaches, Peninsula

Facilities: Parking, outhouses

Signage: None
This trail features the best of two worlds—one of the most beautiful beaches in the province coupled with a hiking trail that follows the coastline. While the full loop is 11km, it's the perfect "choose your own adventure" type of trail in that you can go as long as you like and turn around if you don't have the time/energy for the full hike. The first stretch of the trail is well-maintained and features boardwalks and bridges. Once you pass the second beach, it turns into more of a wilderness trail which is still well-defined but rugged.
Distance: 8km round trip

Difficulty: Moderate-Difficult (Terrain)

Setting: Protected

Nature Reserve

, Coastal Barrens

Facilities: None

Signage: None
No surprises here! Duncan's Cove is likely one of the most popular and best known coastal hiking trails in Halifax—and for good reason. Rolling rock outcrops, crashing waves, and open stretches of ocean as far as the eye can see make for a quintessential Nova Scotian setting. Some people even report being able to spot migrating whales passing by from this area! It's important to tread lightly and exercise caution when exploring this area—it's both a protected nature reserve, and in some spots, has some steep drop offs and tricky footing (especially on smaller offshoots on the trail). Stick to the main paths to avoid damaging the area or putting yourself at undue risk.
Enjoy the Best Hiking Trails Halifax Has to Offer
Whether you're a beginner or an avid hiker, I hope this list has introduced you to some new hiking trails to explore in Halifax or reminded you of some old favourites. With options for different lengths, settings, and difficulties, there's so much to choose from just a short drive from Halifax's core.
As you enjoy the great outdoors, please be respectful of these beautiful areas and leave them as you found them (or in even better condition). It's heartbreaking to find so much litter and garbage left behind in these areas. Remember to pick up after yourself or even consider bringing gloves and a garbage bag along with you to pick up as you go.
Happy hiking!
About the Author: Laura A. Hawkins
Born and raised in beautiful Halifax, Nova Scotia, I'm passionate about exploring our beautiful province and sharing my adventures along the way. I write about my adventures in Nova Scotia (and beyond) on my own website and share photos and videos on Instagram. My mission is to inspire locals and visitors alike to experience Nova Scotia in a way that helps promote living fully, connection with nature, physical activity, respect for the environment, and appreciation for the greater world.
lauraahawkins.com
@lauraahawkins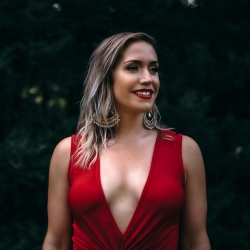 Latest posts by Laura Hawkins
(see all)