Compiled from website traffic for the past year (2019). The top 5 most popular trails in Halifax, Nova Scotia:
2-hour hike.
30-minute drive from downtown.
Unmarked trails.
Not for inexperienced hikers.
     Accessible at the ends of cul-de-sacs in Hammonds Plains with no markings or designations.  The hike to the top of Blue Mountain starts on wide logging roads.  It proceeds into muddy, narrow, dense forest wilderness trails, capped with a 360° vista with visibility for kilometers in all directions.  The view comes atop the highest point of Halifax's Chebucto Peninsula, at an elevation 130m.
     Navigating its trails can be tricky the first time or two.  It's not a trail you'll want to head into unprepared.  Hiking conditions can be very muddy and the top can be quite cold and windy at times.  Prepare properly and you'll be fine.
     A cornerstone of Halifax's long-promised but never delivered Blue Mountain-Birch Cove Wilderness Park, this area has escaped industrial destruction many times.  The latest threat is a proposed highway running right through it.  Support the Friends of Blue Mountain Birch Coves Lakes who are working to ensure this never happens.
---

Well marked, maintained & patrolled.
Popular bird-watching destination.
9km (one way) linear "rails-to-trails".
Plenty of benches & picnic areas.
     30 minutes from downtown Halifax, located in Cole Harbour.  Part of the province's extensive "rails-to-trails" network.  This linear (up & back) trail is great on its own or as part of a longer trip continuing onto the Atlantic View Trail, popular Lawrencetown Beach & beyond.
     The unique salt marsh habitat is a haven for birds and prime hunting ground for eagles & osprey.  You'll often see bird enthusiasts and nature photographers here due to the diverse wildlife.
Shop.HalifaxTrails.ca: Bird Guide Books.
     This scenic causeway is a former railway that stretches across the water for 3.5km.  Complete with periodic bridges, benches & picnic tables, there are plenty of places to stop to take in the view.
     The trail is well marked, maintained, and even patrolled for safety thanks to the Cole Harbour Parks & Trails Association.  Hurricane Dorian did some costly damage to the trail, but these dedicated volunteers have been able to fix it up despite their limited budget.
     Great for a stroll or jog, and ideal as part of an extensive bike ride on its compacted crusher-dust surface.  Be sure to have a bicycle bell, as it can be busy during peak times.
---
Next to ever-popular Peggy's Cove.
Rocky, coastal barren landscape.
Unmarked, muddy trails.
Great for boulder climbing.
     A 45-minute drive from downtown Halifax and located next door to one of the region's most popular tourist destinations, this area has all the natural beauty of Peggy's Cove without the large crowds.  Offering a different perspective of Peggy's Cove, and a larger area to explore, Polly's Cove is great for anyone looking to do some coastal exploration.
     The trails are narrow, unmarked and often muddy.  Keep to the well-established paths as this sensitive nature area is home to nesting coastal birds and easily disturbed vegetation.  Full of low lying bushes and shrubs, its the type of terrain that can scrape up your legs so come prepared with pants, high socks or gaiters.
     With plenty of areas to explore, you could easily spend an entire day full of hiking, taking amazing photos, listening to crashing waves, rock climbing and watching the fishing boats come and go from Peggy's Cove.  Finding a new favourite nook on every visit, my trips are often 1 part hiking, 2 parts stopping to take in views.
---
Breathtaking coastal scenery.
Un-marked trails.
Up to 8km (3-4hours).
Ecologically sensitive nature reserve.
     Sticking to a common theme with all of the top 5, Duncan's Cove is only a 30-minute drive from downtown Halifax.  A designated nature reserve, not originally intended as a hiking destination, it has since become the #1 coastal destination according to my HalifaxTrails.ca website data.
     With poor parking, no proper trailhead or signage, it's a wonder it has become so popular.  In spite of its popularity, it still hasn't seen any investment from the local government to address any of these issues.
     Despite these shortcomings, Duncan's Cove has been growing enormously in popularity as people see the amazing photos that garner lots of interest on social media posts.  Similar to Polly's Cove, these shin-scraping trails are narrow, muddy and rugged.  Steep drop-offs and powerful surf make it a place to heed caution and come prepared.   The steep slopes surrounding each of its 3 coves made for great observation posts during World War II, two of which are still crumbling in place.
     This coastal headland beyond the mouth of Halifax Harbour is a good place to watch cruise ships and shipping traffic as it comes and goes from the open Atlantic Ocean.  A popular place for sun-bathing seals and humans alike on warm summer days but come prepared for lower temps than the mainland, as well as gusty coastal breezes.
---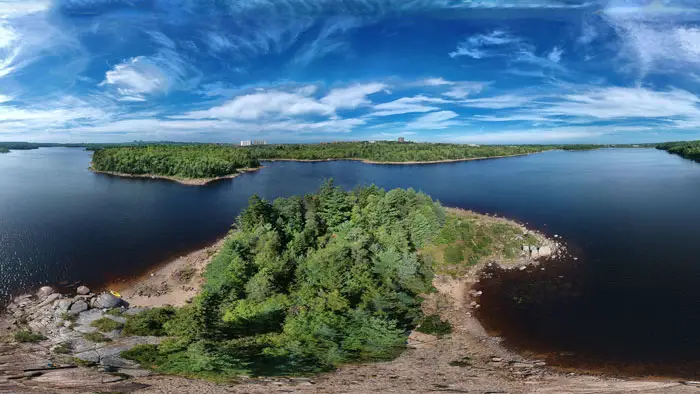 2000 Hectare, urban wilderness park.
New, 5km "Lakeview Trail".
Public (non-motorized) boat launch.
On-site kayak & paddleboard rentals.
     Only a 15-minute drive from downtown Halifax it's the only one of the destinations accessible by public transit.  At just over 3km, Long Lake lives up to its name.  Beyond the large lake lies 2000 hectares of wilderness.  The easily accessible 5km "Lakeview Trail" loop offers a large, wide crusher dust pathway making it inviting to all.  Other recent improvements like the new boat launch area and on-site rentals have catapulted Long Lake into the new #1 most popular outdoor destination according to 2019 halifaxtrails.ca website traffic.
     It's easy to see why Long Lake is the new #1 most popular destination.  Whether you're looking for an easy stroll, a challenging wilderness hike, a bike ride or a swim, Long Lake has an adventure to match anyone's preference.  There are plenty of trails, nooks and destinations within the park to find something new on every visit.  Near the boat launch is a marked, measured 2.5km open water swim course for anyone looking to do some high-level swim training.
     Accessible via 3 separate parking areas including year-round access via St. Margaret's Bay Road (un-marked nature trails & lake access).  A newer, large main parking area off of Northwest Arm Drive connects to the Lakeview Trail and boat launch area.  The front gate to the Northwest Arm Drive parking lot is closed in winter, with limited parking on the shoulder of the entry road.   A small auxiliary parking area off of Old Sambro road is for access to boat rentals and the boat launch (closed in winter).