360° View:


     Located at the West end of Colpitt Lake in the Backlands, Keith spends his days watching Osprey and more than 40 species of migratory birds who visit this area exclusively.   Some of Keith's oldest ancestors live on the Northeast side of the lake and may well be over a century old.  This is no small feat when living in an area that sees regular wild fires, but Keith's brethren are well adapted to this fire ecology.  Many different uniquely adapted plants such as the Broom Crowberry abound in this pine barren landscape. Surrounded by massive granite boulders, Keith bears witness to remnants of a 200 million year old super continent known as Gondwana. The largest fragment of Gondwana exists from here through Nova Scotia's south shore, known as Meguma. The name Meguma is derived from the Mi'kmaq first nations name for their own people, me-GUE-mah.  If you're interested in learning more about these topics and more, check out my list of recommended books.
---
---
---
---
Something is wrong.

Instagram token error.
---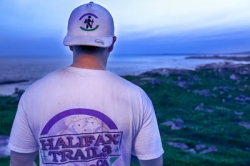 Proudly responsible for introducing thousands of people to Halifax's great outdoors.