Dog parks, walking trails, sports fields, and active transport.
The Halifax Mainland Common, located in Clayton Park,
has been recently upgraded.  Back in January, the city moved to replace
off-leash dog facilities
from Africville Park to a different location.  After consultations with a very engaged public, the Halifax Mainland Common was chosen as the site for the new facility.  Off-Leash parks are a rarity in Halifax so it was a gap that needed to be filled.  Not only does this site fill that gap, it has now become the centerpiece of an area blooming with recreation options.  From the design of the entry gates, to the fresh water dispensers the dog park gets an "A" grade in just about every aspect.  Separate fields for large and small dogs, a wooded trail section, a sheltered area, bag dispensers, garbage cans and a large parking area are reflections of a well executed plan.  
The dog park is only the newest addition to the Mainland Common.  The
walking trails
have been around for years, and have been constantly improved upon, thanks to the Halifax Northwest Trails Association.  They have spearheaded efforts to add interpretive signage, as well as improving and maintaining the trail with boardwalks, foot bridges.  The main loop is now lined with soft mulch, making it as aesthetically pleasing as it is soft on the feet. A boardwalk and look-off in the unique bog habitat provides a great area to spot many different types of plants, wild flowers, insects and birds. Chock full of pitcher plants and huckleberry bushes, there are plenty of plants and birds which are rarely seen in an urban setting. Recommended:  "Trees and Shrubs of the Maritimes", "Birds of Nova Scotia" and reading the interpretive signs along the way.
Activities don't stop with nature walking.  There is a very well maintained, dirt infield, public baseball field as well as the
BMO Soccer Centre
and
Canada Games Centre
. The Common is also accessible via the
Halifax Mainland North Linear Parkway
, an active transport route that connects it to many other parks and places of interest.  The Lacewood bus terminal currently under construction will also help the accessibility.  When you look at the larger picture of how the various ball fields, parks, trails and facilities tie into each other you can start to see a cohesive active transportation and recreation area that the city could use a lot more of.  
Subscribe to my new Halifax Trails newsletter and get updates and free trail guides directly to your inbox!
Site Updates: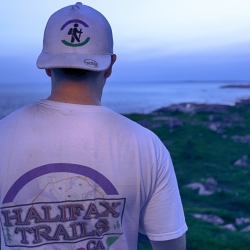 Latest posts by Greg Taylor
(see all)