Osprey Talon 22 Review:
     For my first ever product review I will tell you about the most vital piece of hiking gear I own, the Osprey Talon 22 day pack.  After using this backpack on almost every hike for the past 4 years, I fully recommend it.  Ideal for those looking for an everyday outdoor adventure pack.  Full disclosure: I have no affiliation with any brands.  I use Amazon affiliate links to help fund my website.  The products I list on my shop are all personally curated based purely on their own merits.  Here's what I've learned about this backpack over the past few years.
Osprey Talon 22 Comparisons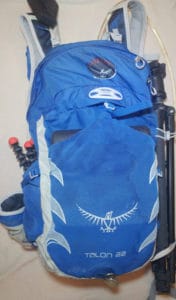 Before this pack, I used a combination of various cheap backpacks.  From ultralight packs with limited capacity to heavy multi-day packs, none suited both a short stroll and full-day adventure.  The ultralight packs were great for quick, light and nimble hikes, but didn't cut it for most others.  Similarly, the large packs were great for multi-day camping trips but were overkill for most day hikes.  After playing around with various iterations of these types, I did some research and settled on the Osprey Talon 22.
     The Osprey Talon 22 (litre) pack is a perfect size for just about any day trip.  It's lightweight and comfortable enough that you can be quick and nimble but also packs enough storage for a full-day.  I've used ultralight packs that fit like a glove and could comfortably jog with them.  If pressed, you could do the same with this pack.
     Where it may lack somewhat is if you are looking to carry much more than just the basics.  You could not take this pack on a multi-day trip without leaving a lot behind.  I've had it bursting at the seams, but more often than not it's nearly full, but comfortably so.
Comfort
     Perhaps the most noticeable aspect of going from all of my previous packs to this one was the level of comfort.  I read that it was comfortable and breathable and it certainly lived up to all of the hype.  Loading it up with my typical day-hike load, I was astounded at how comfortable it was.  A load that put a strain on my shoulders and back with other packs felt like nothing at all with this pack.
     The perfect weight distribution is due to a well-engineered intertwined system of adjustments.  Virtually every aspect of this pack is adjustable to your liking.  More than just the typical shoulder, chest and waist strap adjustments, this pack even allows you to adjust the torso length.
     A velcro adjustment allows you to move the entire back panel up or down to adjust to the length of your torso, to center the load perfectly on your back.  Multiple shoulder adjustments combined with quick and easy waist belt adjustments make for a fit that's akin to a soft hug.  I can safely say that this pack is far and away the most comfortable pack I've ever worn.
Durability
     This pack has a lifetime warranty.  So rare is a lifetime warranty that when I see one I assume one of two things.  Often this means various terms, conditions, small print and hoops must be jumped through, ending in frustration.  Sometimes the warranty is legit because the item is impeccably built, ultra-high-quality, but likely costs a fortune.  The latter applies to Osprey packs, minus the costing a fortune.
     Osprey is a very well known brand due to their quality.  The warranty is the stuff of legend.  I can't attest to the warranty process as I've never had to use it.  After 4 years there is not one aspect of this pack that has worn or broken (save for the silkscreened Osprey logo wearing off).  Despite its lightweight, this pack is engineered to last.
Features
    The Osprey Talon 22 is fairly basic but has everything you need.  With one large main compartment that can zip all the way open, this is where the majority of your gear will have to go.  Besides one envelope sized mesh pocket, this main storage area has no other compartments.
     At first, I thought that it would be good to have more compartments for storage options here, but I quickly learned that the wide-open space made packing it easier in the end.  The pack isn't large enough to warrant multiple large storage compartments, so it's up to you to do the segmenting.  I do so with these handy mesh packing cubes.
Compartments
     There are numerous other smaller storage compartments all around the bag.  These allow you to store everything from trekking poles to your bike helmet.  Pockets on the hip belt and mesh side pockets allow plenty of options for storing your mobile device, water bottle, camera and snacks.
     The small chest strap has a built-in safety whistle.  The left shoulder strap has a small mesh pocket (which I use for quick access to my camera lens cleaning equipment) as well as an adjustable loop to secure your trekking poles on the go.   As an outdoor photographer, I need lots of storage for batteries and camera equipment.  I use the hip belt pockets to store my GoPro batteries for quick battery changes on the go, as well as to store protein bars and trail snacks for quick access.  The stretchable side pockets are ideal for jamming things in quickly.  I often stuff cans and other garbage in there as the mesh keeps things dry and segregated.
Pockets
     A large stretchy mesh back, secured with a locking clasp is perhaps my favourite part of the pack.  The easy access, large size and stretchable, breathable nature of the spandex mesh make it ideal to stuff just about anything in there secure.  Most often I stuff my DJI Spark drone in there so I can quickly get it out when I'm at a particularly scenic spot.  The clasp closure means I don't have to worry about my drone falling out.
     On the top of the pack is a small pocket, good for a wallet, keys, and snacks.  Complete with a secure keyring clasp, you won't have to worry about your keys falling into oblivion, stranding you in the middle of nowhere.  This top pocket could also be used for a small first aid kit or any number of smaller, quickly accessible essentials.  Behind the main compartment but enclosed in its own sleeve is the hydration bladder compartment.  Big enough to hold a 2-litre bladder comfortably and securely, separated from the rest of the pack so you don't have to worry about a leak inside the pack.
     The shoulder straps have elastic loops for the hose, making it able to accommodate virtually any brand of hydration bladder.  These elastic straps are also great for attaching your sunglasses or, as I do; attaching a Bluetooth speaker.
Attachments
     There are some unique storage aspects of this pack that add lots of options to prepare for any kind of outdoor adventure.  Most notable is the side trekking pole attachment and rear helmet attachment.  Both of these attachments are super easy and convenient.  I don't often use trekking poles, so most often in that spot, I have my tripod strapped firmly in place, and easily reachable.
     Lesser used is the bike helmet attachment, but when I have used it, it's been really quick, easy and secure.  The simple nature of the attachment is great for ease of use but also for its ability to work with just about any common bicycle helmet.  These attachments are versatile enough to be adapted to attach any number of different items you can come up with.  To top things off, underneath the bag is an attachment for a clip-on safety light for visibility.
Cost
     The cost of Osprey packs is always going to be a deterrent for many people.  Although it's more expensive than any pack I'd used previously, I think the price tag is worth every penny.  An ideal day pack, that's lasted 4 problem-free years with a lifetime warranty is worth it to me.  The bottom line is that the price is a barrier to many people even if it is justified.
Osprey Talon 22 – Nitpicking
     While there aren't many negative things I can say about this pack, I'm going to dig deep here to think of anything at all.  The big one is that, while it is water-resistant, it's not waterproof.   It will dry fairly quickly, but your gear won't be safe from a hard downpour without a proper rain fly, which is also not included.  A hydration bladder is also not included.
     Another pet peeve, that I have with just about every pack, is that zippers can open on their own.  I lost my drone remote control on one hike when I had my pack quite full, and sat the controller at the top of my pack, with the zippers probably not completely done up.  They eventually separated and unzipped a large gap, allowing the remote to jump out.  The same goes for the hip pockets.  They can catch on brush and open themselves without you noticing.  I solve the issue by using a carabiner to attach the two zippers of the main compartment together, but as for the hip pockets, I just have to keep an eye on them.
C $169.99
in stock
4 new from C $169.99
as of March 19, 2020 4:02 pm

---