---
Halifax Trailmaster Scoreboard
New posts daily at noon.  Current prize: exclusive T-Shirt (via yours truly).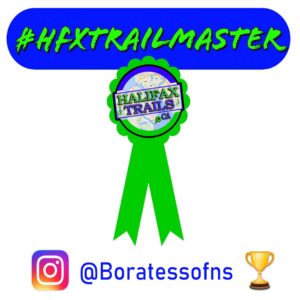 (Stay tuned for the next round coming soon!)
(55 Points) boratessofns ✔Sandy Lake Park -5pts (04/05), ✔Bluff Wilderness Trail -10pts (04/06), ✔Shaw Wilderness Park -10pts (04/07), ✔Sir Sandford Fleming Park – 10pts (04/08), ✔Polly's Cove – 10pts (04/09), ✔Cole Harbour Heritage Park -10pts (04/10).
(15 points) matt_462  ✔Susies Lake (04/02), ✔Bedford-Sackville Greenway -10pts (04/11)
TIED: ssearsy (5points) ✔Second Lake (04/03) | kaylasisco14 (5 points) ✔Chain of Lakes Trail (04\04).
Last post for current contest will be: Saturday, March 11.
Rules: A new photo will be posted daily at noon on social media.  There will be a one guess per person limit.  The first person (I will look at timestamps) to name the location will receive the number of points designated in each particular post (set according to level of difficulty).  It doesn't have to be the specific trail name, I won't be too strict unless I say otherwise in the question. The person with the most points at the end of a 10 day period will be the winner.  In the event of a tie, the contest will keep going until someone takes sole possession of first place.
If you're a local business who would like to participate by providing prizes, contact me.
---
[jr_instagram id="66″]
---
Ideas on what direction to take this contest?  Let me hear your suggestions for rules or anything you'd like to see in future iterations.  It's turning out to be a great isolation activity!  Leave a comment below! ⬇